DC315 Passes Thermal Barrier Testing Over Quadrant QuadFoam 500 Spray Foam
DC315 Passes Thermal Barrier Testing Over Quadrant QuadFoam 500 Spray Foam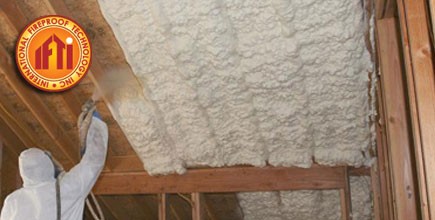 IRVINE, CA–May 16, 2013–International Fireproof Technology Inc. (IFTI) and Quadrant Urethane Technologies announced today that DC315 spray-applied fire coating passed the NFPA 286 Room Corner Burn Testing over QuadFoam 500™ OC 0.5 LB SPF foam as an alternative thermal barrier solution. Certified testing was conducted and passed at QAI Laboratories in Tulsa, Oklahoma on May 9th, 2013. (Test report TJ1170-1 can be found on IFTI's website at the link provided below.)
Navin Pydugadu, Quadrant Urethane Technologies' Product Line Manager, states, "We are excited to get an industry-leading application rate of 100 sq. ft. per gallon on QuadFoam 500 OC 0.5 LB SPF. The contractor must apply 4 mils WFT of DC315 primer prior to applying DC315. This strategy lowers the total cost per square foot by under-coating with a much cheaper DC315 primer, allowing a tremendous 100 sq. ft. per gallon with DC315. DC315 may be applied immediately over the primer, and in most cases, the contractor does not need to clean the sprayer lines between applying the primer and DC315. We believe this makes DC315 the most cost-effective thermal barrier option on the market."
Gary Wolfe, Executive Vice President of IFTI, states, "We expect to pass many more foams and brands over the next 60 days. IFTI leads the industry with its catalog of over 61 full-scale certified tests. Any coating company can tell you their coating will work on the foam brand you spray; it is another thing to prove it with testing. If you are not using DC315 you may not be complying with the codes!"
All tests are full-scale and meet the applicable requirements of 2006 IBC Section 803.2.1; 2009 IBC Section 803.2.1 and Section 2603.9; 2012 IBC Section 803.2.1 and Section 2603.10 Special Approval for Thermal Barrier Alternatives. DC315 also meets the requirement as an ignition barrier, per AC 377 Appendix X, at an incredible spread rate of 400 sq. ft. per gallon, making DC315 the most cost-effective ignition and thermal barrier on the market. One product, one solution for all your SPF fire protection needs.
DC315 has passed testing on Arnette, BASF, Bayer MaterialScience, DOW, Icynene, Lapolla, NCFI, GacoWestern, Johns Manville–Corbond, Quadrant, SWD, CertainTeed, Henry, Natural Polymers, AirTight, and GuardFoam.
DC 315 is a one-coat, wet-on-wet application, water-based latex paint that offers superior fire protection over foam. DC315 applies like regular latex paint using an airless sprayer and, being water-based, offers easy cleanup.
Please use the contact details and links provided below for further information; to request a copy of our certified testing documents; or to obtain a copy of the current code requirements to determine if the ignition or thermal barrier alternative you are using meets ICC Code Requirements.
About International Fireproof Technology, Inc.: IFTI manufactures state-of-the-art intumescent fire retardants and thermal barrier coatings. Designed and tested for the global market, IFTI's products are widely used in hospitals, restaurants, nursing facilities, commercial buildings, and residential homes. IFTI's products, including DC315, fall under the Paint to Protect brand, and have been developed to provide superior cost-effective fire protection over spray polyurethane foam. for more information, please use the contact details and links provided below.
Contact Details
Name: Gary Wolfe
Email: Email Us
Phone No: 855-253-7565
---
Disqus website name not provided.
DC315 Passes Thermal Barrier Testing Over Quadrant QuadFoam 500 Spray Foam