Volatile Free, Inc. Launches New Silicone Roof Coating
Volatile Free, Inc. Launches New Silicone Roof Coating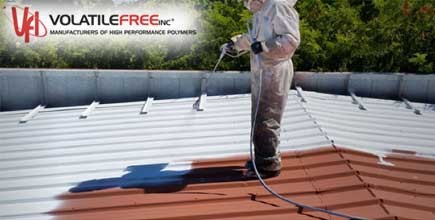 BROOKFIELD, WI – June 2, 2015 – The leadership of Volatile Free, Inc. has launched a new addition to the SEALGUARD line; VFI-991 SILICONE.
SEALGUARD VFI-991 SILICONE is UL rated and contains a 70 percent solids formulation. "One of our goals this year was to offer a more diverse line of silicone and we have done just that," says VFI® President, Nancy Hochmuth
Volatile Free, Inc. has made many positive improvement this year with the addition of an improved website, new VFI-727 Spray Foam, and energy star certifications for VFI-600 Acrylic Coatings and SEALGUARD VFI-990 SILICONE.
Volatile Free, Inc. will shocase their products at the Florida Roofing & Sheet Metal Expo, July 16th-18th in Orlando, FL. Booth #935
About Volatile Free, Inc: Volatile Free, Inc. is celebrating 20 years as a manufacturer of high performance polymers. Since 1995, VFI® has successfully manufactured polyurea and polyurea hybrid products, and has remained strong in the industrial and commercial roof coating industry, while branching into more OEM markets. VFI's success is due to the strong relationships they have built while maintaining and improving their products. To learn more about VFI, please use the contact information and links provided below.
Contact Details
Name: Gretchen Jones
Email: Email Us
Phone No: 800-307-9218
Disqus website name not provided.
Volatile Free, Inc. Launches New Silicone Roof Coating