Cool as Ice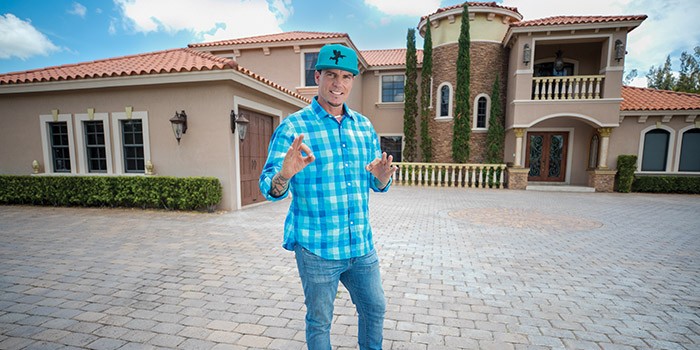 WELLINGTON, FL – June 29, 2018 – You've heard the name again and again—you've no doubt nodded your head and sang the lyrics to "Ice Ice Baby"—you might have also caught him on MTV's The Surreal Life or doing the cha-cha-chá on Dancing With the Stars, but did you know that famous rapper Robert Van Winkle a.k.a Vanilla Ice retrofits homes and flips them? Truth be told, Van Winkle excels just as much with construction tools as he does with a mic in his hand. Although he is still a show-stopping artist and spits rhymes onstage with as much enthusiasm as he did when he first rose to success in the early '90s, home building and structural renovations have almost become his bread and butter. He got into real estate and flipping homes shortly after his music career skyrocketed, obtaining his real estate license in 1993 and then getting into the home improvement side of things by 1998. Now, Van Winkle gets down and dirty, pounds the nails, and makes the calls on the renovations of each room of the particular project he is working on—and it all gets televised for the world to see on DIY Network's The Vanilla Ice Project. The show has followed Van Winkle on an eight-year stint that highlights his well-founded expertise in real estate and showcases his ability to "pimp out"—err, renovate—homes while accompanied with a team of dexterous handymen. Since first airing in 2010, the show has won prestigious awards like the Telly Award, the Factual Entertainment Award, and the Hermes Platinum Press Award
"I got into real estate 25 years ago and went to design school 18 years ago, then I started working on homes and I haven't stopped since. I love it," notes Van Winkle. "We have done over 100 episodes, and it's exciting to partake in the evolution of a home—from the design portion to using cutting-edge technologies, and that includes using spray foam in the ceiling and the walls to provide the best R-value possible."
We recently caught up with Van Winkle in South Florida, where he spends a great deal of his time and where he also hosts and performs at the annual Vanilla Ice Block Party. He happens to be here wrapping up Season 8 of The Vanilla Ice Project, which will air on August 11, 2018. Not only is he filming the show, he is simultaneously traveling around the country to perform in the "I Love The '90s Tour," a concert series jam-packed with celebrated hip-hop and R&B artists, sharing the stage with the likes of Salt-N-Pepa, Coolio, Biz Markie, and Kid 'N Play. For those who wondered what Vanilla Ice gets up to these days, he certainly stays busy.
"It's exciting to partake in the evolution of a home—from the design portion to using cutting-edge technologies, and that includes using spray foam in the ceiling and the walls to provide the best R-value possible."
"I use the same passion in renovating homes that I do when I'm on stage," he points out. "It's the same drive that makes you lose sleep (laughs). The great part about being a musician is that I get to act like a teenager on the weekends, and then I get to come back home and build these incredible homes."
We wanted to gain a deeper insight into his latest project, and in the same breath, learn about his advocacy and use of spray polyurethane foam in it. Here's where Van Winkle stands on the subject:
"When working on a home in Florida, we make sure that we are using the right materials and components to keep the home cool and save money in the long run," notes Van Winkle. "The best way to do that is to create a thermal value that holds the cold air in and keeps the hot air out. There are two ways we do that: By installing high-impact-rated, UV-rated, insulated glass windows and doors around the home and spray foam insulation in the attic and to the exterior walls; this provides the kind of R-value that turns the home into a cooler. In the long run, the home is performing better and you're saving a lot more money by making this initial expense."
For this and all his projects in hot climates, Van Winkle notes that he and his team install energy-efficient central air conditioner units with a 30 Seasonal Energy Efficiency Ratio (SEER) that he notes that while they are state-of-the-art, they wouldn't add to the performance of the home without proper insulation lowering their energy consumption, and that is why using spray foam is so important.
"Everything is tied together," says Van Winkle. "You're going to gain your best, most economical thermal value of your house by putting in spray foam in conjunction with the insulated glass windows and energy-efficient heating and cooling units."
For Van Winkle, there is no better way to gain an effective and economical thermal value than by using spray foam insulation in conjunction with insulated glass window
But Florida isn't the only place where spray foam is applicable for "Ice." He affirms that open-cell and closed-cell spray foam insulation is utilized in virtually all of his renovation projects, which have included structures in locations such as Dallas, Texas, Queens, New York, and even Amish country in Ohio.
In addition to foam, Van Winkle likes to showcase in his renovations other green and energy-efficient, technologically advanced features that reduce carbon footprints and are more economically-wise decisions such as solar panels that power entire homes, LED lights, swimming pool pumps, etc.
As far as what we can be expected from this latest project beyond the "thermal value trifecta," Van Winkle revealed that there are some eye-catching, awe-striking gadgets in the home that will surely improve the living conditions of its future residents that viewers should look out for. A 2,000 square-foot closet equipped with rotating cabinets, a spinning 250-shoe rack, and a coffee bar, as well as a stretch ceiling in the master bathroom that contains a semi-transparent image of St. Tropez, France are only some of the highlights.
Comfortable indoor living and ultimate energy efficiency coupled with lavish appliances and unique designs; it sounds like Van Winkle, the man behind the first hip-hop single to ever top the Billboard charts, turned out to be the handyman that we all need renovating our homes.
For more information, please visit www.diynetwork.com/shows/the-vanilla-ice-project and make sure to catch Season 8 of The Vanilla Ice Project on the DIY Channel this coming August.
Disqus website name not provided.