Increase Material Yield With New Low-Pressure System
Increase Material Yield With New Low-Pressure System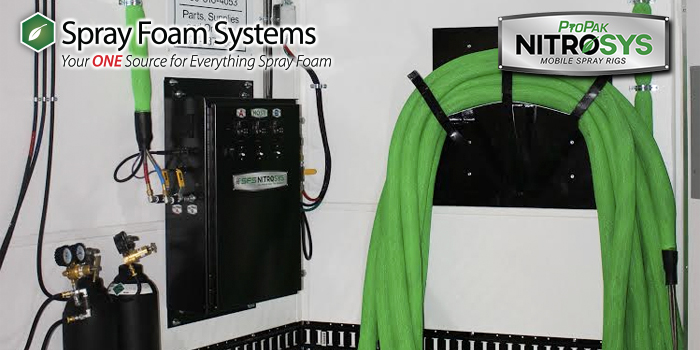 GREENSBORO, GA–November 9, 2015–The days of endless calibrations and squandered material yield are over. Spray Foam Systems (SFS) is proud to announce its latest innovation in the low-pressure SPF market, the NiTROSYS low-pressure foam system. NiTROSYS is a proportioner for refillable low-pressure SPF systems.
"The NiTROSYS system automatically pre-heats and then calibrates the material to the exact proper ratio while keeping the material at the ideal temperature through the length of the hose in order to produce the highest quality foam," said T.J. Peters, General Manager of SFS. "If you look at the low-pressure market, there really isn't equipment out there used for processing the refillable foam systems."
From crawlspaces to touch-ups to whole-house weatherization, low-pressure spray foam is a cost-effective solution for numerous smaller-scale applications. However, low-pressure foam contractors are faced with the time-consuming and often inaccurate task of calibrating their low-pressure systems. Even worse, the calibration process involves extensive test spraying and re-calibration, resulting in wasted material and overall diminished yield.
"I've met with a lot of people over the years who used refill systems and basically abandoned them because of the complexities of calibrating the material," said Peters. "NiTROSYS eliminates contractors out on the job site manually calibrating their material."
SFS estimates that NiTROSYS can deliver at least a 10% increase in yield versus applying low-pressure foam the standard way. In terms of material and labor costs, NiTROSYS can offer contractors immediate savings in operating expenses for low-pressure applications. In fact, SFS offers an online tool that contractors can use to calculate their calibration costs and yield improvements with NiTROSYS.
Click Here to Calculate Your Savings With Their ROI Calculator
What makes NiTROSYS capable of this kind of performance? It's designed to give contractors more control over refillable low-pressure foam systems. NiTROSYS preheats the material and calibrates it by volume, so it never needs recalibration on the job site.
"The system is powered by nitrogen, so there is no air compressor needed, which is a big plus," said Peters. "It has a heated hose built in, so it maintains temperature all the way to the gun."
NiTROSYS also features a stroke counter, which saves contractors from the inaccurate method of determining yield via weighing material.
Additionally, NiTROSYS offers safety benefits versus high-pressure SPF applications, most notably with shorter reentry times and the ability to use full-face respirators rather than supplied-air respirators.
Contractors were able to get their first peek of the NiTROSYS system when it debuted at ICAA 2015 in Las Vegas. So far, NiTROSYS units in the field have received rave reviews from contractors, as the systems' performance has exceeded expectations. Spray Foam Magazine will dig deeper into contractors' experience with NiTROSYS in the upcoming January/February 2016 Issue.
RELATED SFS Discusses Opportunities with Air Barrier Applications

About SFS: Spray Foam Systems, LLC is a business formed to help contractors with the business of spraying foam insulation and applying foam roofing. SFS operates as a full-service provider for all types of spray foams and equipment and other materials used in the SPF industry. We are a Top-20 Graco dealer and stock a full line of Reactors and spare parts with a full service and training center.
Spray Foam System's FULL Service collaboration between our vendors and our client-partners, through hard work and dedication, has allowed us to form relationships with major manufacturers allowing 1-2-day nationwide lead times for spray foam parts, equipment, and foam insulation.
SFS is the manufacturer of the ProPAK Mobile Spray Rigs, which are turn-key equipment packages capable of handling all types of fluid applied applications including spray foam insulation and roofing, polyurea coating systems, geotechnical foam injections, retro foam applications, fluid applied air barrier systems, and protective coatings equipment, including single-component, high-solids, and variable-ratio materials.
For more information, please use the contact information and links provided below.
Disqus website name not provided.
Increase Material Yield With New Low-Pressure System