Defining Moments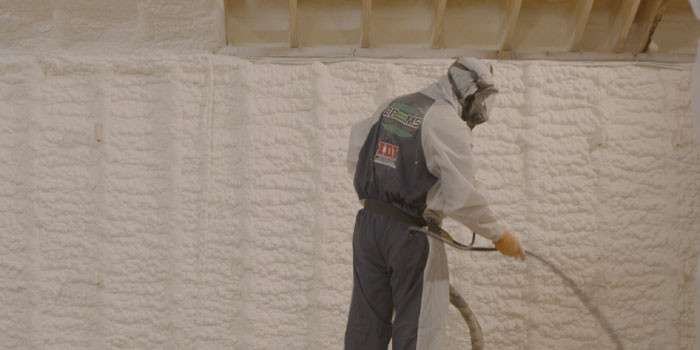 Spray Foam Magazine – Show Issue 2022 – The first week of 2020, Ben Brown called about some ultra-low VOC formulation he'd worked on since 2010. Apparently, this spray foam called Ultra-Pure™ had VOCs so low, the lab tests came in below quantifiable limits (BQL). Well, I'd never heard that before. In our world, GREENGUARD Gold was already an achievement, but BQL? That sounded cool and I certainly wanted to know more. 

When I asked how he achieved the lowest numbers I'd ever heard of, he talked about selecting raw materials that were already low in VOCs. Evidently not all raw materials go through special distillation processes to reduce impurities that can develop during installation. This technology mitigates undesirable side reactions and utilizes proprietary agents to mitigate trace amounts of unwanted VOCs. All this to say, it resulted in a spray foam with one of the lowest chemical emission signatures in the market.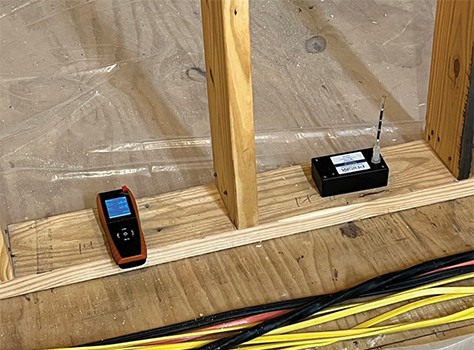 VOC Meter and sensitive PRISM Analytical Air Sampling Pump at job site.
Getting to Market
While 2020 boomed for construction, the virus shut down travel operations for many of the field and product testing companies. Finally in early 2021, the first closed-cell batches were field trial ready. I mentioned having a super low VOC product to Matt Risinger, and right away he wanted to highlight this lower VOC spray foam on The Build Show. Knowing Matt's love of teaching construction and the success of his YouTube channel seemed like a perfect field trial opportunity. With Matt onboard, I contacted Walter Mleczko, President and CEO of Performance Spray Foam, McKinney, Texas, to install the product, and Travis West (industrial hygienist) from Building Air Quality Inc., was brought in to do live testing at the jobsite.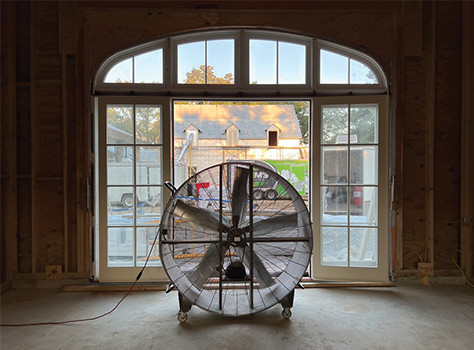 Large fan ventilating at the job site.
Project #1
The Build Show project was impressive. Everyone at the jobsite was amazed by the lack of smell. The sprayers loved the way Ultra-Pure™ sprayed and even stated they thought there was less off-gassing. Knowing this, for safety, we made extra efforts to reiterate that ventilation and standard PPE requirements were still necessary.
Travis and I performed testing, with and without ventilation, next to the sprayer, in other rooms, at the end of the day, and each morning when we arrived. The readings we saw were just hard to believe. At one point, we found higher HCHO (Formaldehyde/aldehyde) readings in fresh air outside, than we did where the product was being applied.
Travis jokingly said: "I think you might be making the environment better with every house you spray." That was the last thing I expected to hear from an industrial hygienist when talking about spray foam.
Since this was a field trial, the product was not openly available. That said, Matt's project was a great opportunity to learn and to get unbiased reactions to the foam. No one knew how the market would respond to this low VOC formulation. We didn't have to wait long. As soon as the episode came out, calls started rolling in from builders and clients that wanted the foam. Most of them were fine waiting until everything was finalized and the process was right, all the way down to the person pulling the trigger.
Innovations & Defining Moments in the Industry
When comparing numbers from the Build Show and other job sites, this foam set a new bar for spray foam insulation. It was truly a different product. But even the customers requesting it were different. Each had important and specific reasons for choosing it. They wanted to be certain they got the results they witnessed the product deliver in the video. Well, the only way to guarantee that, was to ensure the same level of ventilation and processing occurred on every jobsite. Knowing that even the best products can be manufactured or processed incorrectly, the decision was made that Ultra-Pure™ foams should be applied only by factory-trained applicators who agreed to enforce stricter jobsite and processing protocols. They would need to conduct Indoor Air Quality testing pre, during, and post application on every project.
Field trials proved that combining Ultra-Pure™ spray foam products with stricter application and jobsite controls were the defining factor for the success. The results below compare field trials using one fan versus designing a full ventilation plan.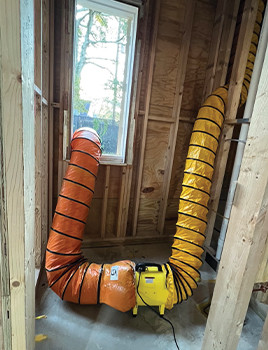 Ventilation at the job site.
Handheld VOC meters at the Build Show project provided TVOC numbers during the live spray that were 10 times lower than Travis West (BAQ inc.) saw on most of the other SPF projects they tested!
— HCHO (Formaldehyde/aldehyde) measurements were extremely low and provided numbers 7-23 times less than other projects tested by BAQ inc.
— On a follow-up visit to The Build Show project, the HFO blowing agent didn't even register by analyzing tubes collected by the highly sensitive PRISM Analytical Air Sampling Pump.
At our final residential (new construction) case study project, we specifically focused on ventilation at 15-20 ACH. When we did, using the same handheld devices, the numbers dropped the TVOC rates down to 20-40 times lower than the Build Show project, and HCHO rates dropped to at or below the limit of detection.
We look forward to more products like this from every supplier. It's amazing what happens when combining best practices with innovative products. Everything we measured on our devices, and everything our senses told us, showed this wasn't just a great formulation, this was potentially better for the installer, better for the customer, and better for the environment.
*Spray Foam Magazine does not take editorial positions on promotional or sponsored; individual contributions to the magazine express the opinions of discrete authors unless explicitly labeled or otherwise stated. The inclusion of a particular piece in the magazine does not mean that individual staff members or editors concur with the editorial positions represented therein.

Disqus website name not provided.