Whats New at the SPFA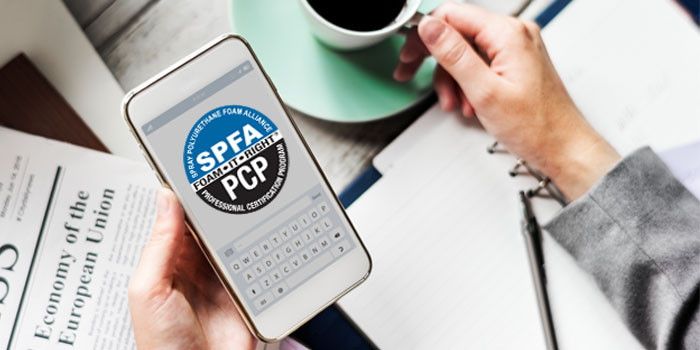 Late Summer 2019 - The Golden State Awaits You for the Sprayfoam Show 2020! – The dates and location are now set for next year's Sprayfoam Show 2020. Join the industry on February 11-14, 2020 in sunny downtown Pasadena, California at the only U.S. annual event dedicated to spray foam. You don't want to miss the action-packed exhibition hall, unparalleled networking opportunities, educational sessions and fun. Keep watch for event updates—including registration and hotel booking details, Professional Certification Program testing information, golf tournament sign-ups and more—at the official website, www.thesprayfoamshow.com. Plus, February 14 is Valentine's Day—bring your honey to the City of Roses for our themed closing reception. We hope to see you there!
Annual Industry Excellence Awards
Has your team completed an outstanding spray foam installation in 2019? Be sure to enter it for consideration of a prestigious SPFA Industry Excellence Award. Winners are recognized each year at the Sprayfoam Show's award luncheon and the SPFA promotes the winning projects to the industry as well. If you've done great work, you should be recognized for it. Keep watch for a notice in a couple months that the submissions process has opened up and be sure to enter!
Road Show Well Underway

Earlier this year, the SPFA announced it was taking its Professional Certification Program (PCP) on the road. With an official "Road Show" underway, the SPFA is bringing the internationally recognized certification program to various locations across the country in partnership with industry-leading companies, ensuring the availability of PCP to SPF participants in key regions nationally. The Road Show has already made stops in Milpitas, CA, Duluth, GA, and Rutledge, GA. Additional stops in 2019 are scheduled at the following locations and dates:
August 19-23 in Rutledge, Georgia (hosted by Profoam)
October 8-10 in Gulfport, Mississippi (hosted by Service Partners)
November 8-10 in Greensboro, Georgia (hosted by Spray Foam Systems)
More dates and stops are being scheduled and will be posted at www.sprayfoam.org in the Calendar of Events. For more information on the PCP and to start your own certification process, contact Kelly Marcavage at
certdir@sprayfoam.org today.
Net Zero Conference & Call for Projects
The largest annual event for Net Zero Energy returns to Los Angeles October 2-4 and it's bigger than ever. The SPFA is an official partner to this exciting event, one of the alliance's key initiatives in support of energy efficiency. On that note, if you are a member of the SPFA and have recently completed a Net Zero Energy project, be sure to let us know so we can help promote it. Contact Julie Fornaro, communications for the SPFA, at juliemfornaro@me.com for details.
Update on Termites
If you haven't yet heard, termite damage goes beyond homes. The damage from the termite industry to the SPF market, product reputation, and businesses serving our industry is significant and growing. For years a number of inspection and treatment Pest Management Companies (PMC) have discriminated against SPF, denying inspections, treatments, bonds and even dropping warranties on existing customers claiming they cannot perform needed structural inspections in homes with SPF, which SPFA has substantially disagreed with. They suggest fiberglass and treated cellulose, typically a side-business for PMCs, is the solution. These practices, including deceptive marketing/advertising claims against SPF, have led to a more emboldened PMC culture leading to increasing numbers of these incidents. SPFA published a termite guidance document in 2018 attempting to address these issues and is working with the National Pest Management Association (NPMA) toward a resolution.
The SPF discrimination goes further now with the termite whole-structure fumigation industry manufacturers issuing letters in Sept. 2018 implementing a moratorium on use of their dangerous Sulfuryl Fluoride fumigation gas when SPF is in the attic. This action is based upon alleged complaints from fumigation professionals of venting procedure irregularities in homes with SPF. There are 200,000 fumigations a year in Florida and California alone. A percentage of those are going to be homes with SPF that now cannot be fumigated (saved) until this issue is resolved. Even if SPF homes conservatively represent 5% of the 200,000, that's still 10,000 SPF customers that will be negatively impacted just in those two states, and the termite map covers more than three quarters of the United States. Customers have already contacted SPFA indicating their fumigation has been denied, accompanied by inaccurate statements of reason from the fumigation companies.
The situation is problematic and we are working to have it resolved with professional guidance and accurate education for all. Keep watch for updates on this important issue. SPFA hosted a member webinar on this issue on July 8, and has a web-based reporting survey for SPF companies experiencing damage to their businesses for tracking purposes.

Contact Details
Name: SPFA
Email: Email Us
Phone No: 800-523-6154
---
Disqus website name not provided.