If You Build It, They Will Come
If You Build It, They Will Come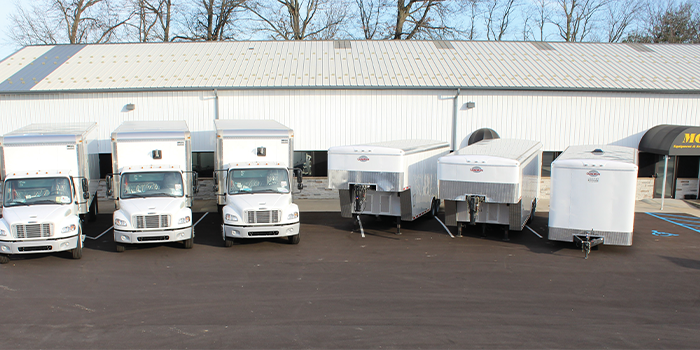 Spray Foam Magazine – MCC is one of North America's leading polyurea and spray foam distributors, specializing in nationally known products, knowledgeable service, high-quality equipment sales, and customized, turn-key rigs for professional contractors.
Founded in the early 2000s in central Indiana, MCC is owned by Jay Hutchek, an industry veteran with over two decades of experience in all facets of the polyurea and foam industries. Spray Foam Magazine recently sat down with Jay to discuss MCC's mobile spray rig division.
SFM: How did MCC get into building rigs?

JH: It was a natural course with selling equipment and there weren't a lot of guys doing it in the area. The biggest thing we thought we were bringing to the table was, as ex-contractors, we knew what we wanted in a rig. We decided to start building them user-friendly for the contractor with items that weren't on some of the rigs that were being built at that time.
SFM: How have rigs and equipment changed since you first started building them?
JH: There's a lot of changes. Obviously equipment-wise, the technology itself has really evolved as far as allowing the system to more effectively monitor the end-user, helping them to stay on ratio and get the most from the foam. The technology on everything else helps as well. For example, lighting has gone from fluorescent bulbs to customizable LED light strips that make it easy to turn on the lights without starting up a generator, and they give a lot better light quality where it's actually needed.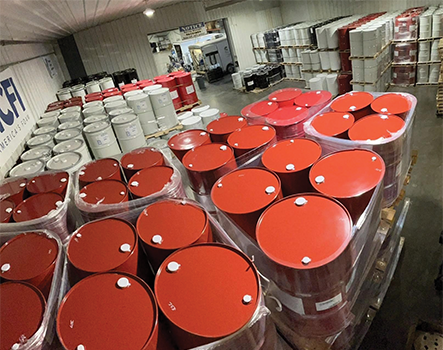 MCC has same day shipping, climate controlled inventory ready to ship.(MCC stands for Millennium Custom Coatings.)
SFM: What type of growth has MCC had over the years since you started the business?
JH: We started with an idea of distribution back in 2007 with no expectations of where it could take us. I operated out of a small bay in the back of my bedliner shop and it was only equipment and service. We weren't doing any material. Within three years we outgrew that and moved to our own location of 15,000 sq.ft. By 2015, we had big growth and relocated in 2016 to a 46,000 sq.ft. facility. Our customers have been incredible to us!
SFM: MCC is centrally located near Indianapolis. Do you find this to be a big part of MCC's success?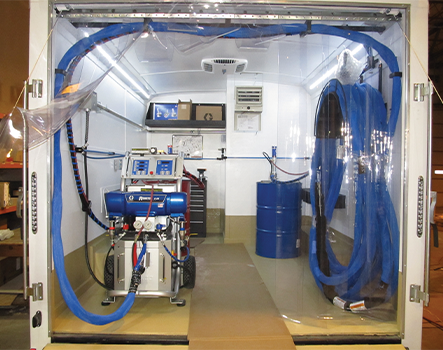 The interior of a 16ft trailer built by MCC.
JH: I do. Indianapolis is known as the crossroads of America, so it makes it very easy for us to ship out to the five states surrounding us, and get material, equipment, and you name it, to customers almost next-day. The other nice thing is we're only 10 minutes from the airport. If customers are flying in to pick up their box truck or flying in for classes, they're only 10 minutes away from our shop when they land.

SFM: Does MCC Equipment and Service Center have a set of core values when it comes to products and service?
JH: Honestly, the biggest core value that we've always put in place is our commitment to service itself. We feel that's the number one priority that really keeps our customers coming back to us. I've always believed that anybody can sell a piece of equipment, but really delivering on the service and support relationship after the sale is what separates us from our transaction-focused competition.
SFM: What makes MCC's truck and trailer rigs stand apart from the competition?
JH: Our customers' rigs are a manufacturing site, a mobile office and their money-maker. We know the customer is getting what they pay for. The work we do from the time that we order the trailer from the manufacturer to the time that we actually deliver it is our difference-maker. In other words it's not a stock trailer that you can just go pick up at any local dealer. We change everything from the framework to the axle sizes, to the roof cove reinforcements. We even build the interior walls out of metal sticks instead of two by four wood. We make the trailer last as long as the equipment.
SFM: What special focus does MCC put on quality and where does it start in MCC's building process?
JH: It starts from the time you place the order. We're very particular about what type of generators and equipment we install, and obviously, like I discussed, how we go about building a quality trailer.
SFM: If building a rig for a contractor that sprays foam, polyurea, and does concrete lifting, what considerations for equipment need to be addressed in the building process to accommodate all applications?
JH: It has to be a high-pressure system because of the polyurea side of things. But my answer to that question is, really, I try not to do that. We get a lot of customers that come in and want to do it all, and they'll never get good at what they're doing if that's what they're doing. They need to come to us with what the real reason is they got in the business for. Get good at that and succeed at that before they start picking up other types of products, and other lines of work that equipment can do.
SFM: I see a high level of complexity in this environment and possibly a need for somebody who has an engineering background. Do you have an engineer on staff?
JH: We have an engineer from Purdue on staff that's in charge of our entire rig division. We know how to balance out a trailer to make sure that it pulls down the road. Whether there's no material in it or they're completely loaded on the way to the job with material. That safety and performance is a big issue in my mind across the rig builds division.
SFM: What's the typical turnaround time to build a rig from conception to completion?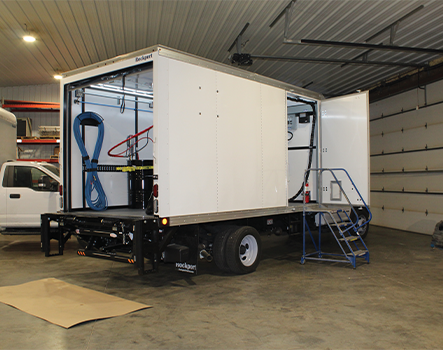 JH: It takes us about one and a half weeks max. We stock a lot of 16-20 ft bumper pull and 28 ft goosenecks. And we do a standard build out on about 50% to 75% of those and leave the other ones blank. So, if a customer does have a special desire to lay out their rig differently, we can do that. The nice thing is we're finally getting back to normal. For the last couple years between trailer manufacturers and equipment manufacturers, the lead times have been just terrible. Only just now in 2023 are we actually seeing where we can get trailers and equipment from the manufacturers without an issue and in a somewhat quicker time frame.
SFM: What's the most unique rig you've ever built or the strangest add-on request that MCC has had to fulfill?
JH: The most unique would be a 53 ft semi-trailer. The customer does a lot of work in the manufacturing segment of the business of food processing plants and those kinds of things. He wanted to be able to have a rig pull up that had everything he needed so that he could drop it while they're doing the work, which normally takes several weeks to a month. He also wanted to be able to take that equipment, if need be, disconnect it, and be able to wheel it into the plant and hook up the air and power supplies. We were able to do all that for him.
SFM: Outside of building rigs, what other products and services does MCC offer?
JH: We started off as just an equipment and rig build distributor. We found out that polyurea and spray foam materials were necessary for us to carry as well. The customer had one place to come and get all their answers while getting the service and support that they needed. We pretty much cover whatever our customers need from spray foam to polyurea equipment, generators, compressors, and all the ancillary products to go with it.
SFM: If a customer has an issue with polyurea or spray foam chemicals, product issue, or a problem with a gun, how do they get in touch with you?
JH: All of my sales guys are all completely capable of rebuilding anything on the machine. Most of my guys have been with me for over 15 years. Several of them came from GlasCraft when Graco bought them out. So, we've got some phenomenal sales guys that are unbelievable at tech service. Our customers have all of their cell phone numbers and can call at any time to reach us.
SFM: What does it mean to MCC to be ranked as a Graco Top 20 distributor?
JH: A lot! We got that first Top 20 distributor ranking almost 12 years ago, and we've never missed it since. It was unbelievable back then, when we were still a very small organization, that we had that kind of loyal customer base. Today, it is still very important to us, and we're thrilled to continue to be a Top 20 distributor as we've grown. It just shows our customers really are sticking with us, supporting us and supporting what we give them on service.
SFM: Outside of MCC are you involved in other ways that contribute to the industry?
JH: Absolutely. I was one of the main people that started the SPFA's PCP training and helped get that entire training up and running to what it is today. I've chaired the equipment committee for several years, and currently I am the president of the Polyurea Development Association (PDA).
SFM: What do you like to do in your spare time? Hobbies, family, anything you might want to add?
JH: I love being on the water, so if I'm either driving a boat or wake surfing behind it, I'm thrilled. I've been fortunate that this industry has allowed me to raise two daughters with my wife of 20 years. We spend as much time as we can on the water. Besides our local lakes, we like to spend a lot of time down on Table Rock Lake near Branson, Missouri. •
MCC Equipment and Service Center is a great full-service organization that places a strong emphasis on customer satisfaction, quality service, and technical expertise. They have an unwavering dedication to providing top-notch equipment and services to their clients. MCC focuses on quality control, regular maintenance, leadership, and adherence to industry standards. MCC makes it a priority to consistently deliver reliable and efficient solutions, in addition to their commitment to excellence. Establishing trusting relationships with customers sets them apart from others.
For use by SprayFoamMagazine.com & Spray Foam Magazine

Disqus website name not provided.
If You Build It, They Will Come