Up, Up & Spray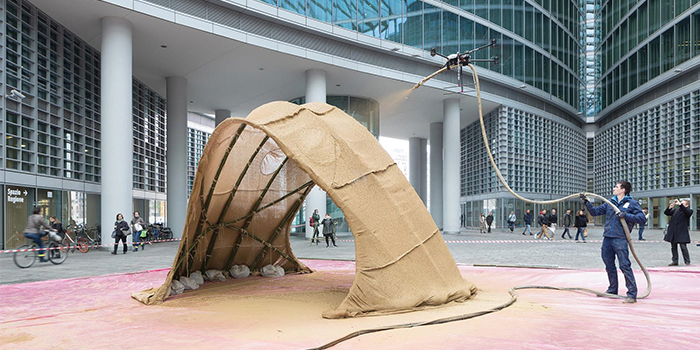 Spray Foam Magazine – Winter 2022 – What was once a novel device is now a feature in many businesses and even households. The drone, like many groundbreaking inventions, was first developed for military use but has since progressed into different diligences. With industries, including construction, modifying the original design and its abilities to progress their own capabilities.
Drone flights are regulated in most countries to help prevent any collisions with manned aircraft, and many countries will ask for a license to fly a drone in certain areas. The Spray Foam Magazine Team (SFMT) had already heard of infrared technology being used on drones to identify moisture in buildings. We had even read about a Chinese company, EHang, showcasing drones working in tandem to accelerate firefighting efforts and emergency rescues at high-rise buildings in urban areas. However, when we discovered a drone spraying various materials onto buildings to research insulation and coatings, this really made us sit up and wipe the smears from our glasses. Could this tech help our industry, and who is pioneering such a drone?
SFMT brushed up on our Spanish and spoke with Stephanie Chaltiel of MuDD Architects based in Barcelona, Spain about their inhouse designed drone, and the potential future drones could play in the spray foam industry.
MuDD Architects developed their own spraying drone, which can carry just over 200lbs. According to these architects the drone could easily carry SPF hoses. As Chaltiel points out, "It's really a question of the capacity of the pump, as opposed to the capacity of the drone. Spray foam is also lighter than many of the mortars we initially tested, like clay, sand, fibers, and shotcrete."
The drone itself weighs just under 18lbs and the wings can be folded making it easy to transport. There is also a hole in its center, which enables the drone to spray ceilings. Chaltiel states, "The drone has been designed so any kind of pump machine hose/s can be fitted underneath. So far, the drone has sprayed various applications, including coatings, insulation, mortar spraying and vertical garden mixes with seed projection."
In addition to spraying various materials, it can be used for façade cleaning of large surfaces, towers, or skyscrapers. The drone can spray up to 30m high and can also be fitted onto a cherry picker allowing it to reach even higher surfaces. MuDD invented this drone to help spray difficult to reach areas, as well as spraying the maximum amount of area in the minimum amount of time without the use of scaffolding.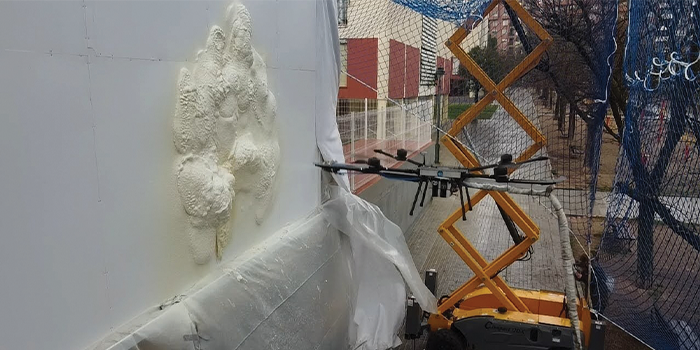 Drone testing and exploring application techniques with a minimal expanding, single-component polyurethane foam.
Following a demonstration of the drone at the Milan Design Week 2019, MuDD gained interest from numerous companies, one of which was a vertical garden business planning to use the drone to spray polyurethane foam on the base of their gardens and then spray their garden mix on top. MuDD had shown them a minimal expanding, single component polyurethane foam to explore application techniques. After which this client was so impressed, they purchased the drone for future projects with the vision of progressing the application to SPF.
MuDD Architects has been researching SPF since 2017. Including spray foam formulas and the right consistency of the mix to prevent the hose from blockages. This factor is related directly to the spray foam proportioner, but MuDD needed to understand how the proportioner heats and pressurizes the materials at recommended ratios, temperatures, and pressure to create a chemical reaction, creating the foam or coating. According to Chaltiel the drone is currently capable of spraying 400 sq. meters in 20 minutes. This is without the need to recharge the drone's batteries.
The architects designed the drone's feet up to 50 cm in height. Providing enough hose space for the landing and for the hoses to fit underneath it. When on a project site, the drone needs to work in a netted space which is then considered an indoor application. It's operated by a drone pilot, and a hose assistant, to make sure the hose/s do not get stuck anywhere. This drone has the potential to reach a height and spray a large area in a short amount of time in addition to being easily shipped to any location. Making this piece of tech desirable to architects and forward-thinking project managers.
All the drone projects up to this point have been piloted. In terms of this drone's development, the MuDD architects are currently working on an automated version with a 3D trajectory for the distance, angle, pressure, and speed of the flight and of the spray. For example, the trajectories are numbered, i.e. the first ten minutes at speed 1, and then the last ten minutes at speed 2 etc. all of which all can be preprogrammed. The MuDD team makes sure that the drone is delivered with an option of training which lasts approximately three to four days with a professional pilot.
According to MuDD, their clients have all liked the drone for its efficiency, saving time on the project and cutting back on manpower to apply various materials of their choice. The architect's vision is to make applications efficient and therefore help in the effort to achieve sustainable and efficient buildings.
Could the drone help make spray foam contractors jobs easier in the future? We are yet to review the evidence of this proposed endeavor, but one thing's for certain, drones are assisting all types of industries, why not ours.
Please note that the names of MuDD's clients are confidential. Spray Foam Magazine therefore respects this confidentiality agreement and has not published company names within this article.
For use by SprayFoam.com & Spray Foam Magazine


Disqus website name not provided.