Smarter With Carter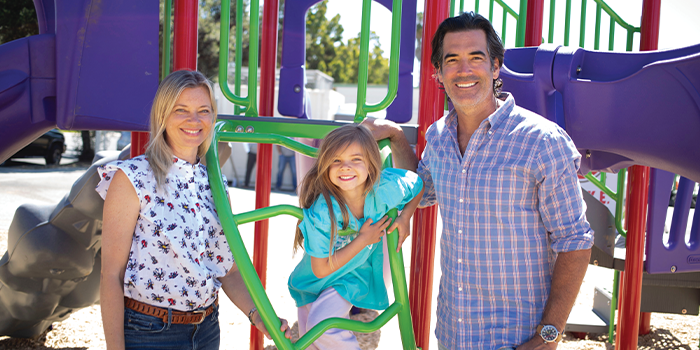 Spray Foam Magazine – Carter Oosterhouse is recognized as one of America's most loved lifestyle experts with a passion for DIY. He first appeared as a carpenter on the TLC series Trading Spaces which propelled him into living room stardom. He went on to host other home improvement and how-to HGTV network shows: Carter Can, Red Hot & Green, and Million Dollar Rooms.
This 6'2" carpenter has model looks, but don't be fooled, he's not just handsome with a hammer. This guy knows his spray foam from his batt insulation, and what he doesn't know he finds out by working with experts in the field. The Spray Foam Magazine team caught up with Carter as he was dashing around the country filming the 11th season of the upcoming show, The Great Christmas Light Flight, which airs on ABC the 3 weeks leading up to Christmas every year.

The youngest of four children, Carter was born and raised in Traverse City, Michigan. He attended Central Michigan University on a rugby scholarship and to this day he remains a sports fan. After graduating with a Bachelor of Arts in nutrition and communication, Carter moved to Los Angeles to pursue modeling and acting but soon realized his true passion had always been DIY.
Where does spray foam come into this story? A couple of years back the SFMT had the pleasure of interviewing Eric Qualls, owner, and certified sprayer of SPRAYtight Inc, based in Metamora, Michigan. Qualls has 21 years of experience in the spray foam industry and his company has a reputation for quality craftsmanship and reliability. It's therefore no surprise that he gets some high-profile jobs.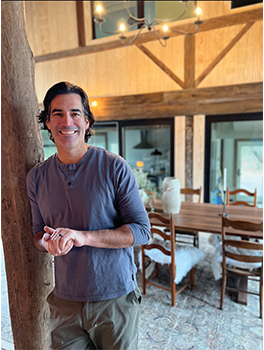 Qualls and his crew had worked with HGTV star Nicole Curtis on her show Rehab Addict, sealing the envelope of one of Curtis's old properties. Curtis and the HGTV team were so impressed with this job, they asked him to advise and help Carter on one of his personal projects. Qualls enthusiastically states, "Word gets out when you do a good job, and we are now the go-to spray foam company for a few TV personalities up here in Michigan."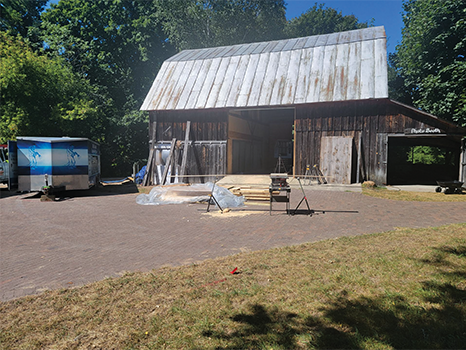 The earliest lumbering was completed by the French to build forts, fur-trading, posts and missions. The British, and later the Americans, used Michigan's hardwoods to build merchant and war ships. Many of Michigan's barns were built with white pines which were over 200 years old, 200 in height and five feet in diameter.
On Carter's Michigan property, and just 50 yards from his house, there is a large historic barn originally used to house cattle and store hay. The barn dates to the 1890s, and Carter and his wife, actress Amy Smart, have been wanting to repurpose it for some time. Carter had several questions about how to seal a barn up, when about five years ago a friend of Carter's came to visit and they asked why doesn't he use spray foam? Carter had not considered using SPF in the barn, but it made perfect sense. Due to the age, and the fact it's a barn structure, there are lots of cracks and crevices' that needed sealing. He decided spray foam would be the way to go.

Before he started using spray foam, Carter had insulated numerous buildings with an alternative insulation, and even considered insulating this barn the same way. However, he knew in his gut that SPF would be a far superior choice and for someone who was working on a passion project, it was the only choice.
Eric Qualls and his crew of four, traveled four hours to Carter's barn to help advise him on the best way to seal the barn and to complete the job to a high standard. The crew sprayed all the exterior walls, the separation walls, and the underside of the roof deck. They prepped the barn as they would a normal house, in addition to masking off all the beams to display the finished wood and really preserve the original features. They applied a GacoOnePass 2lb closed-cell foam to provide more stability to the old barn, with a three-inch application on the exterior walls and a thickness of five inches on the ceiling. There were roughly three kits of foam used and no need for a coating because the foam was all covered up with drywall.
"When that spray foam went in, the barn felt so strong, so secure and being near a lake in Michigan, it helps protect us against those wind gusts. The acoustics were even better with the sound dampening qualities. It felt so good knowing the structural integrity had been reinforced. It's not just drafts that once got in, being a barn, all those little critters and insects loved to get in there too. SPF has stopped all of that. I've been in that space so many times previously but as soon as the foam went in, the feeling changed for the better," Carter praised.
Carter describes the barn project affirming, "They sprayed roughly 1,700sq. ft. of the 4,000 sq. ft. barn. The foamed part is now like 'Four Seasons Living.' It's cozy, sealed and we even installed running water with a bathroom, two bedrooms and a kitchen. The other two thirds are the original barn which hasn't changed much, and you can still see the interior wall."
Describing having the spray foam installed as being, 'a weight lifted off his shoulders,' as prior to the SPF install he had sleepless nights thinking of the best way to seal the barn. He also has an additional smaller barn on his property which was batt insulated several years ago. That barn has since had its drywall redone a couple of times due to chipmunks and mice getting in. Carter is going to see how the spray foam insulation works out over time in the larger barn, and then plans to install it in the smaller one.
A busy lifestyle often means Carter is on the road, but when he does get home, he spends precious time with his wife and their daughter. He has recently found himself working on the large old barn until late into the night. "I was putting up cabinets and trim at 1am in the morning and with the spray foam in, it was nice and warm in there." Carter also made time to start a winery with his brother, Todd.
Carter has actively been DIYing since he was a teenager. His dad would often say to him, 'Carter, don't just take from the environment, you must give back. We have a responsibility to be aware of the materials we are taking.' Those words always stuck with Carter, and he still makes a conscious effort to make the right choices. He also gives back by staying busy with his nonprofit, Carter's Kids, which is dedicated to creating and promoting awareness of fitness and self-esteem for America's youth.
Eric Qualls, SPRAYtight Inc guides Carter as he tries his hand at spraying foam. "It felt so good knowing the structural integrity had been reinforced. It's not just drafts that once got in, being a barn, all those little critters and insects loved to get in there too. SPF has stopped all of that. I've been in that space so many times previously but as soon as the foam went in, the feeling changed for the better," Carter praised.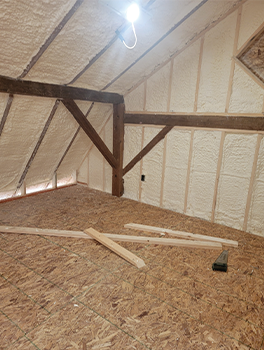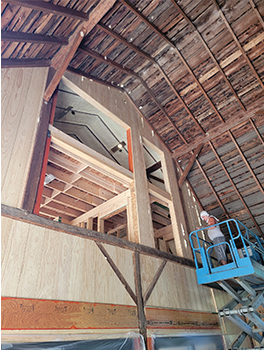 SPRAYtight contractor Mike Lang (pictured) and the rest of the four-man crew installed closed-cell foam to the exterior walls and ceiling to provide more stability to the old barn.
The crew used a Gusmer hydraulic proportioner and Graco's T3 transfer pumps with a Fusion foam gun. Qualls was happy to explain to Carter how the entire process worked with Carter even asking to use the spray foam gun. Qualls obliged and got him all suited up, guiding him through using the gun. Qualls recalled, "Carter was excited to get behind the gun and even described it as therapeutic. I taught him how to count and read the foam as well as listen to it. Carter was really into it." This spray foam job took four days which included Qualls' time training and educating Carter on the benefits of spray foam and using the gun.

A builder friend of his said, 'I don't understand why people don't take on that responsibility. Why not be eco aware while we build and use materials and resources.' Carter concluded by saying, "There are so many ways we can build smarter and efficiently and be aware of the products we are using. For example, with spray foam, I have something to compare it too. For the first barn, I used a traditional insulation and there was a lot of waste. Now I have used spray foam, it has sealed that space and is secure and efficient."
When asked if anything stood out about this job, Qualls described it as being a typical spray foam application, but with one big difference, "Working with and alongside winners, I truly believe helps you become a winner." Laughing, he goes on to say, "Same as if you hang with losers, that's what you become. Working with frontrunners like Carter Oosterhouse and Nicole Curtis really helps that winning mentality. SPRAYtight always strives for excellence as well as making sure we are ethically minded so we are a good fit for these kinds of projects."
Once the barn was completed, Carter was so happy with the results, he had the crew complete "another little project." Overall, he was really impressed with SPRAYtight and the efforts they made to travel and complete this job, as well as the new spray foam gun skills he picked up from Qualls. So, readers, if you ever see Carter Oosterhouse holding a spray foam gun, please remember that a contractor with a wealth of SPF experience helped make a TV star's passion project a reality. Congratulations to Qualls and the SPRAYtight crew. They literally went the extra mile to complete this project.
For use by SprayFoamMagazine.com & Spray Foam Magazine

Disqus website name not provided.