3D Printing Our Path to the Future
3D Printing Our Path to the Future

Spray Foam Magazine – Winter 2022 – Just under two years ago, Spray Foam Magazine had the privilege to write about designers Leslie Lok and Sasa Zivkovic. Assistant professors of architecture in the College of Architecture, Art, and Planning (AAP) and co-principals of the HANNAH Design Office, the pair have recently produced and mastered a hybrid design.
After Spray Foam Magazine initially interviewed Lok and Zivkovic, we went on to discuss the future of foam. They mentioned that they were looking to work with a spray foam manufacturer on a revolutionary 3D build and the exact requirements they needed in a foam. We immediately thought of Huntsman Building Solutions and introduced the manufacturer to the architects. Hastened to add, a business relationship was formed and that is where spray foam oozed its way into a design which blends both aspects of cutting edge and conventional materials.
"This innovative home is showcasing what can be accomplished when you combine today's 3D printing technology with building materials designed to both perform and dramatically minimize Earth impacts," says Doug Brady, chief strategy officer of Huntsman Building Solutions.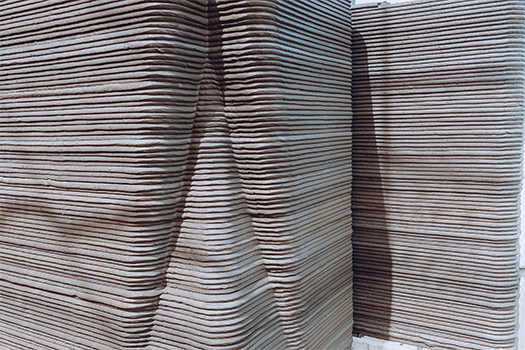 The insulation used for this project has been manufactured by Huntsman Building Solutions using about 10,000 single-use plastic water bottles that were diverted from landfills, recycled and repurposed.
"We are contributing our foam insulation system which will provide the future homeowner with up to 50% energy savings. The insulation has been manufactured using about 10,000 single-use plastic water bottles that were diverted from landfills, recycled and repurposed – representing a commitment that Huntsman has toward both superb envelope products and environmental stewardship. While the home is still being built, and we have yet to see a completed structure, it's already receiving widespread attention nationally, and even internationally, among industry and consumers alike. We are extremely excited to be part of this game-changing home."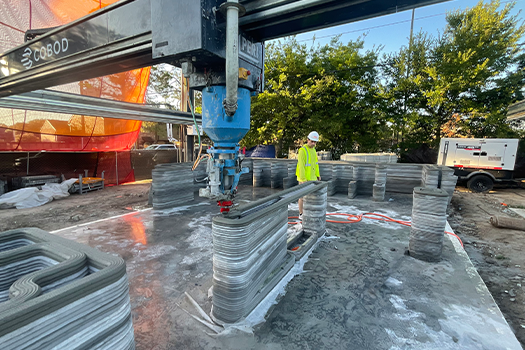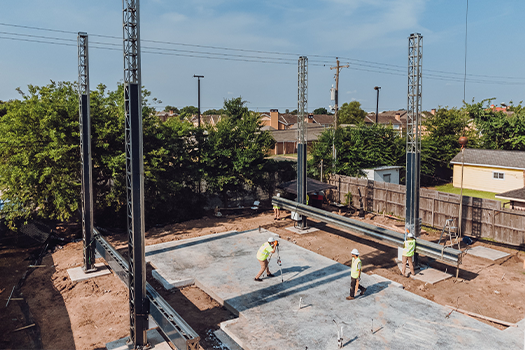 In September 2022, a second level was added to a Houston home using an industrial-sized 3D printer, making it the first multi-story printed building in the country.
The two-story single-family home, according to Leslie Lok and Sasa Zivkovic, exemplifies novel building techniques that can be scaled up to multifamily and mixed-use complexes, reducing the need for housing. Their ground-breaking hybrid design incorporates structural elements made of 3D-printed concrete along with traditional wood framing typical of most American residential buildings. The combination shows how each material can be used with the least amount of waste to create structures that are effective, resistant to more extreme weather events, and possibly more affordable.
By mid-September, the three-bedroom, three-bathroom house was being printed, and media representatives were invited to observe. It will also have a two-car garage and a 40-foot chimney. The house will then rank among the most intricately printed buildings ever.
The house is being constructed in collaboration with Houston-based engineering and design-build firm CIVE, PERI 3D Construction, which has completed six 3D-printed buildings in the United States and Europe, and other partners in the construction sector. The project team is still looking for sponsors and partners in the industry.
For Lok and Zivkovic, who oversee the Robotic Construction Lab and the Rural-Urban Building Innovation Lab, respectively, at AAP, the initiative is the most recent to result from years of investigation into the potential of 3D printing to enable "mass customization" without increasing costs. For the Ashen Cabin project in upstate New York, they previously experimented with a hybrid design using 3D-printed concrete and recycled wood. On the Arts Quad, Lok's HoloWall installation looked at personalization using irregular building materials and digital modeling technologies. Prior research by Zivkovic focused on the creation of novel techniques for printing concrete and robotically fabricating wood parts.
The 60-ft long, 30-ft wide, and 30-ft tall huge gantry supporting the printer will need to be relocated in order to finish the building for the 4,000 square foot Houston project, which will require another U.S. "first."
The designers claim that the home integrates design and construction processes well-suited to multifamily developments that will be required to increase housing capacity in rapidly expanding cities like Houston. These systems range from spray-foam insulation to a heating, ventilating, and air conditioning system more typical of commercial buildings.
Due to the fact that concrete printers may be managed by as few as three or four workers, the designers said their strategy might help shorten construction deadlines and lower costs. Additionally, it reduces waste because the material may be blended on demand, printed only for areas that are crucial for structural support, and can more effectively incorporate wood framing into a modular design.
The printed material for the Houston home is made locally, employs cement with a low carbon impact, and may contain fly ash, slag, and other industrial byproducts. With colleagues in the College of Engineering, the designers are conducting research on environmentally friendly building materials, including the capacity of concrete to retain methane, a potent greenhouse gas. While wood framing can be carried across large distances and is a renewable resource, it is frequently a byproduct of forest monocultures.
The various spray foam products are installed by a local spray foam insulation contractor in Harris County. The spray foam for the 3D printed walls are organized into several separate installations coordinated with the printing schedule.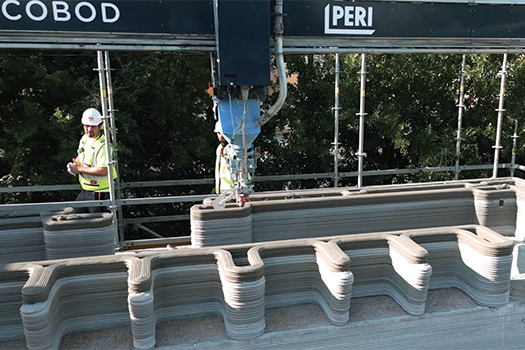 "After Spray Foam Magazine published our robotically fabricated Ashen Cabin project that uses spray foam to create a new building envelope system made from discarded ash wood, we reached out to Spray Foam Magazine to inquire whether the editorial team might be able to connect us with potential industry partners for an upcoming 3D printed research project in Houston. We knew that 3D printed concrete assemblies could greatly benefit from the properties of spray foam to create an airtight, vapor-tight, waterproof, and highly insulated building envelope. The editors put us in touch with Huntsman Building Solutions, a leader in the industry," explains Zivkovic.
"Our initial conversations were met with excitement from the Huntsman U/L team and we forged a close and exciting collaboration that not only includes a novel and innovative application for spray foam in 3D printed concrete wall systems but also integrates a closed-cell spray foam roof, open-cell insulation in framed wall cavities, and closed-cell foam products for exterior framed walls," he continues. "The research and planning teams at HANNAH, CIVE, and PERI benefited greatly from the expertise of the Huntsman team and the experience of the project's spray foam installer. We are thrilled about the possibilities of using Huntsman's high-quality products and spray foam applications in future 3D printed buildings and look forward to further collaborations!"
In contrast to many constructions that use only one of the materials, the Houston home, according to Lok and Zivkovic, maximizes use of both while better utilizing their design potential.
This build is just the beginning of the evolution of 3D structures around the globe, and we are honored to have been able to speak with the brilliant minds behind this project.
For use by SprayFoam.com & Spray Foam Magazine

---
Disqus website name not provided.
3D Printing Our Path to the Future