The Little Bot That Can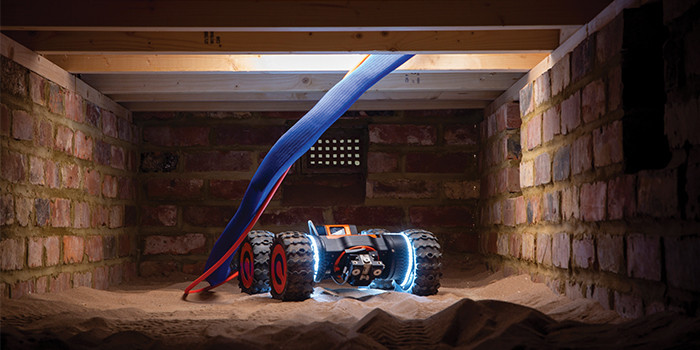 Spray Foam Magazine – Show Issue 2022 – The Spray Foam Magazine team is always on the lookout for cool tech, so we were excited to talk with Martin Jervis, the Chief Commercial and Operating Officer of Q-Bot. This little robot is already helping spray foam contractors in the United Kingdom, and we wanted to find out exactly how.
Who invented Q-Bot? Q-Bot's journey began when co-founder Tom Lipinski identified a huge, untapped need for underfloor insulation in the United Kingdom, a major contributor to fuel poverty and high household bills. However, there were several practical challenges standing in the way of providing an effective solution.
How can the underfloor insulation be applied without taking up floorboards etc.? To solve this issue, Q-Bot developed a robotic solution that could fit through a small opening, deploy, and apply insulation in situ without having to take the house apart. This solution is now disrupting the traditional construction industry and providing comfort and warmth for homes across the UK, and beyond.
How does it work? Q-Bot's solution uses a robot to apply insulation. A robust and powerful robotic vehicle can navigate the void space and spray open or closed-cell polyurethane foam. The solution is suitable for suspended concrete and timber floors. Where necessary the robot can spray around floor joists or other features.
Two robots are currently available: High void robot able to spray a void between 30cm and 100cm high and a smaller robot for voids down to 20cm.
Please describe the robot? The robot can be connected to a rig or a small truck and hose supplying the insulation.
Four drive wheels and suspension enable the robot to climb over obstacles, through sand and mud, while pulling a hose into position. There is an onboard camera and rangefinder that records and verifies the install.
What is the initial process of installing underfloor insulation with the Q-Bot? Before providing floor insulation, we survey the property to make sure it is suitable. We may need to create a small access hatch or use an existing one to examine the floor void's height, moisture level, layout, piping, and the condition of the floor. We also measure the surface area to give customers an accurate quote.
To check for compliance, to safeguard the health of both occupants and the building, and sometimes to qualify for funding, our surveyors are required to look at ventilation in rooms that will be insulated to ensure adequate levels are maintained, and if required such ventilation will be fitted, as part of the installation.
What are the Q-Bot's benefits? Installing Q-Bot has a range of benefits including reducing heat lost through the floor and reducing the draughts, ensuring a healthy and energy-efficient home, improving the health of those living there, lowering carbon emissions, and lowering fuel bills. The insulation is delivered with minimal disruption to customer's daily life and in a socially distanced manner.
Homes are responsible for around 25% of the UK's CO2 emissions. Space heating is the largest single energy use in the UK and accounts for over half of domestic CO2 emissions. According to Q-Bot's case study of 100 homes, each household cuts its annual CO2 emissions by 700kg (roughly 1543.24 lbs) on average. Which is the same saving as the greenhouse gas emissions of driving over 1,700 miles in your car. That's like driving from New York to Hilton Head, SC and back!
Who operates the Q-Bot? It's often the contractor who controls the robot through a screen called the Control Unit using a gamepad or Xbox type of controller.
The operator can manually spray an area or he may choose to use a spray pattern to facilitate the install. In that case, he will define how to spray by using lines (diagonal, horizontal, vertical), number of lines, lengths and widths, speed of spray, etc.
In general, the operator will drive the robot to the end of the void, define the spray pattern, and start spraying layers of insulation, reverse back, spray again, and so on.
Over time Q-Bot will develop technology to be more and more autonomous, based on the ability of our use of Machine Learning to guide a robot. However Health & Safety will always be paramount, so the role of the human being remains crucial. Q-Bot wants to empower workers by making their job safer and more accountable.
How will this help spray foam contractors? Spray Foam contractors have typically faced challenges in reaching inaccessible places. They have to turn down jobs and sometimes whole contracts. Q-Bot not only allows access to smaller spaces but driving the robot is a cool job using 21st century skills.
In the beginning Q-Bot worked with social providers but has now commercialized its innovative underfloor insulation for the public. Private homeowners represent an important and growing revenue stream especially as green financing schemes are drawn toward Q-Bot. This market will require delivery partners in each region to meet the demand.
Q-Bot is expanding its partner network across the UK, mainland Europe and beyond, using a highly innovative 'Robot as a Service' business model, and allowing for massive scalability by providing a complementary service to contractors. This means Q-Bot provides them the technology, training, support, and maintenance and upgrades.
The construction industry also stands to benefit from Q-Bot's work by creating attractive highly skilled jobs, increasing productivity, reducing waste, improving safety and accountability.
What type of foam does the Q-Bot spray? Q-Bot uses a closed-cell or open-cell polyurethane spray foam, and currently has the British Board of Agrément accreditation using BASF foam. However, Q-Bot is always exploring new types of insulation foam and will start using other manufacturers' products in the coming weeks.
Have you any plans to bring the Q-Bot to the U.S.? We'd love to find the right conditions for that to happen. It's a big market, the U.S. needs to reduce emissions and I'm sure no one wants to see fuel poverty rise there – especially as global fuel prices go through the roof. It's a great opportunity for some forward-looking partners to work with Q-Bot to help change that.
People were once nervous when it came to the use of robots in the workplace. However, as the technology has become more sophisticated many people are now turning to it to help augment their careers. The benefits of robots helping workers with time, accuracy, and in this case also with health and safety issues, the benefits clearly outweigh any concerns with this form of technology. Looking to the future and staying in touch with technological advancements may also help the workers stay one step ahead of their competition.
Quick & Hassle-Free Installation

Step 1: Scan // The contractor controls the robot throughout the process. First, they place the robot into the void through an access hatch. Access methods vary by architype. As a broad generalization in the UK access is primarily via an access hatch created in the floor; in other markets access is primarily via access created in the external wall or an existing hatch. Wherever possible and safe, Q-Bot will use the least disruptive method. As the robot travels through the void, a detailed 3D map is built of the underfloor space. This final check helps assess all installation details and any risks.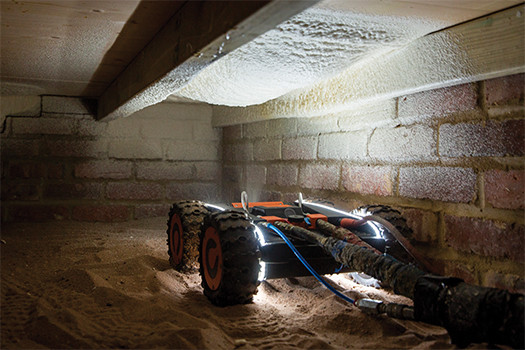 Step 2: Spray // The contractor moves the robot as it sprays layers of insulation to the underside of the floorboards, with a typical thickness of just under 5 inches. The insulation expands to fill all the gaps. This keeps the floor warm, dry, and draught-free. The void under the floor stays ventilated, allowing the ground to breathe, and avoiding the risk of damp or mold. 
Step 3: Quality Check // While the robot does its work, the installation is monitored to measure the thickness of the insulation applied under the floor. This allows Q-Bot to verify that the work has been completed successfully.
Q-Bot developed an Install Management System to improve the installation and quality control process, which is now managed through an easy-to-use app. It runs by a mobile phone or a tablet, which can be controlled by the contractor, capturing data from each site, and sharing it with key stakeholders. The video and other data gathered when Q-Bot surveys/installs a property is very useful to the owner, identifying any structural problems and providing information on the location of utility services for future reference.
Benefits for SPF Contractors
Increased revenue: win more contracts by being able to insulate more of the properties.
Incremental revenue: insulate properties previously inaccessible/impractical/unethical.
Safely access voids between 8 and 40 inches without the risk of accidents or health and safety issues.
Reduced labor requirements where installs can be run with one person.
Installation is recorded and fully accountable to support evidence, accreditation, and funding requirements.
Improved ergonomics and job satisfaction for workers.
Creates a professional image with a highly marketable concept that engages customers.
Clients can access their property information through an online portal branded with the installer's name.

Disqus website name not provided.