National Industry Excellence Awards To Be Held at SprayFoam 2022
National Industry Excellence Awards To Be Held at SprayFoam 2022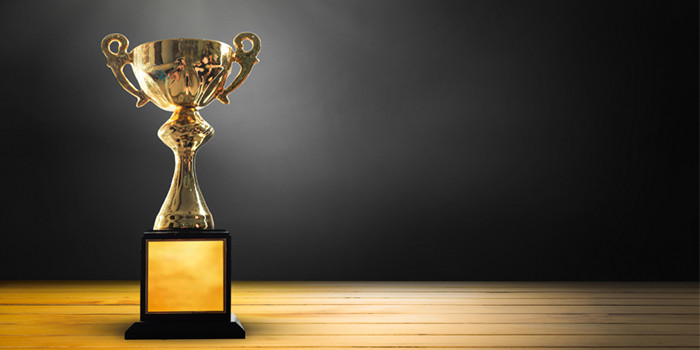 STAFFORD, VA – February 7, 2022 – The Spray Polyurethane Foam Alliance (SPFA), the educational and technical resource to the spray polyurethane foam (SPF) industry, is hosting the 16th Annual SPFA National Industry Excellence Awards at the SprayFoam 2022 Convention & Expo later this month. Winners will be announced at the official awards ceremony to be held Wednesday, March 2nd at 1:00pm onsite at the convention in San Antonio, Texas. The prestigious industry awards program celebrates stand out contractors and projects in the categories of spray foam roofing, insulation and specialty applications, as well as elastomeric coatings. Arkema and Evonik are this year's awards sponsors.
"We look forward to these awards every year," says Rick Duncan, executive director of the Spray Polyurethane Foam Alliance. "They are a way for us all to learn about the current outstanding projects in spray foam and coatings and to celebrate the skills and dedication of the teams who have completed them."
The awards program recognizes standout projects in six categories including: Commercial Wall Foam; Residential Wall Foam; SPF Roof Under 40,000 Square Feet; SPF Roof Over 40,000 Square Feet; Specialty Applications; and Elastomeric Roof Coatings.
"For the first time ever, one of this year's six category winners will also receive a grand prize, which is a $10,000 local marketing support package," says Bryan Heldreth, president of the SPFA.
The national awards are part of SprayFoam 2022 Convention & Expo, the nation's largest annual event dedicated to spray foam. This year's agenda also includes a keynote session with Shawn Van Dyke, construction business expert, coach and author who will present "All Star Creator: How Employees and Employers Create a Culture that Attracts Top Talent", a session designed to give attendees a framework for attracting and creating an all-star team amidst the current labor shortage; SPFA Professional Certification Program (PCP) courses, installer training, written exams and free field exams; a robust exhibit hall showcasing more than 80 booth displays; an educational program encompassing more than 40 break-out sessions; the Annual Golf Tournament; an Exhibitor Showcase; VIP events; member and contractor-only events; an entertainment filled Closing Reception and Networking Party.
Attendees at the SprayFoam 2022 Convention & Expo represent the complete Spray Polyurethane Foam industry and value chain, as well as the general public. The event is being held at the Henry B. Gonzalez Convention Center located at 900 E. Market Street in San Antonio, Texas.

The SPFA thanks Huntsman Building Solutions, Platinum Sponsor of the 2022 event, in addition to the following event sponsors and partners: Gold Sponsors General Coatings Manufacturing Corp, Universal Polymers Corporation, Thermoseal, Honeywell, SES Polyurethane Systems, Accufoam and Gaco; Silver Sponsors BASF and Carlisle Construction Materials; Bronze Sponsors BOSS Industries, International Fireproof Technology Inc. and Natural Polymers; NIE Award Sponsors Arkema and Evonik; Premier Media Sponsors Sprayfoam Professional, Sprayfoam, Roofing Contractor, Walls & Ceilings and CoatingsPro magazines; Media Sponsor Roofing magazine; and Industry Partners Spray Foam World Wide, Silicone Expo, NRCA and International Roofing Expo.
For attendance and to register for the event, visit www.sprayfoam.org/sprayfoam2022. Join the spray foam conversation on Twitter, Facebook and LinkedIn.
About Spray Polyurethane Foam Alliance (SPFA)

Founded in 1987, the Spray Polyurethane Foam Alliance (SPFA) is the voice, and educational and technical resource for the spray polyurethane foam industry. The Alliance is a 501(c)6 trade association comprised of contractors, manufacturers, and distributors of polyurethane foam, related equipment, and protective coatings, inspections, surface preparations, and other services.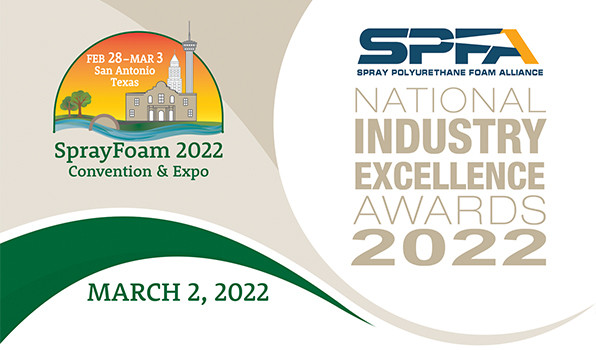 The organization supports the best practices and the growth of the industry through a number of core initiatives, including educational programs and events; the SPFA ISO-17024 Professional Certification Program providing professionals with the tools to differentiate themselves from competition and a reference for customers looking to hire qualified contractor services; technical services covering publication of literature and guidelines, safety materials, and representation of the industry with various construction code bodies; federal and state advocacy; industry promotion efforts including an annual convention and expo drawing 1,400 SPF professionals, publication of Sprayfoam Professional Magazine; and research and networking opportunities for members.

---
Disqus website name not provided.
National Industry Excellence Awards To Be Held at SprayFoam 2022