Staying Afloat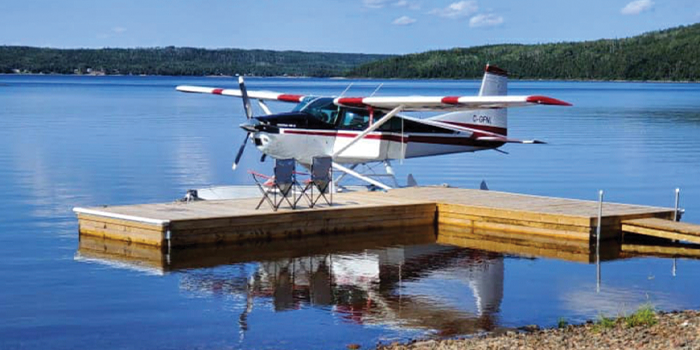 Spray Foam Magazine – Newfoundland and Labrador combine to form Canada's easternmost province and the furthest eastern point in North America. It is a province of two distinct bodies of land: Labrador, the mainland and Newfoundland, an island dotted with numerous lakes–large and small. The two areas are separated by a channel of water known as the Strait of Belle. The province is also home to over seven thousand small islands. In Newfoundland Labrador you're never far from the sea or freshwater.
It's on the island of Newfoundland, in the town of Grand Falls-Windsor, that we can find Brandon Andrews owner of Spartan Spray Foam and Coatings. Brandon opened his business over 10 years ago and offers a variety of services from spray foam insulation to electrical work, as well as heat pump installations. Depending on the time of year, Spartan Spray Foam and Coatings will employ anywhere from eight or as few as three men.
"My father was a carpenter, so I've always been exposed to building and construction work," Brandon recalls how he got started in the construction industry. "My schooling brought me in the direction of mechanical engineering and home efficiency." He received a mechanical engineering diploma and his Bachelor of Technology from The College of The North Atlantic. He is also a third-class power engineer.
Because of Newfoundland's unique location off the coast (in the Atlantic and near the Gulf Stream), it is susceptible to volatile weather and winds. In fact, the province experiences higher winds on average than any other province in Canada. Residents also experience a wide temperature variation that can go anywhere from -10°F in the winter up to 85°F in the summer. That weather can be volatile and change in an instant, making it a constant concern. Brandon explains, "One minute it might be sunny and 85 degrees, and the next minute you might have 60 or 70 mile an hour winds with rain, lightning, and thunder."
Growing up on the island, water has played a large role in Brandon's life, from his hobbies of scuba diving in the summer to snowmobiling on the ice in the winter. He also owns a cottage on Crooked Lake, about 40 miles northwest of his shop in Grand Falls-Windsor. Crooked Lake is one of the three lakes that make up the Badger Lakes, long and narrow waterways ideal for anyone who owns a float plane. Recently Brandon and his crew had a chance to work near his getaway cottage on the lake after a referral from a friend.
In July 2022, Brandon's friend, Eugene, was doing excavation work for a gentleman who owned property on Crooked Lake and had just purchased a plane on the West Coast of Canada. The plane wasn't any ordinary plane, but a Cessna 185 float plane that could take off and land on water.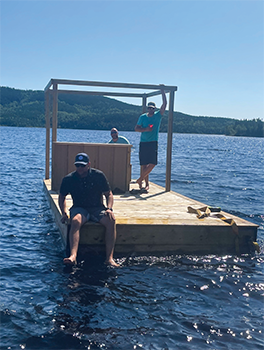 Brandon adds an outboard motor to a floating dock and utilizes it as a fishing/camping barge to use out on the lake with friends and family.
As Brandon explains, "This particular individual bought a float plane in British Columbia last year. He had been talking to Eugene and mentioned that he needed a dock for the plane. Eugene put him in contact with me, and the rest is history."
Brandon got together with the pilot and sent him a few pictures of a few different types of docks they had built, which included the use of closed-cell SPF for flotation. The pilot explained to Brandon what he was looking for from a configuration perspective. With Brandon's mixed talents, carpentry, mechanical engineering and knowledge of the spray foam business he and his crew were able to do the whole job, from start to finish, in-house at his shop. Brandon added, "We worked through some details and quickly had a done deal."
For this project, Brandon and his crew were in a bit of a race against time. The client had gone out to British Columbia to pick up his newly purchased plane and the plan was to have the dock ready when he returned to Newfoundland.
"We were under a time crunch because the client was flying across Canada and needed a place to dock the plane before he got back to Newfoundland. He would periodically text me wondering what the status was on the dock, because obviously he needed it to be ready when he landed on the lake."
Brandon and two others formed the three man crew that put together the eight foot by 20 foot docks at the shop in Grand Falls-Windsor, which were eventually connected in an L-Shaped configuration. It took the three-man crew about five days to do both sections, including all of the hardware.
When creating the dock configuration, each section was laid out separately in the workshop. "Our foam supplier is Genyk and Boreal Nature Elite closed-cell foam is what we use on our docks. It has a water permeance of 60 ng. Mike Richmond, Compliance Manager for Genyk stated, "Boreal Elite is a natural fit for marine applications. Not only does the product promote buoyancy, the material is resistant to water absorption. Properly installed, polyurethane foam provides a uniform buoyancy layer – critical to good flotation."
From an equipment perspective the team used a PMC PHX-25 Proportioner, 3500 PSI, and a Fusion AP2 gun to install the foam for the floating dock.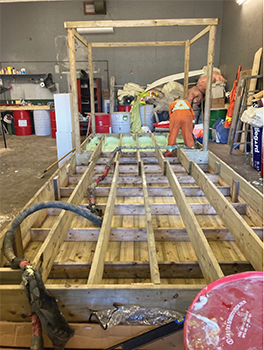 The Spartan Spray Foam and Coatings crew installs Boreal Nature Elite closed- cell foam to the hull of the dock, which is an ideal fit for marine applications.
When spraying indoors at the shop or on location the Spartan Spray Foam and Coatings crew wore Tyvek suits. Brandon explains, "If we're spraying inside in a closed environment, we'll use Bullard CAB 3 stage breathing air supply. Spartan has SABA's on the spray foam trailer."
Before they joined the two separate dock pieces together, they had to be transported 40 miles to the client's lakefront cabin. Brandon described the set up and trip, "We built it at the warehouse, and loaded it onto a five-deck trailer with a skid steer and set of extended forks. From there we brought it up to the lake, backed the trailer in and floated the dock out into the water, essentially right off the trailer." The dock was completed and installed with time to spare before the Cessna made its inaugural landing on the lake.
Today the dock is set with 100% buoyancy and incredible added structural integrity from the closed-cell foam, making it an ideal application.
After the ice melts and the snowmobile is put away at the end of spring, Brandon will be able to use the custom floating dock he built for himself…and his friends. He's in the process of turning it into a fully decked out tiki hut with a motor for cruising on the lake. Brandon describes it further, "I put a motor on the dock. I had a pontoon boat and I was looking to upgrade to a new pontoon boat. I sold the old boat the summer before Covid."
Because of Covid, Brandon wasn't able to get a new boat. "There were so many limitations in being able to get products and boats in Canada. We couldn't get anything, especially in Newfoundland because we're an island. The transportation network was crippled."
With Brandon's multi-talents, it only made sense that instead of finding a pontoon boat, he decided to build the boat instead, using spray foam for flotation of course. "So now we have something to steam around the lake on. All it needs is the thatch roof and it's complete."
Brandon and his crew expect to be busy during the upcoming months. Since building and installing the float plane dock, they've had an influx of calls. They've completed a couple of docks and barges; a swimming platform anchored at a local municipal community's swimming hole; a dock/barge for an aquaculture business that has a four by four foot hole in the middle. The company mounted equipment on it for harvesting cultured mussels and is shipping to a worldwide market. Spartan also had a request for a floating dock with a cantilever to hold a hammock.
It looks like Brandon's "tiki hut/dock" has been a "hit" with locals and won't be the only one out on the lake this summer. Spartan Spray Foam and Coatings has had multiple requests coming in for "tiki docks" that the crew will be working on in the coming months. If he can find some downtime Brandon's hoping to get a chance to relax and spend some time with his friends on his own.
For use by SprayFoamMagazine.com & Spray Foam Magazine

Disqus website name not provided.
You May Also Like