Tundra Treks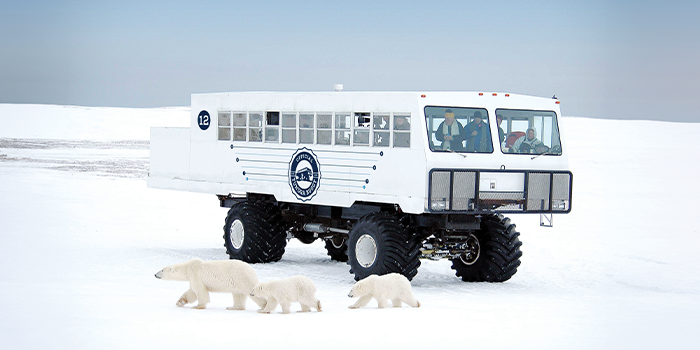 SPRAY FOAM MAGAZINE – Exploring the Canadian tundra while visiting with polar bears beneath the Aurora Borealis is an adventure once reserved for only the most intrepid expeditioners.
Frontiers North Adventures in Churchill, Manitoba offers a unique way for aspiring adventurers to have this experience in a safe and controlled environment – a specialized vehicle called the Tundra Buggy. The Tundra Buggy is designed to take passengers on day trips to rove the tundra, which means it must maintain a comfortable temperature inside the cabin amid the frigid outdoor temperatures. To achieve this, Frontiers North needed a better solution and reached out to Keith Bowie of Ecologic Spray Foam Insulation for this unique project. Ecologic is based in Winnipeg, Manitoba and has a long-standing reputation of excellence in performing non-traditional spray foam projects.
Ecologic Spray Foam Insulation has been in business for 18 years, and throughout that time, they have earned a reputation for their work on special projects involving spray foam. Since their inception, the company has been a two-man powerhouse consisting of Bowie, who describes himself as an "active owner," and just one other staff member. "We might be the oldest team rocking it" Bowie laughs. "We're not the fastest, but I know we're one of the best."
When Frontiers North first approached Ecologic, they already had one Tundra Buggy, but they were dissatisfied with the existing vehicle's design, namely, the way it maintained heat. They consulted Bowie to assess the Tundra Buggy, and he quickly located ways to improve the design and enhance the thermal barrier.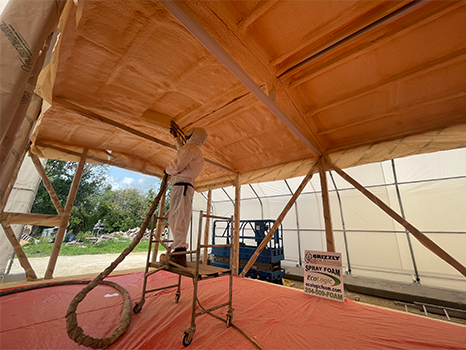 Keith Bowie foams the Tundra Buggy's ceiling
He wanted to ensure that the foam layer on the vehicle's floor was overfilled and grinded to a smooth finish to prevent heat loss. Bowie's expertise spawned a working relationship between Ecologic and Frontiers North.
Churchill Wildlife Management Area (CWMA) approves the Tundra Buggies for traversing and viewing wildlife in controlled zones. The units are made out of retired airport fire trucks. Due to Frontiers North Adventures' commitment to ecotourism and sustainability, current Tundra Buggy models with diesel engines are being replaced with electric engines. Though each Tundra Buggy is different, the foaming process is relatively standard.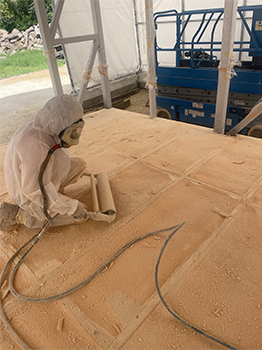 He uses a planer saw to grind the foamed floor to a smooth, even finish
Ecologic works on the Tundra Buggies out of a Quonset hut in their Winnipeg shop. On average, each unit takes seven days to complete. All of the vehicles have a steel frame, and prior to foaming, they wrap all metal components in poly detailing paper to protect against overspray. Dressed in industry-standard PPE including Tyvek suits, respirators, and gloves, the team applies a layer of spray foam to the floors and the ceiling. Each unit requires an application of seven inches of 2lb Grizzly Gold closed-cell foam to maintain the heated floors, while the ceilings receive four to five inches of foam. They pre-assemble all parts of the unit at their shop, then disassemble it completely, pack it into crates, and ship the completed yet disassembled Tundra Buggy to its home in Churchill over a thousand miles away.
Foaming is a delicate, specific process. Bowie explains that patience and an understanding of the foam's innate properties are crucial when applying foam to a project of this nature. "When foaming, we orient our passes over a 24-hour period to make sure our layers have the appropriate density and dimensional stability."
As an industry veteran, Bowie highlights that best practices include no more than two inches applied in appropriate distances over a 24-hour period.
For the Tundra Buggy they had to overfill the foam on the floor and then grind it down to a smooth finish using an air-driven, wire-brush planer. The floor is composed of two by eight framing, sheeted from below to accommodate the layers of foam and thermal flooring components. Likewise, the ceiling is composed of two by four framing, with the foam creating a monolithic seal on the entire vehicle.
Bowie says that it is all about creating a thermal barrier to keep the warm air inside the Tundra Buggy, and to prevent cold, arctic air from getting in. "We need to create a 'plug' around the perimeter of that floor. They don't want a big cavity underneath for the heat to escape." Bowie explains that the best way to apply the huge amount of foam needed to fill in the unit's floor is to work with steady, even layers. Foam expands in the heat, then cools, which creates tension, and if not careful, this tension leads to cracking. "Cracking results from applying too many foam passes, too quickly," he says. On a unit with as demanding temperature regulation as the Tundra Buggy, cracking spray foam is simply not an option.
The Tundra Buggy is designed to navigate harsh, icy terrain so that passengers can view wildlife in their natural habitat. Expeditions in the Tundra Buggy can last all day, which means the vehicle's internal cabin must be temperature controlled. Bowie explains that maintaining internal temperature is not just for comfort, but for safety, "It gets so cold up there during the winter, it can freeze and break your eyelids." The thick spray foam layer surrounding the Tundra Buggy allows tourists to safely enjoy days-long wildlife expeditions without the threat of hypothermia. Lucky passengers may even get to be nose-to-nose with curious polar bears, who sometimes walk up to the side of the Tundra Buggy, drawing up on their hind legs to try to look in the windows– an unforgettable encounter made possible in part by the thermal-regulating power of foam.


Ecologic has completed three new Tundra Buggies, each with its own unique features and specifications. The most recent Tundra Buggy features a kitchen, storage room, and generator, and is designed for longer expeditions. Another model serves as a dining car, and features skylights in the roof for passengers to view the Northern Lights while enjoying a meal.

In addition to being the business owner of both Ecologic Spray Foam Insulation Inc, and Concrete Lifting Canada, Inc, Bowie also serves as the Chairman of the Canadian Urethane Foam Contractors Association (CUFCA).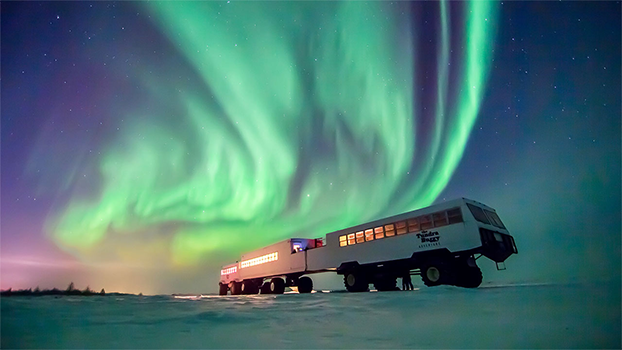 The SPF application helps create a thermal barrier to keep the warm air inside the tundra buggy and to prevent cold, arctic air from getting in, allowing passengers to enjoy stunning views of the Northern Lights in comfortable conditions
His portfolio includes work for previous clients, including the National Museum of Human Rights in Winnipeg, as well as work on projects featuring historic architecture that must be handled with the utmost respect and caution. All of these factors – Bowie's credentials, portfolio, reputation, and work ethic, made Ecologic Spray Foam Insulation the perfect fit to work on the Tundra Buggy Adventure.
For use by SprayFoamMagazine.com & Spray Foam Magazine

Disqus website name not provided.