Louisiana-Based CISI Provides Spray Foam and Polyurea Solutions From the Bayou
Louisiana-Based CISI Provides Spray Foam and Polyurea Solutions From the Bayou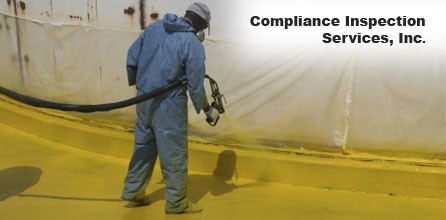 AMELIA, LA - April 18, 2012 - If you drive 90 minutes west of New Orleans, you'll find the town of Amelia, and in Amelia, you'll find Compliance Inspection Services Inc. (CISI). From that small town, CISI has been a nationwide provider of spray foam and polyurea coating applications since 2006.
"We do anything and everything in terms of spray foam insulation, spray foam roofing and polyurea coatings," says CISI's Kevin Kydd.
While CISI is well-established with spray foam projects involving typical insulation and roofing systems for residential and commercial applications, the company also specializes in insulating portable buildings, which consist of a shipping container that is insulated with a couple inches of closed cell spray foam.
"They're more or less the same type of containers used for importing and exporting, anywhere from 20 to 40 feet long," Kydd explained.
The buildings are of critical importance to industries involved with natural resources, as they can be used for work stations and offices for personnel, or for the storage of sensitive equipment or materials. While the container structure provides the buildings mobility, the SPF insulation makes them functional in potentially harsh industry locales, which can be isolated and prone to extreme temperatures, be it the heat of the desert or the cold of Alaska.
While CISI considers portable buildings an "untapped market," that kind of application isn't for everybody. Kydd stressed CISI's strategic business relationships as key to the company's success with such a niche application.
Another type of application critical CISI's success involves a completely different material: polyurea.
"The EPA is getting stricter, especially in the gulf coast region," said Kydd, referring to Louisiana's string of natural and environmental disasters in recent years. "So, companies that have large tanks filled with any type of petrochemical product have to have containment fields."
The problem with that is traditional secondary containment systems made of concrete are prone to cracking and thus vulnerable to leaks and environmental contamination. This is where polyurea comes into play.
"Polyurea is the perfect material for coating concrete," said Kydd. "We also fill cracks and do concrete repairs as needed prior to coating with primer and polyurea."
A coating of polyurea not only gives an aging and compromised secondary containment system new life, it goes above and beyond the system's original containment performance. Moreover, polyurea can be used to coat the interior and exterior of the containment tanks themselves.
"These tanks can be anywhere from 30 to 50 to 100 feet or more in diameter and 20, to 50 feet high," explained Kydd. "We can go in for a fraction of that cost and give them another 5-10 years use by putting a polyurea coating on the inside of the tanks, as well as the outside"
So, from homeowners looking to improve on energy efficiency or industrial companies looking to rehabilitate existing facilities, CISI has demonstrated its merit as a one-stop-shop for spray foam and polyurea solutions.
To see examples of CISI's work, click on the photo gallery button above.
About Compliance Inspection Services Inc.: Based out of Amelia, Louisiana, CISI has been providing spray foam and polyurea coating solutions since 2006. The company's quotes are free of charge and include a job site evaluation, material recommendations, written specifications and a cost estimate. For more information, please use the links provided below.
Contact Details
Name: Kevin Kydd
Email: Email Us
Phone No: (985) 631-0022
Disqus website name not provided.
Louisiana-Based CISI Provides Spray Foam and Polyurea Solutions From the Bayou