Expanding into SPF

Spray Foam Magazine – BAHA Construction, Inc. of Pueblo, Colorado, started as a commercial construction company specializing in both commercial and residential buildings. Two years ago, they decided to add spray foam insulation to their repertoire and through hard work and perseverance, they recently added a third spray foam rig to their fleet. There is no stopping this aspiring company, who has created a demand in their local area. With their growth so impressive, they are now offering interstate spray foam work.
BAHA Construction's spray foam efforts are led by Division Manager, Matt Ruggier, who works tirelessly to keep the pipeline full of work. The Spray Foam Magazine Team (SFMT) sat down with Matt to discuss BAHA's ambition, experience, and turnkey service and how he personally feels about the advantages of SPF.
Spray Foam Magazine: How long have you been in the construction industry?
Matt Ruggier: BAHA Construction, Inc. was founded in May of 2006 and added the insulation division in May of 2021. BAHA brought me on the team to kick-start the insulation division and I am now the division manager.
SFM: Where is BAHA Construction based/what area do they cover?
MR: BAHA is based in Pueblo, Colorado and provides services throughout Colorado. We work on multiple million-dollar homes using closed-cell and hybrid systems, as well as commercial projects, and K-12 schools. We have the ability to work on military bases as well and have recently completed a job on an army base in Colorado Springs. We are even currently bidding projects across the Southwestern United States.
SFM: Does BAHA's commercial construction business provide advantages to your spray foam operation?
MR: Yes. The commercial part of our company helps lead us to be able to do commercial as well as government jobs since we have our commercial license as well as being insured.
SFM: Were you always passionate about pursuing a career within the construction industry?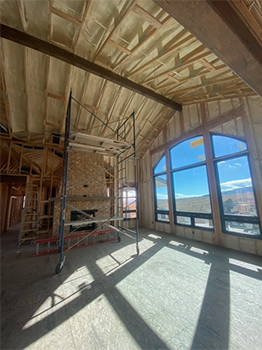 One of the first mountain jobs BAHA completed was located in West Cliff, Colorado. It was also one of their first million dollar homes.
MR: No, I was not. However, now that I'm a part of it, I wish that I had been involved in the construction industry a long time ago, especially the spray foam insulation sector. It has been very satisfying to educate our customers about the benefits of having a properly insulated building and how it can increase the comfort of their homes and businesses along with saving money on energy bills.
SFM: Talk us through the company and what services it provides?
MR: BAHA Construction in an SBA 8(a) and DBE certified General Contractor that focuses on industrial and commercial construction and renovation projects. BAHA performs SPF as part of our commercial services. Since adding SPF services to our line up we have expanded into the residential construction arena providing insulation services to homeowners.
SFM: When and why did BAHA Construction add SPF to their arsenal?
MR: BAHA is a full-service general contractor and performs a wide range of residential, commercial, and industrial projects along with self-performing various scopes of work to include framing and drywall projects. Based on this it made sense for the company to add SPF to its arsenal of services. BAHA expanded into SPF in May of 2021 while rebounding from the impacts of the pandemic as we felt it complemented the framing and finishing of projects.
SFM: How has SPF added to the services BAHA Construction provides?
MR: Since adding SPF services to our line up it has helped to provide BAHA with more avenues to offer turnkey services on our projects without having to subcontract the work.
SFM: The company recently purchased a third spray rig. Please explain the timeline of growing your fleet.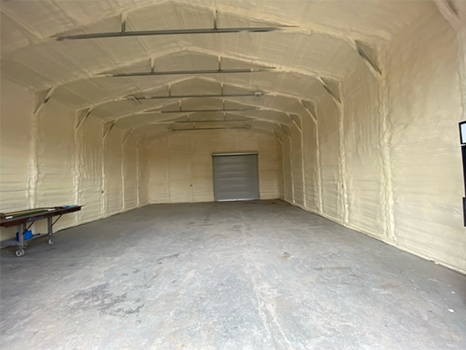 A clean foam application by the BAHA crew in Pueblo, Colorado
MR: In April of 2021 BAHA purchased their first used spray foam rig. This turned out to be a big mistake as we were jumping into the spray foam industry without knowing much about the equipment needed for this business. We quickly learned that the equipment we had purchased was inadequate for the quantity of work and did not produce a quality product to align with our company's standards. To stand by our business mission to provide quality construction and services we researched spray foam equipment and came across Profoam Corporation (Profoam). After comparing Profoam to other companies we decided that Profoam provided the best equipment in the SPF field. Profoam built a rig for BAHA with a Carlisle IS40 proportioner. It was the best decision that our company made for the growth of our insulation division. In October of 2022, BAHA purchased a second rig with a Carlisle IS40 as well.
In January of 2023, BAHA added its third spray foam rig with a Carlisle IS30 that is brand new to the market. I would have to say between Profoam and Carlisle's customer service we have been able to continue to expand and offer our customers the best experience possible.
SFM: Tell us what your day to day involves and what parts of your role you enjoy the most.
MR: My day consists of working closely with a great team of technicians and sending them to work with the right product and equipment to complete their projects. A typical day includes estimating, marketing, networking, and problem solving. I work with potential customers from all over Colorado and the Southwest region of the U.S. to provide them with the knowledge to make an informed decision about their insulation needs. The time spent working with people from all different backgrounds and locations to learn about their specific needs and projects and to provide them with the valuable knowledge about the available product options as well as the Carlisle products that we offer is incredibly rewarding for me.
SFM: What motivates you?
MR: There is no greater satisfaction than seeing a completed project for a happy customer, which motivates me to continue to strive to offer the best possible service for BAHA's customers.
SFM: What are the plans for SPF and the company for the future?
MR: BAHA is excited to continue to expand the insulation division, while maintaining the highest quality of customer service and satisfaction to our customers. Our goal is to continue responsible and sustainable growth. We want to fully utilize the three SPF rigs that we currently own but have plans to add more rigs as we expand our business. We feel that Profoam and Carlisle are integral to our continued success and development in the SPF field.
SFM: What is one piece of advice you would give to another construction company wanting to add SPF to their skill set? e.g., how training is crucial.
MR: Train, Train, Train. You can never have enough training in this industry. My personal advice to anyone wanting to start their own SPF company, is to do your research, use good equipment such as Carlisle products. And if you need a spray foam rig built, reach out to Profoam Corporation. Without the right equipment and knowledge, you will not succeed in the SPF market. The Carlisle proportioner has been a game changer. It heats up the hose in less than 15 minutes. Our mix ratios are always on point. Our yield has improved dramatically. It provides a daily work report that shows the mix ratios and temperatures of the chemical and generates a report that we share with our customers to give them the comfort of knowing that the product was applied correctly. It also provides documentation of the work that we performed which is an important tool for our records. Working with Profoam and Carlisle has been key to the success of our insulation division. They have offered technical support, training for our technicians, marketing education, and most importantly have served as mentors to us. Both companies have gone the extra mile supporting our operations.
BAHA Construction is already a renowned general contractor for commercial and industrial projects, and now with the addition of SPF, their residential growth is also set in foam. It's obvious that hard work shows itself in every aspect of this company, from the pride they show in a completed job, to the incredible installation staff that works on the job sites. Companies within the industry are also sitting up and taking notice, like Carlisle Fluid Technologies approaching BAHA about becoming a Beta tester for new spray foam equipment that will be entering the market. With determination, product knowledge and superior equipment, this construction company has really expanded their turnkey capabilities with the help of spray foam insulation.
For use by SprayFoamMagazine.com & Spray Foam Magazine

Disqus website name not provided.