Accella Performance Materials Announces Acquisition of Premium Spray Products
Accella Performance Materials Announces Acquisition of Premium Spray Products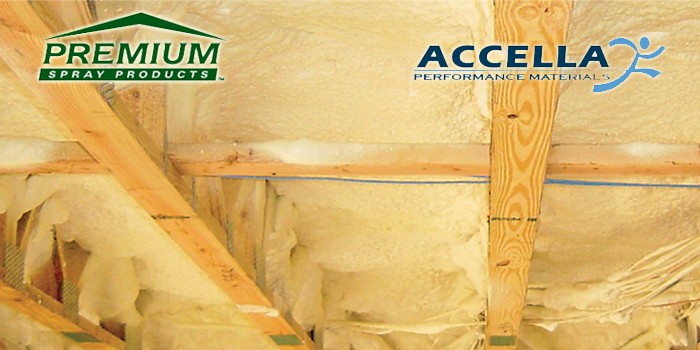 ST. LOUIS, MO – Sept. 10, 2015 – Accella Performance Materials, a leading manufacturer of polyurethanes and recycled rubber products today announced the acquisition of Premium Spray Products, a leading manufacturer of spray foams for insulation and roofing as well as specialized polyurethane systems for niche applications. Premium Spray Products, based in Marietta GA, and Regina, Saskatchewan will continue its outstanding product line and customer service as part of the Accella family.
"The acquisition supports Accella's strategy to build the leading polyurethane systems house in North America. We are attracting, investing in and developing the "best of the best" in polyurethane technology and service. In combination, our nationwide manufacturing and technical sales network will bring enhanced value and services, as well as an expanded offering, to provide even more solutions to our customers. Customers may continue to expect the same level of high quality products, service and support from Premium, with additional resources to bring even greater customer value," remarked Andy Harris President and CEO of Accella Performance Materials.
John Televantos, a partner at Arsenal Capital which acquired Accella in 2012, said, "We are very pleased to bring Premium Spray Products into the Accella group. With this strategic acquisition, Accella's strength as a leading value added Polyurethane Systems House is even stronger by leveraging the combined technical knowledge, customer support and manufacturing capabilities."
RELATED Covestro Up and Running, Polyurethane Foam Market Growing at 7.5% CAGR to 2020, Research Says , Revolution Machinery Reveals Key Considerations in Getting the Right Spray Foam Proportioner, Center for Polyurethanes Industry Announces Finalists for Prestigious Innovation Award
Roy Seroussi, a Principal at Arsenal Capital said, "Premium Spray Products has a history of proven products, customer service and positive reputation that fits very well with Accella's offering and culture."
Premium Spray Products President Mac Hess, who will stay on with Accella said, "We are very excited about the potential to leverage the technical, financial and personnel resources from Accella across North America. This is truly a great cultural fit to bring the best value and opportunities to customers and employees alike. We are very pleased to become a strategic part of Accella, singularly focused on spray polyurethane systems and coatings. We expect little or no change to our operations and customer service moving forward, and with enhanced investment and resources from Accella. "
For additional information, please visit www.accellacorp.com.
About Accella Performance Materials: Rebranded from Dash Multi-Corp which was founded in 1973 in St. Louis, MO, Accella is a leading manufacturer of custom formulated polyurethane systems and recycled rubber products. The polyurethane business is focused on custom formulations for spray, pour and cast applications involving foams, coatings, adhesives, sealants, and elastomers. The recycled rubber products business manufactures recycled tire crumb, custom colored EPDM granules, equine matting, athletic flooring, playground surfacing, and custom molded products. With the acquisition of Premium Spray Products, the company manufactures in eight production facilities across the United States, one in Europe and one in China. To learn more about Accella Performance Materials go to www.accellacorp.com.
About Arsenal Capital Partners: Formed in 2000, Arsenal Capital Partners is a leading New York-headquartered private equity firm that invests in middle-market specialty industrial and healthcare companies. Arsenal makes investments in sectors where the firm has significant prior knowledge and experience. The firm targets businesses that have the potential for further value creation by working closely with management to accelerate growth and leverage the firm's operational improvement capabilities. Arsenal currently has $1.7 billion of committed equity capital. For additional information on Arsenal Capital Partners, please visit www.arsenalcapital.com.
Contact Details
Name: Al Restaino
Email: Email Us
Phone No: 330-714-3570
---
Disqus website name not provided.
Accella Performance Materials Announces Acquisition of Premium Spray Products