Spray Foam World Wide Announces Media Alliance With Spray Foam Magazine and SprayFoam.com
Spray Foam World Wide Announces Media Alliance With Spray Foam Magazine and SprayFoam.com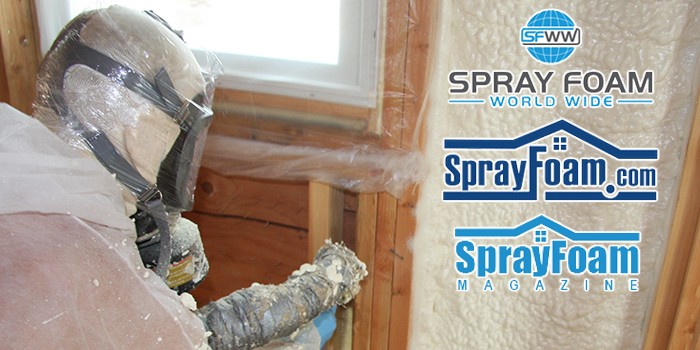 BIG LAKE, MN – October 5, 2017 – Spray Foam Worldwide, LLC announces a formal alliance with Spray Foam Magazine and SprayFoam.com. The alliance creates a cross platform marketing partnership that will bundle three separate strategic and high performance media channels into one. This being the award-winning Spray Foam Magazine, industry-leading Internet portal SprayFoam.com, and social media powerhouse, Spray Foam Worldwide (SFWW).
Bill Bilben, SFWW's president says, "SFWW was/is growing so fast, we realized the need for additional internet/mobile technology. We naturally looked to the industry leaders and saw SprayFoam.com as the obvious choice to help us. After getting know each other, we discovered our goals and assets were aligned toward the betterment of the industry and wanting to focus on, and serve spray foam contractors better. We not only hashed out our Internet plans, but we saw a great opportunity to bring the first and only cross-channel spray foam marketing platform to the industry."
The companies will remain the same, but they will immediately begin to cross-promote each other's unique and valuable services in some very high performance cross platform bundles. This combined group can now reach spray foam contractors anytime and anywhere, and is the only resource available to offer these newly developed communication tools to spray foam suppliers, equipment manufacturers, and distributors.
RELATED Dodge Data & Analytics and Dexter + Chaney Partner, The Global Polyurethane Foam Market Is Expected To Reach $60.5 Billion By 2022, Icynene Europe Announces Suite of New Spray Foam Product Innovations, Lapolla Industries Introduces New and Improved FOAM-LOK 500 Spray Polyurethane Foam for Insulation Applications
"The group has built up a treasure chest of valuable technical, applicational, building science marketing, sales content that needs a home more suitable for our audience to find and access it. SprayFoam.com is the perfect location for it, and the 'ease of use' gains for the contractors is what we are about," says Bilben. "We love Spray Foam Magazine and plan to immediately leverage it through the group and make it available to our entire audience. We have some big plans to further integrate the contractors into it, increase circulation, and make it an even higher performing channel for the industry."
The SFWW team is also planning a huge contractor party at the upcoming SF show in conjunction with SPFA, and is happy to channel all these valuable groups and people together with a common goal.
SFWW is most proud of their contributions, modifications, and redesigns of SprayFoam.com's (Fall/Winter release) and their suite of tools to help contractors save money and grow their business. Stay tuned folks.
"SprayFoam.com has been really receptive to our new website design plans too. We couldn't be more excited!, This will be something of the likes you have never seen before," claims Bilben.
About Spray Foam Worldwide: Spray Foam World Wide is a social media group created with the goal of expanding the experience and knowledge of SPF. Spray Foam World Wide" continues to grow leaps and bounds, the people within this group will be the pioneers to the future spray foam. For more information, please www.facebook.com/groups/1031962486856843
About SprayFoam.com: SprayFoam.com is the number-one Website dedicated to spray foam insulation and roofing. With an array of industry news, business listings, educational content, forums, and classifieds, SprayFoam.com connects the entire industry, from contractors and suppliers, to homeowners and builders, to architects and consultants. For more information, please visit www.sprayfoam.com
About Spray Foam Magazine: Spray Foam Magazine is targeted to a global audience of building construction professionals and energy-conscious readers. It is distributed bi-monthly to applicators, manufacturers, distributors, specifiers, general contractors, architects, engineers, and managers in both the public and private sectors. For more information, or free instant access, please visit www.sprayfoammagazine.com
Contact Details
Name: Bill Bilben
Email: Email Us
Phone No: (763) 443-6294
---
Disqus website name not provided.
Spray Foam World Wide Announces Media Alliance With Spray Foam Magazine and SprayFoam.com