Icynene To Acquire Lapolla Industries
Icynene To Acquire Lapolla Industries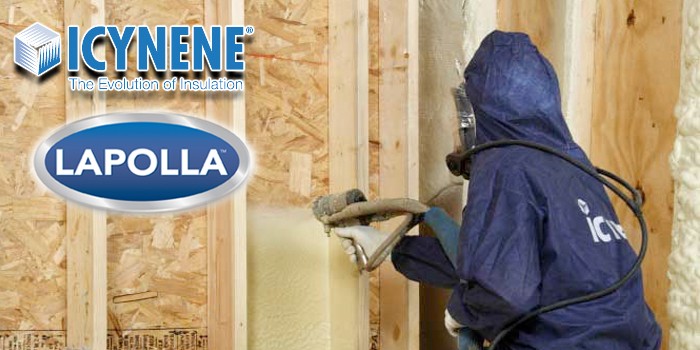 MISSISSAUGA, ON and HOUSTON –
Oct. 5, 2017 – Icynene U.S. Holding Corp. ("Icynene") and Lapolla Industries Inc. ("Lapolla") (OTCQX: LPAD) today announced that they have entered into a definitive merger agreement under which Icynene will acquire all the outstanding shares of Lapolla. The transaction is valued at approximately $160 million, including net debt.
Under the terms of the agreement, stockholders of Lapolla will receive $1.03 in cash for each share of Lapolla that they own. The transaction was unanimously approved by Lapolla's board of directors and, following Lapolla's entry into the agreement, Lapolla stockholders holding approximately 78% of Lapolla's issued and outstanding voting shares executed a written consent approving the merger agreement and the transaction.
The transaction will combine Icynene, a Mississauga, Ontario Canada-based manufacturer and distributor of high performance, one step spray foam polyurethane foam insulation ("SPF") products, with Lapolla, a Houston-headquartered global supplier and maker of SPF products. Together, the combined company's energy-conserving SPF insulation products will serve a wide range of new residential, commercial, remodeling, and specialty non-construction insulation project needs in North America and globally.
"Icynene is thrilled to partner with Doug Kramer, the President and CEO of Lapolla, and his team as Icynene and Lapolla combine businesses to create an innovative leader in high yield SPF manufacturing and distribution," said Mark Sarvary, Chief Executive Officer of Icynene. "Consumers are increasingly turning to high quality spray foam that forms an effective air barrier to meet their energy saving insulation needs. Together, as one company, Lapolla and Icynene will have more resources to fully serve our respective customers and positions both companies for long-term, sustained growth."
RELATED July/August 2017 Spray Foam Magazine Heats Up The Summer , Icynene Europe Announces Suite of New Spray Foam Product Innovations, Icynene Spray Foam Insulation Works to Make Homes More Comfortable, Lapolla Industries Introduces New and Improved FOAM-LOK 500 Spray Polyurethane Foam for Insulation Applications
"During the past several months, Lapolla conducted an extensive review of strategic opportunities to enhance value for our stockholders and Lapolla is happy to have reached this agreement with Icynene, which delivers a significant premium to Lapolla's stockholders," said Mr. Kramer, who will remain with the company.
"This is an exciting time in the insulation industry and Lapolla couldn't be more pleased to join with Icynene, a combination that brings together two leading SPF brands, and work together to bring downstream value to Lapolla's and Icynene's mutual associates, team members, customers and consumers," said Mr. Kramer. "Mark and I look forward to bringing our complimentary experience together to strengthen our combined business".
The acquisition is subject to customary closing conditions, including receipt of regulatory approvals.
Houlihan Lokey served as the exclusive financial advisor to Lapolla in connection with the transaction.
Additional Information and Where to Find It
This communication is being made in respect of the proposed merger involving Lapolla and Icynene. Lapolla will prepare an information statement for its stockholders containing the information with respect to the merger specified in Schedule 14C promulgated under the Securities Exchange Act of 1934, as amended, and describing the proposed merger. When completed, a definitive information statement will be mailed to Lapolla's stockholders. Lapolla and Icynene may be filing other documents with the SEC as well. INVESTORS ARE URGED TO CAREFULLY READ THE INFORMATION STATEMENT REGARDING THE PROPOSED MERGER AND ANY OTHER RELEVANT DOCUMENTS IN THEIR ENTIRETY WHEN THEY BECOME AVAILABLE BECAUSE THEY WILL CONTAIN IMPORTANT INFORMATION ABOUT THE PROPOSED MERGER. You may obtain copies of all documents filed with the SEC regarding this transaction, free of charge, at the SEC's website, http://www.sec.gov.
About Icynene: Based in Mississauga, Canada, Icynene is a leading manufacturer and distributor of spray polyurethane foam insulation products and a portfolio company of FFL Partners, LLC. Contractors install spray foam insulation in walls, ceilings, floors, attics, and hard-to-insulate areas across a diverse set of construction end markets, including new custom residential, new production residential, commercial, remodeling, and specialty non-construction applications. For more information, visit http://www.icynene.com/.
About Lapolla Industries, Inc.: Lapolla Industries, Inc. (LPAD) is a global supplier and manufacturer of spray polyurethane foam for insulation and roofing applications, reflective roof coatings and equipment. Based in Houston, Texas, the Company's building envelope and roofing product solutions are designed to reduce energy consumption in the building environment, across the residential, commercial and industrial sectors, in both new construction and retrofits. Visit Lapolla Industries at www.lapolla.com for more information.
About FFL Partners: FFL Partners is a San Francisco-based private equity firm with over $4.5 billion under management. For over fifteen years, the firm has helped build industry-leading companies, providing capital and advice to exceptional management teams to grow businesses and unlock value. FFL has deep experience in investing and operations, and has brought large-company best practices and professional networks to smaller companies. Business growth has provided over 75% of the value created by FFL for its investors. FFL invests in consumer products and services, industrial products and services, financial services, healthcare services, and business services. For additional information about FFL, please visit FFL's website at www.fflpartners.com.
About Houlihan Lokey: Houlihan Lokey (NYSE: HLI) is a global investment bank with expertise in mergers and acquisitions, capital markets, financial restructuring, valuation, and strategic consulting. The firm serves corporations, institutions, and governments worldwide with offices in the United States, Europe, and the Asia Pacific region. Houlihan Lokey is ranked as the No. 1 M&A advisor for all U.S. transactions, the No. 1 global restructuring advisor, and the No. 1 global M&A fairness opinion advisor over the past 20 years, according to Thomson Reuters.
Cautionary Statement Regarding Forward-Looking Statements
This press release contains or may contain forward-looking statements. Forward-looking statements may be identified by the use of forward-looking terms such as "may," "will," "can," "expects," "believes," "anticipates," "intends," "plans," "estimates," "projects," "assumes," "guides," "targets," "forecasts," "is confident that" and "seeks" or the negative of such terms or other variations on such terms or comparable terminology. Such forward-looking statements include, but are not limited to, statements about the anticipated benefits of the transactions between Lapolla and Icynene, including Lapolla's and Icynene's future financial and operating results, plans, objectives, expectations and intentions, the expected timing of completion of the transactions and other statements that are not historical facts. These forward-looking statements are based upon the current beliefs and expectations of management and are subject to significant risks and uncertainties that could cause actual outcomes and results to differ materially. Important factors that could cause actual results to differ materially from those indicated by such forward-looking statements include, without limitation: the merger not being timely completed, if completed at all; risks associated with the financing of the transaction; prior to the completion of the merger, Icynene's or Lapolla's respective businesses experiencing disruptions due to transaction-related uncertainty or other factors making it more difficult to maintain relationships with employees, business partners or governmental entities; and the parties being unable to successfully implement integration strategies or realize the anticipated benefits of the acquisition, including the possibility that the expected synergies and cost reductions from the proposed acquisition will not be realized or will not be realized within the expected time period. Those factors and the other risk factors described in Lapolla's or Icynene's annual and quarterly reports as filed with the SEC are not necessarily all of the important factors that could cause actual results or developments to differ materially from those expressed in any of Lapolla's or Icynene's respective forward-looking statements. Other unknown or unpredictable factors also could harm Lapolla's or Icynene's respective results. Consequently, Lapolla's or Icynene's actual respective results could be materially different from the results described or anticipated by Lapolla's or Icynene's respective forward-looking statements due to the inherent uncertainty of estimates, forecasts and projections and may be better or worse than anticipated. Given these uncertainties, you should not rely on forward-looking statements. Forward-looking statements represent Lapolla's and Icynene's estimates and assumptions only as of the date that they were made. Each of Lapolla and Icynene expressly disclaims any duty to provide updates to forward-looking statements, and the estimates and assumptions associated with them, after the date of this document, in order to reflect changes in circumstances or expectations or the occurrence of unanticipated events, except to the extent required by applicable securities laws. The foregoing cautionary statements apply to all of Lapolla's or Icynene's respective forward-looking statements contained in this document.
SOURCE Icynene U.S. Holding Corp.
Disqus website name not provided.
Icynene To Acquire Lapolla Industries