SprayWorks Releases New Version of Spraybot for Polyurea and Spray Foam Applications
SprayWorks Releases New Version of Spraybot for Polyurea and Spray Foam Applications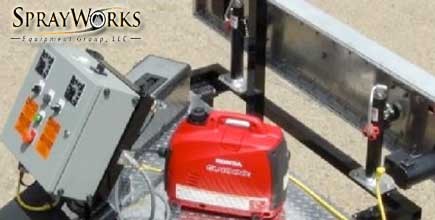 CANTON, OH - June 3, 2015 - SprayWorks Equipment Group has released the third version of the Spraybot, named Spraybot Ultra. Spraybot Ultra is a spray foam and polyurea automated application machine designed to accurately spray foam and polyurea on roofs, interior/exterior buildings, waterproofing, bridges, and other structures.
Operators have the ability to be trained on and use the Spraybot at any experience level, within just a couple hours. The lightweight-aluminum has a powder-coated durable paint and is designed to navigate virtually any structure, with ease. The Spraybot comes with a wind screen, which prevents overspray during high winds and the clamshell front-end design protects the spray parts from overspray. The Spraybot Ultra's benefits are vast; with human error removed and quite often reducing the cost of material, allowing you to increase the yield rate to 10% or more.
"The Spraybot Ultra has been a progression of continued improvement." said Jim Davidson, Owner of SprayWorks Equipment Group and Inventor of the Spraybot. "Our customers have already seen a huge improvement in their businesses and we felt it was important to launch a new version to market as enhancements are identified."
About SprayWorks Equipment Group: SprayWorks Equipment Group is a spray foam and polyurea company, supplying equipment, training, chemicals, and services. With over 65 years of combined experience SprayWorks has knowledge in commercial and residential buildings, bridges and infrastructure. SprayWorks provides training and education for new contractors and equipment operators; open cell, closed cell, polyurea & coating applications for interior & exterior building envelope design, waterproofing, below grade, bridge deck, barge, secondary containment all types of roofs and structures. For more information, please use the contact information and links provided below.
Contact Details
Name: Jennifer Davidson
Email: Email Us
Phone No: 855-752-4428
---
Disqus website name not provided.
SprayWorks Releases New Version of Spraybot for Polyurea and Spray Foam Applications