Titan™ Announces Hydra X Roofing and Thermal Barrier Sprayers
Titan™ Announces Hydra X Roofing and Thermal Barrier Sprayers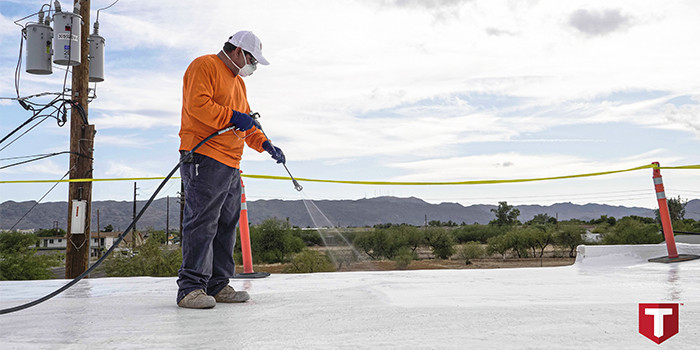 MINNEAPOLIS, MN — April 5, 2022 — Titan has introduced two new high-flow gas-powered roofing and thermal barrier sprayers – the Hydra X 4540 and Hydra X 7230. Equipped with Titan's exclusive HydraStroke® Technology and Severe Service™ fluid section, these powerful sprayers have additional new features including the AutoLift™ system and a quick-change fluid section.
The Hydra X 4540, which is designed for heavy coatings like asphalt emulsion and acrylic roof coatings, supports up to six guns at pressures up to 4,500 psi. The Hydra X 7230, which is designed for harder to atomize materials like silicone roof coatings, supports up to five guns at pressures up to 7,200 psi. Both will easily spray thermal barrier and standard architectural coatings.
Unmatched for durability and performance, HydraStoke Technology is an extremely efficient electronically controlled hydraulic system. It provides contractors versatility to spray both heavy- and light-bodied coatings, delivering a consistent and professional finish every time. The hydraulic motor is optimized with just one moving part, reducing heat and extending the life of the sprayer while a two-stage cooling system keeps the unit running cool all day.
Titan's Severe Service fluid section maximizes power and extends pump life with a slow stroking piston. This 45-year-old proven Titan technology features a tri-chrome process that resists corrosion and abrasion, handling aggressive coatings with ease. It has been enhanced with a quick removal fluid section that enables one person to service it in the field using just two tools.
Featuring Titan's Smart Design, Hydra X sprayers are the only direct immersion sprayer systems with AutoLift™ for raising the fluid section and hydraulic motor straight up with the touch of a button. It makes material changeovers much easier for both 55-gallon drums and five-gallon buckets. It eliminates wrestling with bulky siphon tubes and there's no need for a transfer pump. AutoLift can be operated with or without the gas engine running.
The units feature balanced, ergonomic carts with large 12-inch pneumatic tires for greater mobility and traveling over rough surfaces. They feature a curved design that fits perfectly with the diameter of a 55-gallon drum. A built-in storage tray holds tips, pins and small tools and the unit can be easily lifted by pressing on the rear lift bars with a foot.
Hydra X sprayers are outfitted with Honda's powerful GX390 engine with low oil alert and electric start. They are backed by the best and longest warranty in the industry Titan WearGuard™, which includes a four-year manufacturing defect warranty.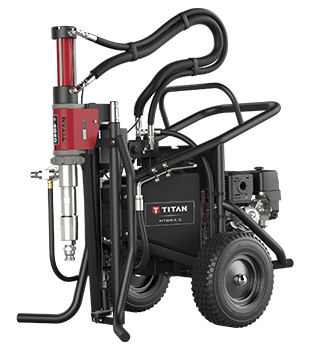 Hydra X 4540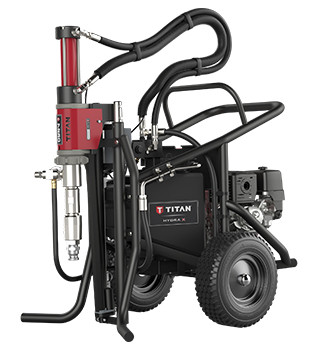 Hydra X 7230
"Now it's possible to spray high solids coatings with even more efficiency," said Chuck Flower, product manager for Titan. "Hydra X sprayers offer ultimate durability and unmatched power with proven Titan technologies like HydraStroke and Severe Service fluid section. The new AutoLift feature and quick-change fluid section also greatly simplify material changeovers and maintenance."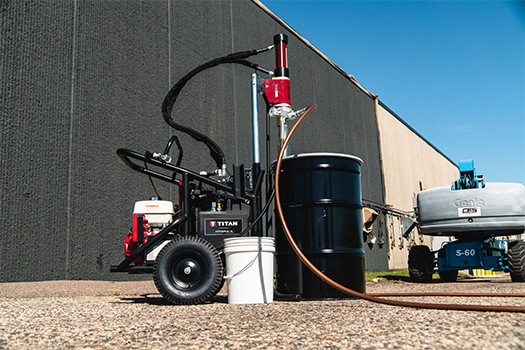 Hydra X 55 Gallon Drum
The Hydra X is available in the U.S. and Canada at professional equipment and industrial supply retailers. MSRP is $17,498 for the Hydra X 4540 and $19,165 for the Hydra X 7230. Visit www.titantool.com for more information.
About Titan
A leader in spraying technology, Titan manufactures and markets a full line of professional-grade sprayers for applying a variety of coatings. Titan products include airless and air powered paint sprayers, fine finishing sprayers, sprayers for applying texture, roofing, corrosion control, insulation, and protective coatings, and line stripers for sports fields and asphalt. For nearly half a century, contractors and maintenance professionals have relied on Titan products for world-class, end-to-end solutions that are dependable and easy to use. Visit titantool.com.
---
Disqus website name not provided.
Titan™ Announces Hydra X Roofing and Thermal Barrier Sprayers