The ST1 Spray Gun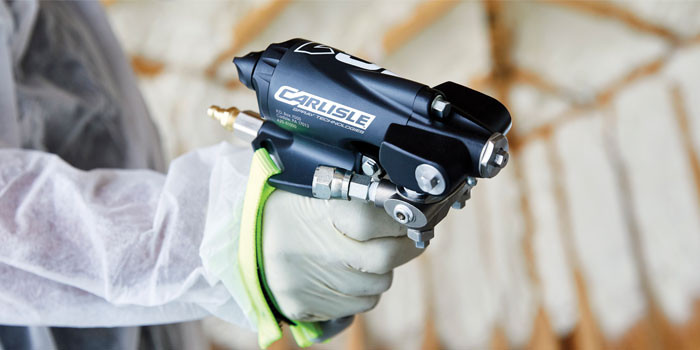 SPRAY FOAM MAGAZINE – Show Issue 2021 – As a leader in the spray polyurethane foam (SPF) industry, Carlisle is committed to providing the highest quality products and technical services for the spray foam professional. The ST1 Spray Gun was specifically designed in conjunction with Carlisle Spray Foam Insulation's complete product portfolio of open- and closed-cell products, guaranteeing the highest-quality spray foam insulation application. Carlisle is the only company to offer a total solution, which has reimagined the performance and accuracy of spray foam insulation, along with providing sprayers both material savings and increased productivity.
Carlisle designed the ST1 Spray Gun to reduce sprayer fatigue, while increasing productivity, application consistency, and uptime. The ST1 Spray Gun is 10% lighter than the leading competition, allowing applicators to spray longer and more consistently, especially in hard-to-reach areas. Carlisle's ST1 Spray Gun's handle features a wing design, transferring the load from your fingers to your arm and reducing fatigue. Additionally, the strap secures the gun to your hand to allow the applicator to rest fingers when not triggering.
The ST1 Spray Gun features separate mix chambers and tips that can be mixed and matched to optimize flow and pattern width for every application. The quick and easy change of mix tips on the job allows applicators to seamlessly move from rapid coverage to precise application. In addition, the ST1 Spray Gun is designed for simple maintenance by using a single tool, minimizing downtime for applicators to continue spraying on the job.
Experience the high performance, accuracy and consistency with the ST1 Spray Gun. Carlisle – the ONE NAME to know in spray foam. Contact your local Carlisle Representative for more information!

Contact Details
Name: Carlisle Spray Foam Insulation
Email: Email Us
Phone No: 844-922-2355
---
Disqus website name not provided.