The Maine Masters of "The Camp"
The Maine Masters of "The Camp"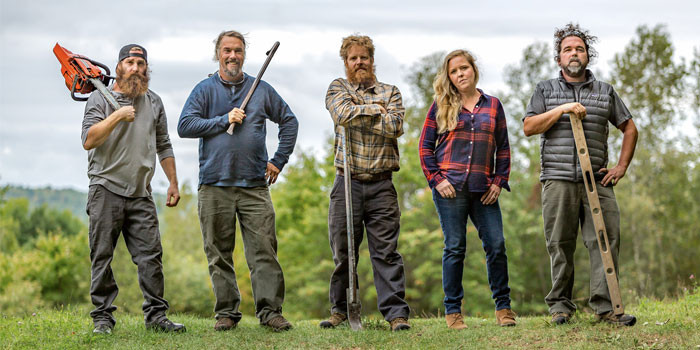 LATE SUMMER 2020 – Spray Foam Magazine – Maine-based builder Chase Morrill refurbishes old cabins and camps all over the Polar Star State. Working alongside his sister, Ashley, brother-in-law, Ryan, and good friends, Mathew Dix (known as "Dixie") and Jared Baker (otherwise known as "Jedi"), the group wins contracts with clients to restore and convert rundown camps which can be found from the depths of Maine's woods to the remote islands which skirt the state. From old camps passed down through family generations to picturesque lakeside retreats needing some serious repairs, Morrill and his crew use various materials, including spray foam insulation, to help transform the shabby into the chic.
Morrill and his crew have long been familiar with cabin life. "Everyone on the team either has a cabin or knows someone with a cabin, and over the years they have been involved in fixing these places up," states Morrill. Five years ago, a friend of the family heard of a producer from Dorsey Productions of Denver, who was looking for a carpentry crew in Maine that specialized in restoring cabins. Out of curiosity, Morrill got in touch with them and before he knew it, they were filming the pilot episode, which aired in the spring of 2015. Soon thereafter, the DIY network picked up for a series order.
The cast of Maine Cabin Masters is an unassuming bunch and not your typical spruced up TV stars. That's one of the appeals of the show and how, now in its fourth season, it keeps on going strong. It really is a beard feast of skills with Morrill's thick strawberry mane, Ryan's equally bushy beard, and Dixie and Jedi's likewise impressive chin whiskers. The only one that doesn't appear as rugged and lumberjack like is Ashley. She evens out the testosterone in the group, but make no mistake, this woman can hold her own with the guys with her creative concepts and design background being a great influence on the finished results.
The crew often have three to four projects going at one time with the crew of five splitting up to get all of the tasks completed, or as Morrill likes to call it "divide and conquer." Many of the cabins are referred to as camps, which in the state of Maine is a place to get away from it all or "Upta Camp" as the Mainers say. Other states would simply refer to the camp as a cottage or retreat.
The history of a camp is that of a simple structure, often with no plumbing or electricity based in the wilderness of Maine. They were once used by loggers in the early history of the camp, which progressed into sporting camps for the wealthy out-of-towners wanting to hunt and fish. For the locals, it was a much more grounded unpretentious experience. In recent times, the camp has become a Segway into a retreat and a comfortable place to appreciate the outdoors. What used to be seen as a "man's camp" is now for women and families too. Images of a remote spot either in a wood or by a lake, a basic structure containing old furniture with a musty scent, families these days want to keep the feeling of a camp but with the added advantages of today's conveniences. They want remote but not so isolated they can't whip down the road for a loaf of bread. Keeping the old features of a cabin is important to many who love the camps but minus the musty, damp mold. Making it more of a second home than the traditional sense of a camp.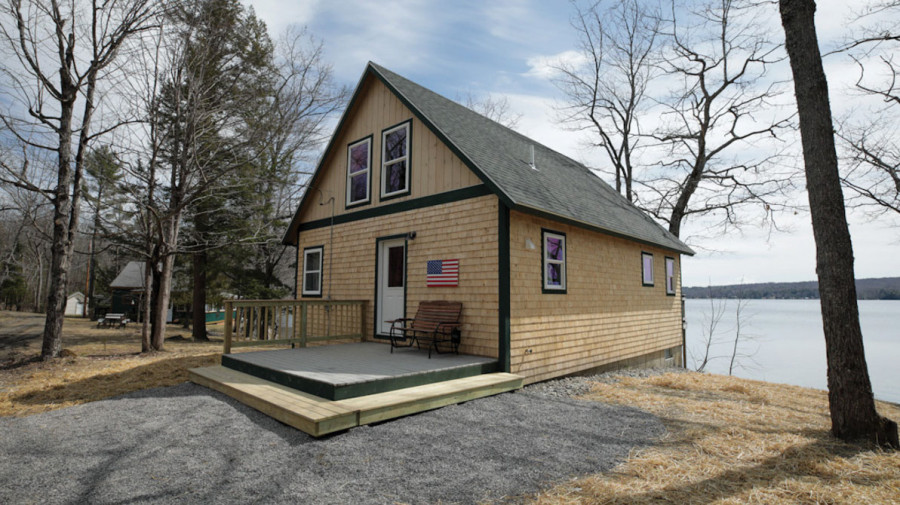 In a recent episode of the show, the team had to tear down an entire structure to the foundation and recreate a dream cabin to accommodate the occupants.
Photo courtesy of DIY Network, www.mainecabinmasters.com
The Maine Cabin Masters DIY show is filmed live in a community where many people either know one another or call on their neighbors when they need something. Morrill was aware of the benefits of spray foam and insisted it be put in a number of their project camps. Maine Insulation Systems has a great reputation in the area, so Morrill and his crew often call on their skills. Jason Cooke, owner and head sprayer along with another crew member, were contacted to work on a camp at Moosehead lake. This particular area has vast forest trails and hikes with the lake being an ideal spot to fish. It's Maine's largest lake stretching 40 miles long and 20 miles wide. Each year those wishing to escape to the unspoiled nature the area has to offer flock to Moosehead lake and look for these secluded cabins to make camp.
This camp required what Cooke referred to as "Basic insulations of a seasonal camp. These camps are typically used in the summer but occasionally used during snowmobile season too. The air sealing qualities and ability to withstand critters and elements associated with a building situated in the Maine woods, made it the perfect choice of insulation for the job," explains Cooke.
Cooke proceeded to explain how under cabin applications had its limitations with standard air permeable insulation and how the camps generally sit on post and are exposed to wind and moisture. "In remote camps critters find refuge under cabins and make homes in insulations like fiberglass. Closed-cell foam adheres to the underdeck providing proper insulation and wind protection."
Cooke and his crew first removed all of the old insulation and obstructions and proceeded with the basic cleaning of the surface which was typically in the subfloor. The camp was 1,100 square feet underside of camp 3 inches R21800 square feet of wall space 3 inches R21 1,300 square foot roof 5 inches R35. Using a Graco E-30 machine, they sprayed Gaco OnePass closed cell foam, spraying 2 sets of foam to the wood substrate.
There can be extreme environments in northern Maine and with the location being next to a lake, the high winds could be a challenge. The air-sealing and thermal breaks of closed cell foam are a great way to help combat these elements.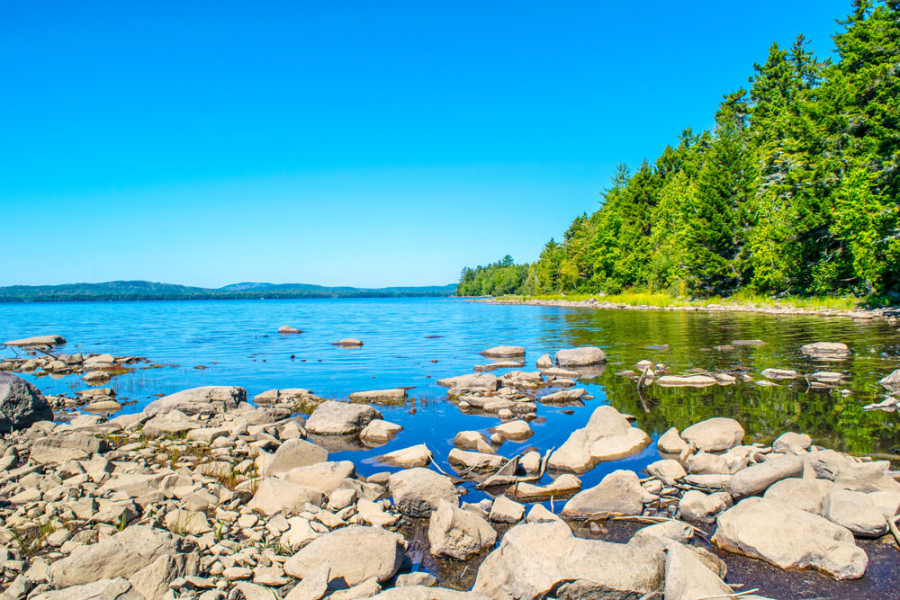 According to the Maine Masters Cabin team, the air sealing qualities and ability to withstand elements associated with a building in the Maine woods make spray foam the perfect choice of insulation for the job.
Cooke emphasized, "This job was in late fall with temperatures around 30 degrees. Space heaters were used to get the temperature up to 60 degrees due to moisture on the substrate causing an issue. We ended up using Kerosene heaters to keep the moisture down."
Mold needs two main things to grow: moisture and warmth. When warm, humid air comes into contact with a cool surface, it condenses, causing a build-up of moisture, which means the high probability of mold growth. When installed by a certified spray foam company, closed cell spray foam creates an airtight barrier that averts air leakage, the mixing of cold air from the outside with warmer air from within the structure. This could result in condensation and moisture-related issues. In addition to preventing mold growth, it can stop dry rot, which is usually caused by a fungus in wood. This can be prevented by controlling the moisture and keeping the walls dry, as well as keeping the pests out. It is always a good idea to have a professional check for any termite or insect infestation, especially in older wooden structures, before spraying commences.
Completing numerous jobs up in the camps, Maine Insulation Systems has had to deal with mold, rot and the occasional critter. The Moosehead Lake camp had a resident who was a little reluctant to move out, Cooke recalls, "We had to navigate a lot of porcupine feces under the camp to make this job actually happen. Porcupine love to live under camps. Luckily he wasn't home when we did the project."
The job took a total of two days to complete with the crew wearing Versaflo packs and super suits. They also had to think outside of a very small box when it came to safety consideration, "There are some very tight areas under these camps and in the Moosehead Lake camp, some areas only 30 inches high. I'm a full-size human at six-foot-two and 240 pounds so I had to make myself small."
Maine Cabin Masters are extremely happy with the work Cooke and his crew do for them. They know that with Maine's rainfall, snow and its humid summers, a mass of moisture can cause issues, but by putting in spray foam, which acts as a moisture barrier, mold can be prevented from forming.
The Maine Cabin Masters often renovate camps which have not been touched or lived in for years and like Cooke mentioned, "They will often find critters living in the nooks and crannies of the construction." By sealing the structure with spray foam, these gaps are filled, making it difficult for these critters to build a home in the camp. Due to some of the structures never having been updated, there have been numerous times the crew have found rot within the structure, often around window sills, door frames and even in the roof.
Many of the camps are also in remote locations, so logistically getting there can be tricky. In one of the episodes, the crew take a small seaplane to a remote island to investigate a remote cabin. Getting the TV crew and Morrill's crew and equipment over to an island like this takes planning ahead. Ashley was not a fan of the seaplane, but she knew it was the only feasible way to get to this remote island. Morrill said, "She really was a trooper."
There is a fine line of updating with modern conveniences to losing the rustic charm of the camp, but Maine Cabin Masters have proved they can keep the charm in, the critters out and TV audiences hooked on their camp adventures.
In a recent interview with downeast.com Morrill said, "It's a challenge to balance 'big wows' that producers crave with homeowners' practical needs installing spray foam insulation, for instance, doesn't make great television." Morrill realizes how important the product is for the camps and the people who will visit them long after the cameras stop rolling.
Maine Cabin Masters was expected to shoot season five, but due to the COVID-19 outbreak, filming is on hold for the moment, "Things are a little hectic, but we do have some camps lined up for season five and we are just trying to figure out the logistics of it all. In terms of our business, there is always work that needs to be done, it's just a matter of when you add the film crew in, it changes things. It's larger groups so we have to make sure things are done safely. Normally we would be in the middle of the season right now."

Chase, Ashley, Ryan, Jedi and Dixie have launched Kennebec Cabin Company (KCC), which is an exciting new venture. KCC has a number of helpful features like a specialty retail shop which features the best of Maine artists and artisans and a "clubhouse" for the Maine Cabin Masters episode watch parties and other special events. It has become a trusted source for construction and contractor work, a service-provider for recommendations and real estate connections, which help people discover the perfect vacation destination. They also have a very informative podcast series called "From The Woodshed" where listeners can receive construction tips to conversational banter about Maine life. Kennebec Cabin Company's mission is to share the best of Maine and judging by all the crew's impressive camp renovations, this will also become a success.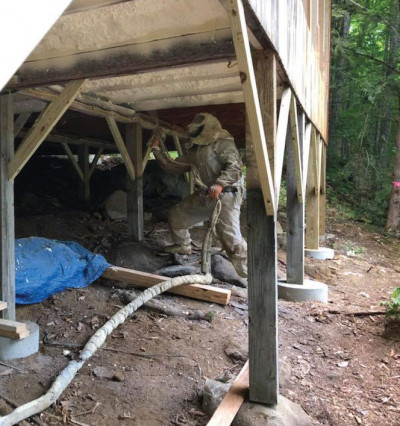 In remote camps critters find refuge under cabins and make homes in insulations like fiberglass. Closed-cell foam adheres to the underdeck providing proper insulation and wind protection.
Photo courtesy of Maine Insulation Systems

Disqus website name not provided.
The Maine Masters of "The Camp"