The Bigger Picture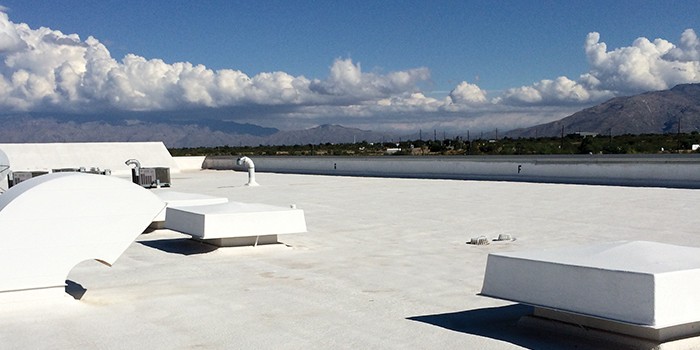 TUCSON, AZ – March 5, 2018 – Spray polyurethane foam roofing systems have long been praised for their unique properties and the benefits they provide to commercial structures. Energy efficiency, durability, and waterproofing—the cornerstones of sustainability—are right at the top of that benefit list, thereby designating SPF roofing systems as a green building material. With this in mind, there have been many accounts about successful spray foam roofing systems and coating installations that improved the overall performance of buildings, but not many takes on projects that actually demonstrate the superior life cycle of an SPF roof system. Case in point: A recoating application to a large-scale roof belonging to sizable buildings inside the University of Arizona Tech Park (UA Tech Park) captured SPF's durability, but in order to get to that, dialing the clock back a few decades is necessary.
In the early 80s, IBM built a colossal campus of offices and research facilities in Tucson, Arizona. These buildings have a total of 1.5 million square feet of roof space and were originally built with coal tar pitch with rock ballast over. After 15 years, the roofs started to fail and replacements were needed. However, IBM didn't want just any roofing system, they wanted the most long-lasting and efficient roofing system possible, so they turned to Dean Kashiwagi, Ph.D., PE, of the Del E. Webb School of Construction at Arizona State University (ASU), to help them make a decision.
The ASU School of Construction had spent years collecting a huge database of empirical data on contractors throughout the entire Southwest. The data that was collected showed the types of roofs that were installed and the performance of those roofs after five, 10, or 15 years. Kashiwagi's sophisticated data collection process was strictly performance-based, and it showed that a spray foam roof was the clear winner. Spray foam outperformed all the other roof types, such as single ply, BUR, and every other type of roof tested over time. Despite never having heard of spray foam roofing systems before, IBM was impressed and subsequently gave the nod for the project. Arizona Foam & Spray (AFS), the roofing company that was called in for the job, installed SPF roofing systems to almost all of the buildings of the IBM complex.
The application of SPF systems to the roof surfaces consisted of vacuuming off the gravel on top of them and installing the foam roofing systems with a layer of acrylic coating and granules on all the buildings.
Fast forward 23 years. IBM sold off the complex, and it is now the UA Tech Park. Even though the complex is now owned by the Arizona Board of Regents on behalf of the University of Arizona, IBM still maintains a presence there with around 1,600 employees. Many other elite companies, such as Uber, Citibank, Global Solar Energy, Aria International, and Raytheon now occupy the buildings. What's the condition of these roofs? Well, over 20 years have passed and the coated spray foam roofs are still in optimal shape, and what's better, they are completely leak-free. Kashiwagi's research did, in fact, bore out the reality.
However, the roofs were due for a recoat, and that's what brings us to the project in question:
It was for the roof of Building 9030 inside the UA Tech Park, the home of Raytheon, a military contractor that assembles Tomahawk missiles.
This project stands out as a real-world example of the longevity and effectiveness of a coated spray foam roofing system. There was no need for a calamitous and expensive roof tear-off that would have signified incredible expense for the Arizona Board of Regents, and not to mention, several hundred tons of material going into a landfill. There wasn't a need to install a waterproofing membrane on top of the coating. The only maintenance to the existing roof system needed was a recoat coupled with a layer of granules. Just recoat and go, and who better to undertake the project than the same roofing company that installed its SPF roofing system in 1995: AFS. Tony Mackelprang, who is now the project manager at AFS and partook in the recoat project, was just starting out with AFS during the original application, but nevertheless, witnessed it from start to finish. Pat Riffe, presently AFS' Production Manager, was crew foreman at the time and applied the foam, coatings, and granules.
RELATED Overcoming Obstacles on a Florida Roof, Fireproof Aeronautical Maintenance, Rise Up, Insulating A Castle

"(Only needing a recoat) is a testimonial of how durable and reliable these systems are," says Mackelprang. "Without a doubt, it is the best low-life cycle cost system that is available. I observed this from the very beginning, from attending Dean Kashiwagi's classes and learning his analysis and providing data for his evaluation, to witnessing the SPF roofing system installations, and now I am partaking in the recoating process. It's a delight, not a surprise, to see these roofs continue to perform in an exceptional fashion."
The AFS crew had a four-man crew on site for Building 9030's roof recoat. Initially, they swept up loose granules, dirt, and debris and then proceeded to powerwash the roof to obtain a clean and smooth surface. They repaired any blisters that had appeared on the roof over time, but for such an enormous roof surface, there were very few, according to Mackelprang. By cutting out these blisters and removing all loose material, and filling any voids with caulking, AFS achieved a tight edge. Vents were also masked off to prevent vapors and coating or granule overspray from entering the building, and foam packs were also utilized for minor repairs.
The University of Arizona Tech Park – Technology's Best Address
For the duration of the project, AFS applied Quik-Shield® Acrylic 1929F, a high-solids, heat-resistant, water-based elastomeric coating formulated by SWD Urethane. They installed eight to nine mils per gallon to the roof surface, using a total of 4,480 gallons of coatings over the entire 209,118 square-foot roof. Then, the crew hand broadcasted 1,000 pounds of white limestone granules into the wet coating, and further utilized the granules to create walkways from the roof access point to and around the mechanical equipment on the roof.
"The recoat provides added thickness to the acrylic coating which is there to protect the roof from the ultraviolet rays from the sun, and it provides an added wear surface with greater durability to the foam system with greater resistance to foot traffic and potential damage from hail storms, which occur in Arizona from time to time," notes Mackelprang.
The use of a white-coated spray foam roofing system at UA Tech Park was also important in the reduction of the Urban Heat Island (UHI) effect. The UHI is a phenomenon where temperatures in cities can be up to 10 degrees hotter than nearby rural areas. SWD Urethane's Bill Deutsch sheds light on the matter.
"The highly reflective nature of white-coated spray foam roofing systems helps mitigate this effect because the majority of the sun's rays are reflected away and not absorbed into the roof. This is especially important in the hot desert climate of Arizona, where temperatures can climb to 118°F in the summer," says Deutsch.
During the recoat project on Building 9030, safety was paramount. The workers wore disposable jumpsuits, gloves, goggles, steel-toed boots, and paper vapor cartridges on half-face respirators.
The recoat of Building 9030 took 27 days, and the job was completed to the satisfaction of UA Tech Park. Mackelprang says that AFS will take a look at the roof in five to six years from now (within the warranty period) and evaluate how the coating is holding up. Within the next two years, AFS will be recoating many of the buildings at UA Tech Park, using approximately 24,000 gallons of coating and 400,000 lbs. of granules.
"To me, it is the most incredible account of what spray polyurethane foam roofing systems are capable of achieving over the long haul," affirms Mackelprang. "I know of no other example where that has been clearer, and it's been a fascinating process to observe and be a part of."
Editor's Note: Due to high-security reasons, AFS was not allowed to take photographs of Building 9030. Instead, the contractor took pictures of an identical building in UA Tech Park to show what the finished roof looks like.

---
Disqus website name not provided.