SPFA Ramping Up Concrete Lifting Guidance and Resources
SPFA Ramping Up Concrete Lifting Guidance and Resources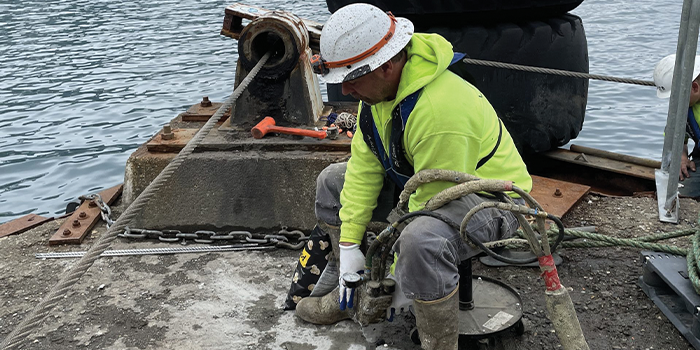 SPRAY FOAM MAGAZINE – As the use of injected polyurethane foam (SPF) in concrete lifting applications continues to grow, the Spray Polyurethane Foam Alliance (SPFA) has committed to expanding its focus, resources, and offerings for this important SPF specialty application category.
"Concrete lifting has become an important discipline within polyurethane foam applications, and one that continues to expand," says Ken Wells, vice president of the Spray Polyurethane Foam Alliance. "Thus, we've really put a lot of effort into enhancing our resources and offerings relative to it."
Some of the SPFA's new resources, offerings, and pursuits relative to concrete lifting include:
Establishing Industry Standards
In one of its most important efforts surrounding concrete lifting, the SPFA is in the process of working with IAPMO to establish material performance standards for concrete lifting using injected polyurethane foam. The first pursuit of its kind by the industry at-large, the goal is to establish a consensus-based evaluation criteria to demonstrate code compliance for concrete lifting foams. Expect news of the new acceptance criteria in 2024.
Technical Guidance
The SPFA offers technical guidance on spray foam in concrete lifting. SPFA-157 Polyurethane Foam for Concrete Lifting (Slab Jacking), the SPFA's technical document outlining best practices guidance on the subject, is offered free of charge to all SPFA members, who can access the resource via the SPFA website in the member-only login resources. Non-members may also access the document in the SPFA Online Store, where it is available for purchase for just $25 (follow QR code at the end of the article).
Additional Website Resources
The SPFA also recently added an entire Concrete Lifting section to its website at www.sprayfoam.org/conclift. The destination explains the many benefits of concrete lifting via SPF, including that the application is cost-effective, environmentally friendly, and non-disruptive while providing simple application, quick cure time, lower costs, exotherm-free processing, and moisture tolerance and resistance. The site also outlines the concrete lifting process, links to useful installation videos, and provides a meaningful comparison of concrete lifting and mudjacking technologies.
New Category at SPFA National Industry Excellence Awards
Most in the industry are familiar with the SPFA National Industry Excellence Awards, which culminate in an awards ceremony at the SprayFoam Convention & Expo each year. The awards celebrate the industry's standout projects, recognizing contractors for their solid practices in SPF applications in insulation, roofing, specialty applications and coatings. At this past year's event, the 17th Annual SPFA National Industry Excellence Awards, an all-new category, SPF Concrete Lifting, was introduced to celebrate the industry's best work in this area as well.
"Earlier this year, the team at Polyseal Insulation won the first-ever award in this category for their outstanding work with the Port of Whittier Dolphin Cell Repair project in Whittier, Alaska," says Lisa Smith, membership director with Spray Polyurethane Foam Alliance. "With this project, Polyseal completed injection and void filling of dolphin cells, which are essentially massive bollards that barges, cruise ships and tugboats tie off to. The use of foam in this application extended the life of the bollards with zero downtime to harbor operations. This is an excellent example of what can be accomplished when foam is used in concrete lifting."
For use by SprayFoamMagazine.com & Spray Foam Magazine


---
Disqus website name not provided.
SPFA Ramping Up Concrete Lifting Guidance and Resources