Recognition

Spray Foam Magazine – Spring 2022 – Karen Wikert is the owner of Mrs. Spray Foam LLC and was ecstatic to win the SFWW Rig Giveaway at this year's show. We managed to have a chat with Karen about this amazing victory.
"I seriously started spraying foam at the beginning of last year, but honestly, I've kept an eye on the game for a while now. It took a while to get the right skills and equipment, but ever since I've committed to the business I haven't looked back.
When I won the rig, my first thought was 'no way!' I assumed it wasn't going to happen, especially because it was the last drawing—the one that mattered most. But as soon as he said 'Karen,' I knew it was me and I started going crazy! When it set in, I knew it was exactly the kind of blessing I needed, so I let all my excitement out. I'm sure everyone there heard me screaming so hard I lost my voice. It was awesome!
I don't know if Jennifer Edwards knows how much her support means to me, Kim, Carla, and all the women at BAWOSF (Bad Ass Women of Spray Foam). This is a line of work dominated by men, no way around it. But that doesn't mean people like me or Jennifer can't shake things up and come through to do good work. When she congratulated me, it really solidified my belief that we are out here doing what we are supposed to be doing—representing women in the field. The most important thing we can do is support each other's successes and help each other out whenever the opportunity presents itself. At the end of the day, I want to show young women that they can do this work just like their brothers, fathers, uncles, and whoever else.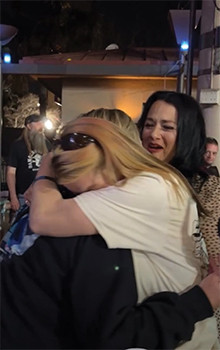 Jennifer Edwards of Glenn Insulation celebrates with Karen after her name was called.
SFWW, Intech, and Graco put together a cutting-edge package. Everything in the rig is high tech and top of the line. I'm most excited by the E30 because it's connected from drum to gun, meaning I have way more control than I did before, and my quality of work can only go up from up. The fact that the monitor can show us what we're doing on our phone means we're spraying on ratio good foam. It's a game changer. Not only does the technology mean that we can do top-notch work, but it also means that we can show the customer exactly how, what, and why we're doing what we're doing on the job.
Winning the rig was such a great, validating experience for me. It turned out that I won the rig exactly one year to the day from starting Mrs. Spray Foam LLC. If there was any doubt or uncertainty I had about this business, it's totally gone. I'm looking forward to the opportunities that this new rig will afford me. More than anything, I just want to reiterate how much I appreciate everyone who came together to make this rig happen." •
For the SFWW Spray Competition, contractors competed in open-cell and closed-cell spray applications. For the open-cell class, 3.5 inches were applied in the wall area and 5.5 inches in the ceiling/roof area. For the closed-cell competition, contractors sprayed two inches on walls and ceiling, in up to two passes. The judges scored the area on its meeting the required depth of foam, consistency/uniformity, and somewhat appearance (not so much for open-cell).
"The recently held SFWW Spray Competition was truly an exciting event this year, with some very tough competition and quality workmanship," exclaims Dudley J Primeaux II, Primeaux Associates LLC, one of the judges of this year's contest. "I am not sure who was more happy / proud, Derek Chester, winner of the closed-cell event, or Derek's father Rusty Shrader, who won that event at last year's competition. Not to mention, Jose Gonzalez claimed the winning spot in the open-cell event–making that two years in a row! On behalf of this year's judges, we congratulate all the participants and look forward to next year!"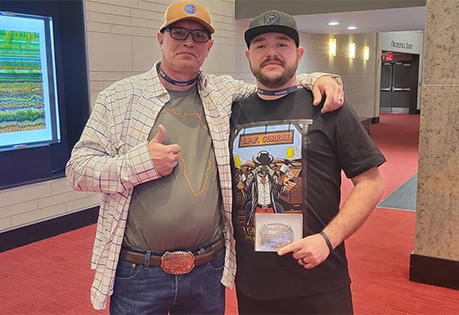 Derek Chester and his father, Rusty Schrader
Derek Chester from Allstate Spray Foam Insulation won the championship belt for the closed-cell spray foam competition category. We caught up with Derek to ask him how he felt about the win.
"I have worked in the spray foam industry for five years and I have been spraying since day one. Working with my dad, Rusty Schrader, is a blessing. We have built great trust in each other, and I couldn't ask for a better business partner.
The competition was to spray two inches of SWD 144 closed-cell foam to the walls and the lid of a shipping container. There were about 18 competitors.
It felt great to win! Competing against some of the best sprayers in the world was an honor.
I did not feel bad for beating my dad this year. I entered the competition late after he kept encouraging me to get in. He said, 'If anyone is going to beat it, it's going to be you.' I am very proud to get the win and keep the legacy alive."
Rusty commented, "I was sad to say I lost the championship belt for closed-cell spray foam this year, but even more proud and honored to say I handed it to my son after he beat me and captured the title this year in San Antonio at the spray competition. He had a ton of great talent going against him and took it home. Derek Chester is the new keeper of the buckle."
Callahan Foam Insulation LLC was the proud runner-up of the SPFA Industry Excellence Award for a Residential Enclosure. Mike Callahan, owner of Callahan Foam Insulation LLC, commented about the award, using SWD foam, and the work on the Beautiful Smith Lake House project.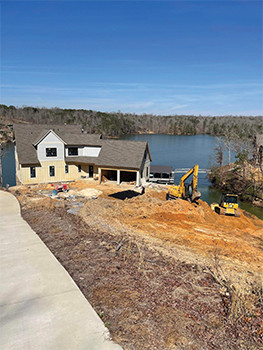 "I have been in business since 2012 and it's always an honor to be recognized by the industry you work in. We also received first place in 2020 for a Residential Enclosure project. This project was the second home we have completed for this owner. He was absolutely thrilled with the comfort and energy savings on his first home and therefore there wasn't a question on what insulation he would choose for his weekend home.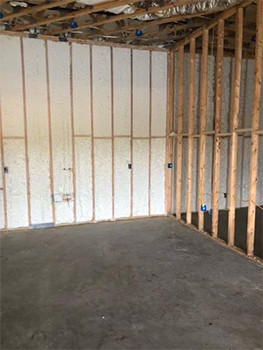 We applied SWD QUIK-SHIELD® 108YM, the "Yield Monster," which is an open-cell spray foam insulation. It's one of my favorite foams as it's easy to process and very consistent once you learn the process.
SWD took me on as a customer in the middle of the storm of 2021. I couldn't be happier with the customer support and the products they manufacture. Jeremiah Schoneberg is always just a phone call away–not that we have issues, but it's nice to have that type of relationship with a supplier. I am a very happy customer and very thankful for the support SWD has provided my business.
We always strive to exceed our customers' expectations and we pride ourselves as a "quality first" SPF company."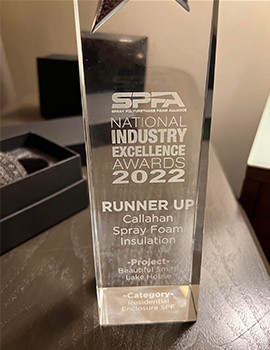 Disqus website name not provided.