PMC Introduces New PH-2 Pressure Balance Control
PMC Introduces New PH-2 Pressure Balance Control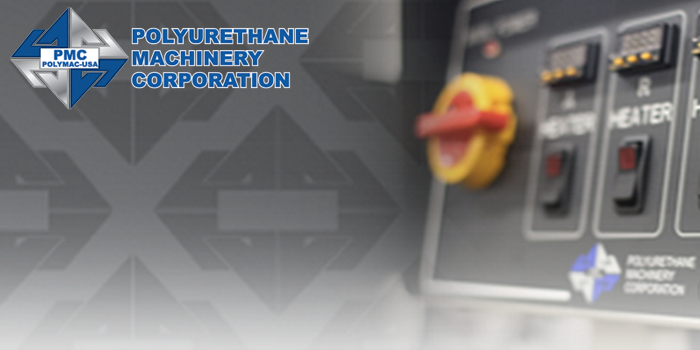 LAKEWOOD, NJ – June 29, 2015 – Polyurethane Machinery Corporation (PMC) is excited to announce the introduction of the NEW Pressure Balance Control (PBC), first showcased at SPFA's Convention & Expo earlier this year.
The Pressure Balance Control (PBC) is the newest generation in PMC's process control features, which will automatically shut down the machine when the pump pressures are not balanced.This avoids an off-ratio material situation and ensures that the material will be mixed at the proper pressure and ratio. The Pressure Balance Control is available as an add-on feature for existing PH(X)-25 and PH(X)-40 machines in the field, and is now standard on new PMC hydraulic drive machines. The CE certified unit has a simple rotary switch that allows the function to be set to a spray differential, reset or turned off.
Features include:
Five different pressure settings allow the machine to shut off when a predetermined pressure differential has been realized 300-700psi / 20-48 BAR.
System "On" and "Fault" indicator lights.
Two transducers provide increased control over pressure differentials.
Small package size allows easy retrofit to PMC PH-25/40 models.
Simple installation.
An inexpensive upgrade to your machine.
The Pressure Balance Control (PBC) is an excellent addition to compliment PMC's PH(X)-25 and PH(X)-40 lines of spray polyurethane / polyurea equipment. Always designing and engineering with the customer in mind, PMC continues to offer affordability without sacrificing performance with all of their process control features.
About PMC: Polyurethane Machinery Corporation (PMC) manufactures equipment and accessories for use in the urethane industry. At PMC, the service does not stop with the sale. PMC provides its customers with outstanding sales and technical service through a worldwide network of distributors. For more information, please use the contact information and links provided below.
Contact Details
Name: Mike Kolibas
Email: Email Us
Phone No: 855-875-7610
Disqus website name not provided.
PMC Introduces New PH-2 Pressure Balance Control