Pulling Up Their Sleeves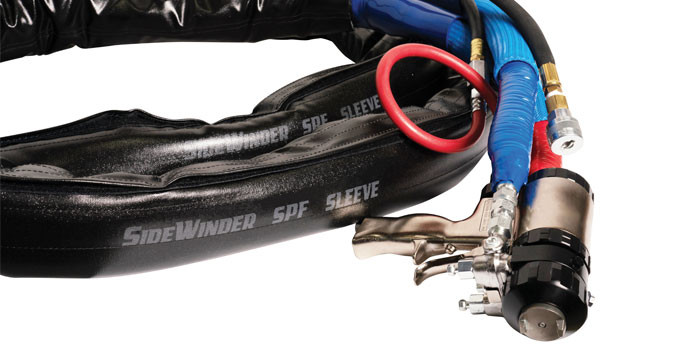 Summer 2020 – Spray Foam Magazine – Suburban Manufacturing, Inc. was founded in 1979 by a young entrepreneur with an eye for innovation. Company founder, Brad Barger, began making parts for machines in his own personal workshop and before he knew it, a company was formed with his wife, Mary, who eventually came on board as the CEO of Suburban Manufacturing, Inc. In 1992, a manufacturing company asked Brad to produce an oil pump, a product previously imported from Germany. Brad produced the same chain oiler for half the price and the first family product was born: the Lube Minder. From there, Suburban Manufacturing developed Tsunami Compressed Air Solutions and Python Protective Sleeves & Coverings.
Today, Python Protective Sleeve & Coverings is a company division which leads the way in manufacturing revolutionary products designed to protect both the operator and the equipment they use. Brad states, "Our proprietary technology, and laser focused effort on supporting the customer, enables us to bring the most innovative, reliable, and user-friendly products to the market."
Suburban is known for listening to feedback and requests from their customers which most often leads to the creation of innovative and useful products. As a result of attending various spray foam shows and events, they began receiving comments from various contractors regarding the traditional "Blue mesh" style sleeve that got caught on everything, cut easily, and required taping and repairs. Contractors wanted a product that would eliminate so much tape, would be easy to install and to take off when repairs were needed. With these requests in mind, Suburban introduced the Python Sidewinder Sleeve into the spray foam market in the fall of 2015, which allowed users to extend the life of their hose bundles due to general wear and tear. Additionally, after again listening to customer suggestions, the company recently came up with yet another product to bundle with their Sidewinder SPF Sleeve, the Fresh Air Pocket.
The Fresh Air Pocket was incorporated with the Sidewinder Sleeve to allow a fresh air hose that would use fresh air over the standard puck style mask providing the user better quality breathing air. With the sleeve already being in place and providing so many user benefits, Suburban found a way to incorporate the fresh air hose. After several different designs and tests, they landed on the fresh air pocket. This design is still sleek when the hose isn't in use and is readily available when needed.
The Sidewinder SPF Sleeve is available in non-insulated and radiant-lined versions with and without the fresh air hose pocket. It installs in minutes and offers unmatched protection from heavy abrasion, moisture, and temperature energy loss. It also helps control viscosity, protects your proportioners, and maintains ideal temperatures under varying conditions. The insulated version can reduce temperature loss by up to 60 percent helping to reduce wear to proportioners. By containing thermal energy, the sleeve helps maintain the optimal spray temperature for roofing, jacking, and insulating in polyurethane and polyurea applications. The sleeve protects in wet, high UV applications and remains extremely flexible in temperatures ranging from -60° F to 250° F.
Suburban Manufacturing listened to their customer's needs for a product that would help protect their equipment to reduce downtime on the job site. By creating a product that offers unmatched hose protection from heavy abrasion, moisture, and thermal energy loss, contractors can spend more time doing what they do best, spraying foam.

Disqus website name not provided.