"Please Deduct for Windows & Studs..."
"Please Deduct for Windows & Studs..."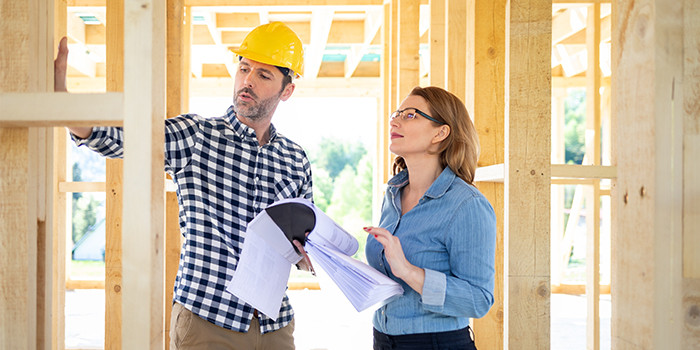 Spray Foam Magazine – Winter 2021 – A spray foam contractor recently asked how to handle customers wanting to deduct for windows, studs, etc. with some even doing so after the job is complete. To avoid this situation altogether it is recommended to provide a total price for a project based on a minimum average thickness of foam in the building structure to be insulated. On some occasions a contractor may offer a square foot price as a job quote. If this is the case, a price per square foot at a minimum average thickness can be proposed, but if so it should be clarified it is based on the entire area to be sprayed, not the actual area of the foam installed. This should prevent a customer from doing the math on the installed area where the price would be less than the total area.
Never price or quote a job based on "actual square footage of foam applied," but mainly based upon the total volume of foam used including waste, set-up, jobsite prep, labor, job time and more. The way to estimate the volume of material used is based on total square footage of the entire wall, ceiling or floor cavity. Estimating the volume over the entire area builds in the other costs of the job and will even cover some extra air sealing services you can offer to the customer.
Spray foam is the optimal insulation choice for all types of new or existing construction, primarily due to its air sealing capabilities. Unwanted air and moisture seepage into and through a building envelope can cause a major impact on the energy efficiency of any structure. In fact, it has been proven that SPF insulation can reduce energy consumption in buildings by 30-50% over conventionally insulated structures.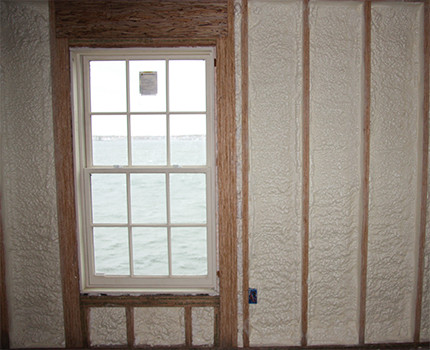 Estimating the volume over the entire area builds in the other costs of the job and will even cover some extra air sealing services the SPF contractor can offer to the customer.
When assessing an insulation project, contractors tend to take a few different approaches. Some contractors feel as though as long as the stud cavities are well insulated with SPF insulation, there is no need for additional air sealing measures. Meaning, they will not air seal around windows and doors, base plates, doubles, header, T's and corners. A complete air seal package with the combination of minimal expanding window and door foam and acrylic/elastomeric caulk is relatively time consuming and drives up the contractors time on each job and cost to the bottom line. Therefore, it is seemingly advantageous for the contractor to avoid this step when possible.
Then there is the other methodology pertaining to air sealing which involves an extensive air sealing approach. In this scenario, the contractor would use acrylic/elastomeric caulk to air seal all cracks and crevices in the building envelope. They would also use an approved minimal expanding window and door foam to seal around all windows, doors and large gaps in the building envelope. This process adds more time and expense to each insulation project but can also add significant results in stopping air infiltration/exfiltration through the building envelope. By not air sealing the exterior walls of the insulated structure, it is equivalent to leaving a window open or cracked year round that allows unwanted air to enter and escape the building envelope.
In order to be compensated fairly for performing a full air seal package, the contractor may choose a few options when charging for this service.
Option #1: Square Foot Pricing Contractors can choose to charge anywhere from $.30 - $.80 per square foot on a line item for this service. The variables to consider would be size of project, number of openings, difficulty in accessing openings and amount of material and labor involved.
Option #2: All Inclusive Method Contractors can choose to measure through all of the doors and windows and not deduct for the surface area of these in the square foot pricing. This method allows enough money to cover the cost of material and labor for the extensive air seal package while leaving an acceptable profit margin for the contractor.
Ultimately, the spray foam contractor along with the building owner and general contractor will determine which method is preferred for them. There is no doubt that the air sealing package has tremendous value and adds additional effectiveness to the air leakage reduction in any building envelope. Each contractor will have to decide which method works best for them and how they want to position themselves in their market area.
ABOUT THE AUTHOR: Profoam Corporation holds regular training courses for SPF contractors at its Rutledge, GA headquarters each month. Every training class includes classroom and hands-on training, as well as even doing a site visit to an actual spray foam project where contractors learn about the business of spray foam applications such as measuring and bidding a job, profit margin goals, prep work, application staging, proper clean-up and more.
Direct any questions you have about statements made in this article or to inquire about the next training school to Profoam Corporation: 706-557-1400 // chelsea@profoam.com
*Spray Foam Magazine does not take editorial positions on particular issues; individual contributions to the magazine express the opinions of discrete authors unless explicitly labeled or otherwise stated. The inclusion of a particular piece in the magazine does not mean that individual staff members or editors concur with the editorial positions represented therein.

---
Disqus website name not provided.
You May Also Like
"Please Deduct for Windows & Studs..."