Leading Towards a Better Tomorrow
Leading Towards a Better Tomorrow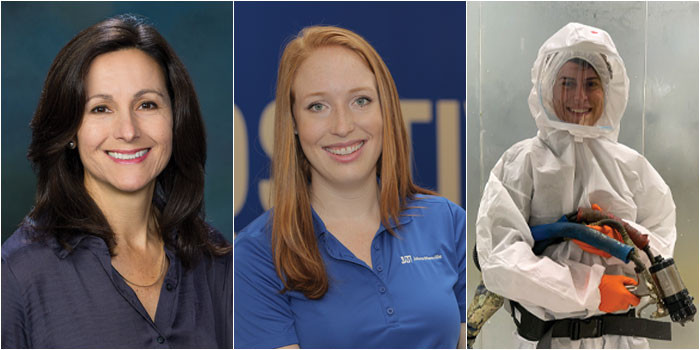 LATE SUMMER 2020 – Spray Foam Magazine – Johns Manville is a leading manufacturer of insulation, roofing materials, and engineered products. Spray Foam Magazine spoke with three of their executives about their job roles at this innovative company.
KATHY MIKS

Innovation & Commercialization Manager, Insulation Systems
What did you study in college? I studied Engineering at the Colorado School of Mines where I also played basketball and volleyball.
What does a typical day look like for an Innovation & Commercialization Manager? I lead a technical team of engineers and technicians to develop new products, processes, and applications for insulation systems.
How did you come to work at Johns Manville? I started my professional career as an engineer in the aerospace industry and was the lead propellant engineer for the solid rocket motors used on the Space Shuttle. When our third child arrived, I decided to stay home and focus on raising kids and coaching high school volleyball. As the kids got older, I knew that I wanted to re-enter the workforce in the technical arena and was always impressed with JM and its presence in the community. Over the last nine years, I have been able to take on many new challenges and have worked with many talented and dedicated colleagues.
Is there a recent project you have helped innovate in the last year that you would like to tell our readers about?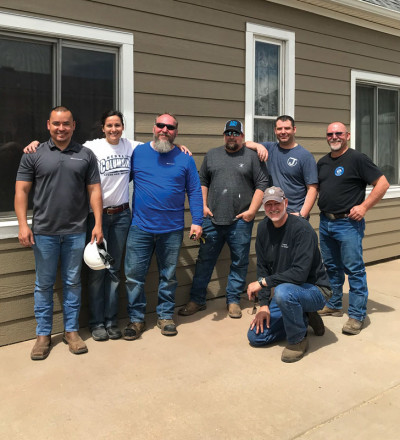 Kathy and the TechConnectSM Technical Service Representatives
We are currently working on an exciting project that combines SPF with other JM products to create a high-performance, cost-effective wall assembly targeted to address the affordable housing and homeless crisis. This project is just one example of JM's commitment to create a better tomorrow for its employees, customers, and communities.
What's so special about the industry you are in and do you see more women entering this industry? Insulation helps create comfortable living spaces which improves people's lives and reduces energy consumption which is good for the wallet and the environment. Spray foam is an incredible product with tremendous growth opportunities which will naturally attract more women to participate. JM has several women in key roles related to this product line and who are actively involved in industry associations to grow and improve the market. There are also now two JM women on the Spray Foam Coalition Leadership Committee, who hopefully serve as role-models and encourage more women to be involved.
Has the recent COVID-19 outbreak changed your job role and if so, how? Overall, my role was minimally affected. JM established a COVID-19 task force at the onset to provide leadership and assistance, so we were well prepared. Communication has been more important than ever, and we have not been able to travel and have had to be more creative in order to get tasks accomplished. I have been on-site full-time at our Technical Center throughout the ordeal, along with our technicians (full-time) and engineers (as needed), so we really didn't skip a beat on projects or key activities.
What is the toughest part of your job? There are not enough hours in the day to do everything I want to do.
What do you do in your spare time? We have a large extended family so there is ALWAYS something going on. I love to garden, do home improvement projects on our fixer-upper home, volunteer, and have Sunday dinner with the family. We also follow our son's basketball team around during the season, but that will be winding down when he graduates next year, so I will be looking for new hobbies to fill the time.
CASSIE TODTENHAGEN
Associate Product Manager, Insulation Systems
How did you become an Associate Product Manager? My first job at JM was as a process engineer, working to make operations improvements. I really enjoy that the product manager has responsibility for supply chain, product development, sales, operations, logistics, and more. I started to socialize the idea of becoming a product manager within JM, and when an opportunity opened up, I immediately applied for the position. I love engineering, but I love the business side more, and I wanted to combine my technical mindset with the mindset of growing a business.

Do you have a mentor who you work alongside? My boss has been an incredible mentor. Like me, she has a technical background and is in a business-focused role. I think the best part about having her as a mentor is her willingness to share her experiences and to challenge me to think outside of the box. As a product manager, there are decisions you make every day that can have major impacts on the business.
What is the most challenging aspect of your job? The most challenging aspect of my job is balancing the long-term with the short-term. There are many long-term projects that can have major impacts to our business, but they are often time and labor intensive, and may not seem the most critical in the short-term. It is easy to get caught up in the daily "firefighting," and it is challenging to find the balance between solving today's problems while focusing on future growth.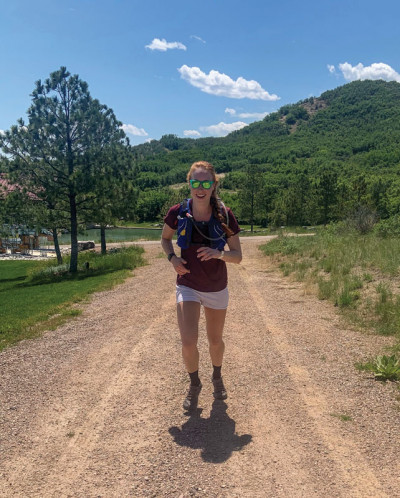 Cassie is an avid runner of marathons and ultra-marathons
Is there any advice you would like to give for people entering this profession? My life motto is "You have something to learn from everyone." I strive to learn from every interaction with a coworker, customer, supplier, or even a stranger on an airplane - you never know when this advice will apply to a new situation. By always asking questions, I am able to clearly define the problem I want to solve, and ultimately provide the best possible solution.
Are there any exciting projects you have been working on recently that you can tell us about? Johns Manville has been in the polyurethane industry for over 30 years and in the manufacturing business for over 160 years. Even though we have deep roots and a long history, we are always exploring new ways to innovate. JM has an Innovation Team that is responsible for developing new products and working with product management to bring them to market. Part of my role in this team as a product manager is gauging the temperature of the market, understanding the customers' needs, anticipating building code evolutions, and finding innovative and clever ways to make our products better to help make our customers' lives easier. So, yes, there are always new projects we are working on and new ideas we are exploring. That said, we keep our cards close to the vest when it comes to the innovation pipeline, so I can't share many more details than that.
Where are you based, and do you need to travel for your job? I am based in Denver, Colorado. Typically, my job requires that I travel one to two times per month to visit customers and suppliers, and to attend conferences. A typical visit could be on a job site, learning about how our customers use our product and listening to any issues they need help resolving.
How do you see your career progressing? I am pursuing my MBA to further my education, and I see my career growing into more business opportunities. I really enjoy the complexity of growing a product line, and I hope to someday grow the entire business and make a larger impact at JM and in the building products industry. I think it is critical to have the technical knowledge to understand opportunities and challenges, and I hope to use my engineering background with my business education to drive sustainable solutions in the building products market.
What do you do in your spare time? In my spare time I love to read, run, and spend time with my husband and puppy! I participate in marathons and ultra-marathons and most weekends you can find me on trails training or simply hiking and enjoying the Colorado weather with my family.
CHANEL CHARBONNEAU
Product Engineer, Insulation Systems
Have you always been interested in how things work? Absolutely! Many of my earliest memories are of taking things apart and putting them back together. I was always determined to figure things out for myself before asking for help. Now, I find that learning from other people is often more efficient and rewarding, but my curiosity and desire to understand everything I see has never waned.

Describe that moment when you have helped engineer a new innovative product and can you tell us about something you have recently designed? To me, innovation isn't just about blindly moving forward, or creating newness for its own sake – sometimes, it's the details that make the most difference. For example, I recently worked on a redesign of Corbond 2.8, a high-density closed-cell foam with an especially smooth surface. To do so required precise, fine-tuning of the foam's reactivity profile. We thought we had it mastered in small-scale testing, but when scaling up to full production, I realized that it wasn't quite perfect, and we were able to adjust the reactivity before completion of the batch.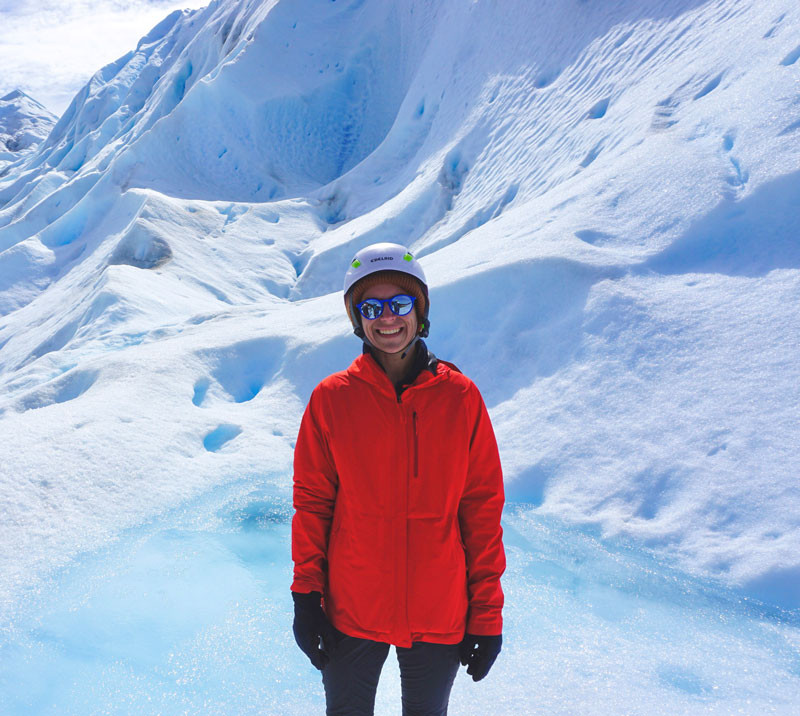 Chanel spends most of her free time outdoors–swimming, hiking, backpacking, and snowboarding.
Are there many women in your field of work and why do you think it is important for women to consider engineering as a future career? I'm very fortunate to have fantastic role models at JM, and our corporate culture places a high importance on inclusivity. The emphasis on inclusivity starts from the top and results in an environment with a lot of ingenuity. The difference it makes is clear. Additionally, an often-overlooked aspect of engineering is the value inherent in meticulousness and attention to detail - all the creative ideas in the world can be worthless if you're missing the details that are right in front of you. This sort of attention to detail is something I find many women are especially good at, and engineering is a fantastic space in which to exercise that talent.
Is there anything unique about being a product engineer at Johns Manville? I'm involved in all aspects of the development process. Not only do I work on projects for new approvals and applications, I help with formulating and mixing new products, and I'm also the one holding the gun when we spray for product evaluation and testing. Having such a breadth of involvement has given me a unique perspective on spray foam; not many engineers can say their jobs cover the spectrum from the details in a spreadsheet to the installation of products they work with.
What is your favorite aspect of your job? There's something very satisfying about having my hands on a product from start to finish–often literally! I also enjoy being a part of a multifunctional team and collaborating on problem solving. Engineers at JM are involved and informed in decisions that go beyond engineering, and likewise, our expertise is valued in those decisions.
What is your favorite aspect of engineering for JM? The pass-down of knowledge at JM is excellent, and I know that when I have questions, I have intelligent, helpful coworkers who may have had that very same question before and had it answered by their coworker. Engineers at JM are involved and informed in decisions that go beyond engineering, and likewise, our expertise is valued in those decisions.
What is your ultimate dream/goal as a product engineer? Spray foam will play a critical role in the vast changes in energy efficiency and building integrity that need to happen in my lifetime. The benefits that spray foam provides go beyond occupant comfort and savings on energy bills (though they certainly do that, too!) and, when its use becomes widespread enough, it will have a measurable impact worldwide from a sustainability perspective. My current goals focus on pushing towards that critical mass and my ultimate dream is to see it through.
What do you do in your spare time? I'm an avid competitive open water swimmer. You can actually see the JM Technical Center from the lake where I train! I also love hiking and backpacking, and I snowboard nearly every weekend in the winter. Even when I'm not doing something active, you can usually find me outside reading or writing, and taking advantage of what Colorado has to offer. 

---
Disqus website name not provided.
You May Also Like
Leading Towards a Better Tomorrow