Innovative Polyurethane Solutions from Dow Enrich Olympic Games Experience for Athletes and Fans
Innovative Polyurethane Solutions from Dow Enrich Olympic Games Experience for Athletes and Fans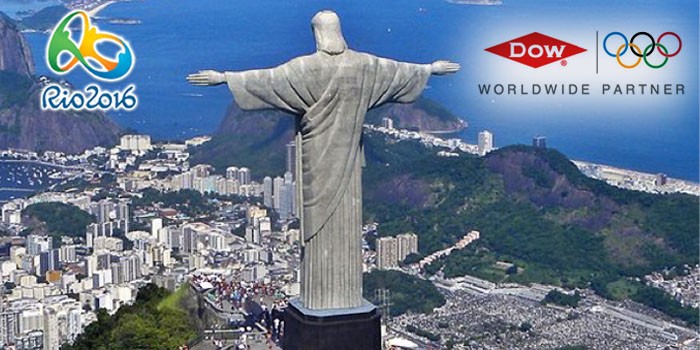 MIDLAND, MI
– August 30, 2016 – While eyes from around the world were glued to the Olympic Games, Rio 2016 and its athletes, another star emerged that contributes significantly to the games: science. For fans and players, Dow's polyurethane technology in particular created a more enjoyable experience. "The unique properties of polyurethanes make it one of the most versatile and high performing materials in the world – which made it even more fitting to be involved in a global event such as the Olympic Games, Rio 2016 where excellence is a standard," stated Jon Penrice, commercial vice president of Dow Polyurethanes. "From energy-saving insulation and durable coatings to flexible foams – Dow's ingenuity mixed with scientific expertise helped power the world of sports by improving performance, safety, health and sustainability." Dow was involved with more than 20 projects connected to the games – spanning from field-of-play technologies to products used in venue and city construction, transportation, infrastructure and carbon mitigation. A few of the projects powered by polyurethane technologies at the Olympic Games, Rio 2016 include:
Game Changing: Deodoro Park's hockey field was equipped with a high-performance, synthetic turf system which used both DOWLEXTM linear low density polyethylene resins in the yarns as well as polyurethane technologies on the backing of the carpet.
"Rolling" Innovation: The Olympic hockey balls were composed of tailor-made, micro-foam core developed with Dow polyols. The unique polyurethane core provided higher-performance and more consistency than hockey balls made with traditional vulcanized cork and rubber or solid polymer.
Comfortable and Supportive: After a hard day's competition, athletes enjoyed comfy mattresses made with Dow's breathable, flexible polyurethane foam.
Science Powering Sports: Dow DOWLEX linear low density polyethylene resins were used in the high-performance, synthetic turf system on Deodoro Park's hockey field during OlympicGames, Rio 2016. The game balls were also composed of a tailor- made, micro-foam core developed with Dow polyols.*
Protecting Assets: Dow technologies were used in flooring applications and waterproofing systems for concrete and metal structures within Maracanã stadium. Additionally, flooring solutions and polyurethane insulation panels from Dow were utilized in the major renovation that took place at Viracopos International Airport in Campinas, São Paulo, one of the main cargo transportation hubs for the Games.

RELATED Dow Completes Strategic Ownership Restructuring of Dow Corning Corporation, Covestro's High-Performance Materials for Building and Construction Displayed at AIA 2016 , Dow Statement of Support for the Trans-Pacific Partnership, Project to Develop Recyclable Polyurethane Foam Wins $10K Dow Sustainability Innovation Student Challenge Award
In addition to providing scientific solutions to improve the Games, as the Official Carbon Partner of the Rio 2016 Organizing Committee Dow is working to mitigate the carbon footprint across major sectors of the Brazilian economy. Dow used the Olympic Games, Rio 2016 as a catalyst to implement energy- efficient and low-carbon technologies across food production, industry and infrastructure. Dow's polyurethane innovations directly involved in reducing Brazil's carbon footprint include its rigid foam insulation panels. Polyurethane panels with specific attributes help minimize the heat transfer between indoor and outdoor environments, optimizing energy efficiency and thermal comfort.
Disqus website name not provided.
Innovative Polyurethane Solutions from Dow Enrich Olympic Games Experience for Athletes and Fans