Covestro's High-Performance Materials for Building and Construction Displayed at AIA 2016
Covestro's High-Performance Materials for Building and Construction Displayed at AIA 2016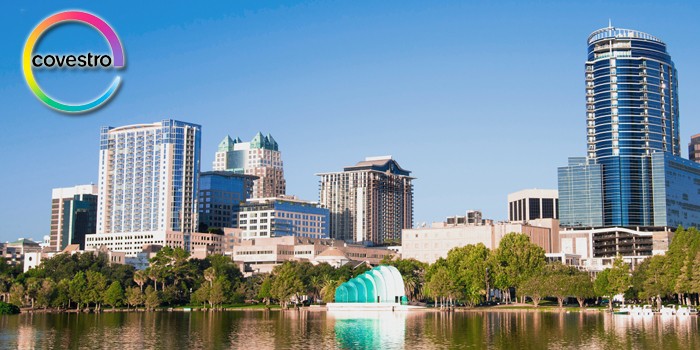 PITTSBURGH, PA – May 23, 2016 --Today's architects, engineers and contractors rely on high-performance materials for buildings that are not only durable and energy-efficient, but are also attractive and comfortable for end-users.
Covestro LLC, a proven supplier of high-performance raw materials for the building and construction industry, offers a wide range of products that meet the market's material needs for sustainability, resiliency and aesthetics. The company showcased its broad portfolio of products and technologies for this market at booth #3027 during the 2016 American Institute of Architects (AIA) National Convention, May 19-21 in Philadelphia. Here's some of the offerings that Covestro highlighted.
Sustainable Solutions
Covestro is committed to creating sustainable solutions for a variety of applications to improve quality of life and preserve the environment. In the building and construction industry, this takes the form of advanced materials for daylighting applications, efficient insulation and low-volatile organic compound (VOC) products, among others.
Not only do many products made with Covestro's polyurethane raw materials have a low global warming potential throughout their lifecycle, but thanks to their highly insulative properties, they contribute to a building's energy efficiency. Spray polyurethane foam is ideal for applications in the residential and commercial building sectors. Whether for the facade, walls, roof, windows or floors, spray foam utilizing Covestro polyurethane is used throughout residential and commercial buildings.
Reduced energy consumption enabled by LED lighting and daylighting applications, such as skylights and canopies, also supports sustainability goals. For example, material grades in Covestro's polycarbonate sheet line exhibit a desirable combination of properties for energy efficiency: maximum light transmission and diffusion, along with efficient heat retention in the winter and excellent heat deflection in the summer.
Covestro offers polycarbonate resin grades developed specifically for use in LED lighting applications. The materials enable the creation of next-generation LEDs that have greater energy efficiency, a longer service life and excellent performance when compared with traditional artificial lighting. Covestro's polycarbonate resins and blends provide manufacturers with a material option for heat management, ultraviolet (UV) resistance and flame retardance.
Manufacturers turn to Covestro's advanced-performance waterborne floor coatings and adhesives, which contain ultra-low-to-zero VOC content, for a durable solution to extend product life in heavily trafficked areas while limiting air infiltration. Applications showcasing Covestro's polycarbonate sheet for skylights, waterborne polyurethane coatings and spray polyurethane foam systems will be on display in the booth.
RELATED QuadFoam NeXGen the First Spray Foam Insulation System to Pass NFPA285 with Next Generation HFO Blowing Agent Technology, Innovative Chemical Products Group Announces Acquisition of Fomo Products by Adhesives Division, Covestro Products Spur Solar Impulse Mission
Raw Materials for Resilient Buildings
Covestro's products not only help lower energy consumption to enhance building efficiency, but also strengthen and support structures to withstand weathering events and maintain functionality. From urethane composites for windows and doors that enhance resistance to corrosion, rot and projectiles, to high-durability wall coatings technology that stands up to harsh chemicals and frequent scrubbing, to polycarbonate glazing to withstand the elements and high loads – Covestro's materials help protect a building's roof, points of entry and everything in between. A heavy-duty exterior door made with Covestro's polycarbonate sheet materials and samples of polyaspartic floor and infrastructure coatings demonstrating this resiliency will be showcased at the booth.
New Possibilities for Enhanced Aesthetics
Functionality and environmental compatibility count in the construction industry, but so do aesthetics. Modern architecture must not only be practical and eco-friendly, it also needs visual appeal. Lightweight and durable polycarbonate plastic from Covestro serves as an alternative to glass and acrylic, allowing for design freedom not possible with traditional materials. This attribute enables advanced designs for roofing, skylights and facades, particularly for those involving large structures like the protective canopy system that will be highlighted in the booth.
Covestro's raw materials and technologies for coatings provide two key benefits – durability and beauty. Coatings incorporating these materials and technologies stand up to the elements and can withstand stressors like UV rays, abrasion and frequent disinfection, all while maintaining a decorative finish.
Polyurethane products from Covestro, such as those found in insulated metal panels, offer a winning combination of superior performance, dynamic aesthetics and sustainable attributes useful for direct-to-steel decks as well as roof and wall applications. Residential siding made of a polyurethane/glass composite utilizing Covestro polyurethanes, like the sample at the booth, exhibit strength, durability and light weight with the ability to be formed with a high-quality, wood-like finish.
A Key Player in the Building and Construction Marketplace
Covestro's extensive product portfolio meets the demands for full-service solutions that satisfy the industry's desire for sustainability, resiliency and attractive aesthetics. Covestro welcomed AIA attendees to its booth who spoke with experts and saw real-life applications utilizing its advanced materials.
About Covestro LLC: Covestro LLC is one of the leading producers of high-performance polymers in North America and is part of the global Covestro business with 2015 sales of EUR 12.1 billion. Covestro manufactures high-tech polymer materials and develops innovative solutions for products used in many areas of daily life. The main segments served are the automotive, electrical and electronics, construction, medical and sports and leisure industries. The Covestro group has 30 production sites around the globe and employed approximately 15,800 people at the end of 2015.
Forward-Looking Statements :This press release may contain forward-looking statements based on current assumptions and forecasts made by Covestro AG. Various known and unknown risks, uncertainties and other factors could lead to material differences between the actual future results, financial situation, development or performance of the company and the estimates given here. These factors include those discussed in Covestro's public reports which are available on the Covestro website at www.covestro.com. Covestro assumes no liability whatsoever to update these forward-looking statements or to conform them to future events or developments.
Editor's Note: Follow news from Covestro on Twitter: www.twitter.com/CovestroGroup
Contact Details
Name: Russell Glorioso
Email: Email Us
Phone No: 1 412-413-2051
Disqus website name not provided.
Covestro's High-Performance Materials for Building and Construction Displayed at AIA 2016