Don't Blow It: Choose Dow Polyurethanes to Find the Right Blowing Agent for You
Don't Blow It: Choose Dow Polyurethanes to Find the Right Blowing Agent for You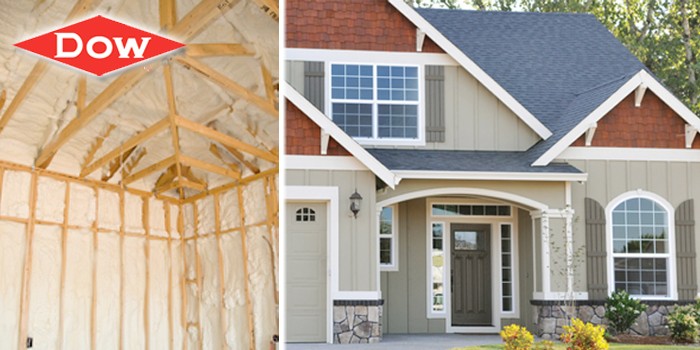 MIDLAND, MI – August 18, 2016 – Dow Polyurethanes, a business unit of The Dow Chemical Company, provides a wide range of blowing agent capabilities compliant with the Significant New Alternatives Policy (SNAP), to deliver customizable energy-efficient solutions to the North American market. These capabilities now include hydrofluoroolefin (HFO) technology and may lower Global Warming Potential (GWP) by up to 99.9 percent.

"We have a long history of leveraging our formulating expertise to develop best-in-class solutions for our customers," said Robert York, market manager for Dow Polyurethanes. "Now with our breadth of blowing agent capabilities and our global network of scientists, we can optimize our solutions for any customer application need - whether that be low GWP, improved performance or cost-effectiveness."
RELATED Achieve Higher Yields and Cost Savings with Dow VORASURF™ 504 Surfactant, Powerblanket ICE: A Very Cool Idea, Spray Polyurethane Foam Alliance Recognizes CertainTeed Insulation with Supplier Company Accreditation
A sample of Dow's blowing agent technology options include:

HFO: the newest blowing agent technology, designed specifically for low GWP and highest possible performance.
Pentane: a cost-effective but flammable solution used commonly today in roofing insulation, appliances and more. There are three primary grades available, which include cyclo-, iso- and n- entane.
Water: a lower cost, rapidly renewable blowing agent providing a unique combination of performance attributes that provides an effective option for less demanding insulation applications. To learn more about the customizable solutions available for blowing agent applications, contact a customer service representative toll-free at +1 (800) 441-4369 or dowpolyurethanes@dow.com for more information.

About Dow Polyurethanes: Dow Polyurethanes develops and delivers a broad portfolio of technologies and customized solutions to customers in a variety of industries under its DurableScience, ComfortScience and InsulationScience category brands. Applications range from industrial and infrastructure solutions, to consumer comfort solutions in flooring, furniture bedding and footwear, to energy-efficient insulation materials. The business manufactures and sells key chemical components as well as fully-formulated polyurethane systems for rigid, semi-rigid and flexible foams, and coatings, adhesives, sealants, elastomers and composites. Dow is the world's largest producer of propylene oxide (PO), propylene glycol (PG), and polyether polyols, and is a leading producer of quality aromatic isocyanates, such as MDI. Striving to meet the specific needs of its customers in their local geographic regions, Dow Polyurethanes operates a global network of production sites and systems houses, as well as innovation and service centers. The business has an ongoing initiative to lead the industry in providing high-performance products that meet critical market needs and contribute to a more comfortable, healthier and resilient society. For more information, visit www.dowpolyurethanes.com and follow us on Twitter and LinkedIn.

About Dow: Dow (NYSE: DOW) combines the power of science and technology to passionately innovate what is essential to human progress. The Company is driving innovations that extract value from material, polymer, chemical and biological science to help address many of the world's most challenging problems such as the need for clean water, clean energy generation and conservation, and increasing agricultural productivity. Dow's integrated, market-driven, industry-leading portfolio of specialty chemical, advanced materials, agrosciences and plastics businesses delivers a broad range of technology-based products and solutions to customers in approximately 180 countries and in high-growth sectors such as packaging, electronics, water, coatings and agriculture. In 2015, Dow had annual sales of nearly $49 billion and employed approximately 49,500 people worldwide. The Company's more than 6,000 product families are manufactured at 179 sites in 35 countries across the globe. On June 1, 2016, Dow became the 100 percent owner of Dow Corning Corporation's silicones business, a global company with sales of greater than $4.5 billion in 2015, 25 manufacturing sites in 9 countries and approximately 10,000 employees worldwide. References to "Dow" or the "Company" mean The Dow Chemical Company and its consolidated subsidiaries unless otherwise expressly noted. More information about Dow can be found at www.dow.com

Contact Details
Name: Kara Braley
Email: Email Us
Phone No: 1 (800) 441-4369
Disqus website name not provided.
Don't Blow It: Choose Dow Polyurethanes to Find the Right Blowing Agent for You