Icynene-Lapolla Introduces All-New High Yield Spray Foam
Icynene-Lapolla Introduces All-New High Yield Spray Foam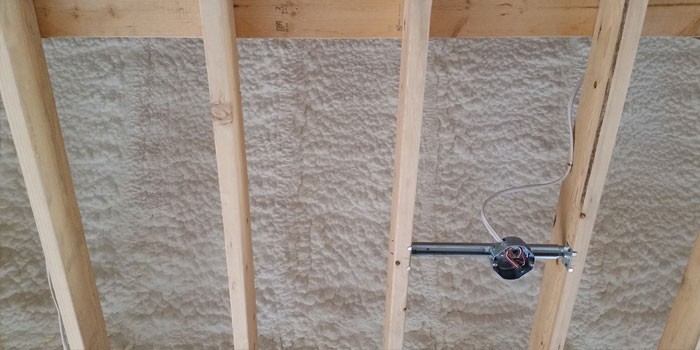 Houston, TX (July 10, 2018) – Icynene-Lapolla, a global supplier and manufacturer of high performance, energy efficient insulation for construction, today introduced its all-new Lapolla FOAM-LOK 450 Spray Polyurethane Foam Insulation. An open-cell solution for homes and commercial structures, the high-performance material is notable for providing high yield and enhanced energy efficiency, passing benefits to builders, contractors and building owners.
FOAM-LOK 450 is a superior insulation for use in attics, cavity walls and over metal and other critical insulation areas. The professionally installed spray foam seals the structure providing a continuous air barrier. These performance characteristics reduce heating and cooling demands and the ongoing costs associated with them.

FOAM-LOK 450 eliminates air infiltration, which can cause as much as 40% of energy loss - a characteristic that inherently outperforms fiberglass and blown-in insulation options. The installed costs in many circumstances is cost competitive with traditional insulations and can potentially offer a return on investment through reduced energy consumption. Additional product benefits include noise attenuation and reduced air leakage contributing to the control of moisture and durability.

"The noteworthy yield and performance reliability of FOAM-LOK 450 are significant attractions for both builders and contractors," said Doug Kramer, president of Icynene-Lapolla. "With FOAM-LOK 450's potential to surpass the performance of competing products at a competitive price, we believe demand for this technology will quickly grow for use in new and retrofit home and commercial applications. Additionally, the product offers one-hour re-entry for trades and two-hour re-entry for re-occupancy."

FOAM-LOK 450, like other Lapolla open cell insulation products, adheres to framing members and substrates and can be used to fill stud wall construction in a single application. Additionally, it conforms to the AC 377 End Use Configuration Criteria and therefore meets building code requirements for use with no additional ignition barrier required.

About Icynene-Lapolla
Icynene-Lapolla is a leader of high performance building material innovations aimed at optimizing the building envelope and maximizing energy efficiency. Available in more than 31 countries, Icynene-Lapolla is a global manufacturer and supplier of spray polyurethane foam for insulation and roofing applications, as well as reflective roof coatings and equipment. Serving architects, builders, contractors and homeowners, Icynene-Lapolla's solutions enhance residential and commercial structures, in both new and retrofit construction. Explore the Icynene product line at www.icynene.com and the Lapolla product line at www.lapolla.com.
Contact Details
Name: Julie Fornaro
Email: Email Us
Phone No: 562.587.3957
Disqus website name not provided.
Icynene-Lapolla Introduces All-New High Yield Spray Foam