Huntsman Building Solutions' HEATLOK XT High Yield Spray Foam Enhances Reliability Excellence Center
Huntsman Building Solutions' HEATLOK XT High Yield Spray Foam Enhances Reliability Excellence Center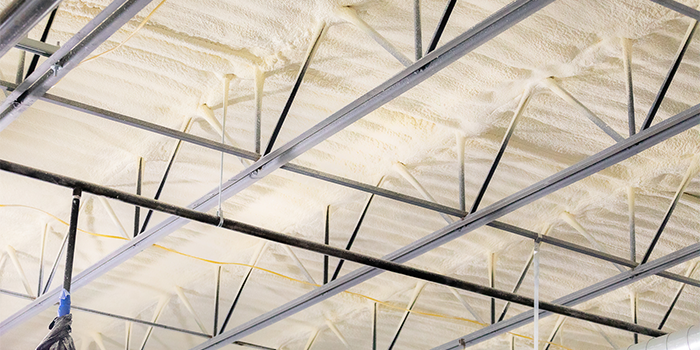 THE WOODLANDS, TX – October 18, 2022 – Huntsman Building Solutions, a global leader in high performance, sustainable building envelope solutions, today announced its HEATLOK XT High Yield Spray Foam was specified and installed as part of a facility enhancement to the Reliability Excellence Center (REC) located at Huntsman's world scale polyurethane production site located in Geismar, Louisiana.
Commenting on the enhancement, Mark Dearman, operations director and Geismar general manager, said "As the leading MDI manufacturing plant in North America, Geismar enables Huntsman Building Solutions' production of high-performance spray foam insulation and roofing materials. Not only is it important that the site's Reliability Excellence Center be optimized for efficiency and resiliency but, in using our own spray foam in the building envelope, we are essentially standing proudly behind its efficacy and long-term value."
The Reliability Excellence Center is a 22,000-square-foot metal building which houses Huntsman's maintenance and reliability teams and operations. As part of the enhancement, Huntsman expanded the facility, adding a maintenance workshop and workspace for personnel.

Huntsman Building Solutions' HEATLOK XT High Yield Spray Foam was selected as insulation for the facility expansion. The material is ideally suited for insulating both commercial and residential structures alike. Creating a specialized building envelope, the closed cell spray foam enhances thermal resistance and acts as an air barrier and vapor retarder. HEATLOK XT High Yield Spray Foam may be utilized in both interior and exterior applications and is available in multiple formulas for varying temperatures. The spray foam is NFPA 285 tested and ABAA evaluated.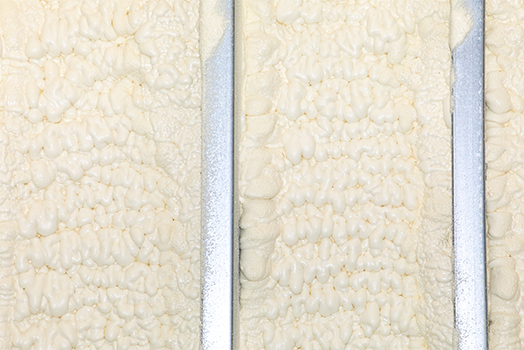 Geismar Wall
Huntsman Building Solutions
"HEATLOK XT High Yield Spray Foam was chosen in part because, in addition to superb energy efficiency, its closed cell, rigid structure provides a proven water-resistive barrier," says Simon Baker, president of Huntsman Building Solutions. "This spray foam meets FEMA Class 5 requirements, meaning it may be cleaned and dried in the possible case of severe flooding, which happens to be a weather risk in the region."
Grace Hebert Curtis Architects specified the spray foam for the project. The facility's general contractor, Arkel Constructors, selected Rader's Insulation, a quality insulation contractor providing residential, commercial and industrial services within the state of Louisiana, to install the spray foam. Rader's Insulation sprayed the foam insulation into ceilings, applying directly to the underside of the roof deck, as well as into walls, applying it to the exterior sheathing between metal studs.
"HEATLOK XT High Yield spray foam insulation is well suited to optimize a commercial facility of this type in a climate region where intense storms can occur," says Nick Rader, owner of Rader's Insulation. "Using this spray foam ensures long-term energy performance and savings, as well as protection against the risks associated with hurricanes and floods."
To learn about Huntsman Building Solutions' closed cell spray foam insulation solutions, visit https://huntsmanbuildingsolutions.com/en-US/products/closed-cell-insulation. For information on the company's complete suite of energy efficient building envelope product solutions, visit https://huntsmanbuildingsolutions.com/en-US/.
About Huntsman Building Solutions:
The Huntsman Building Solutions business is a global leader in high-performance, sustainable building envelope solutions. Its systems and solutions are widely utilized to optimize commercial and residential structures worldwide in both new construction and retrofit applications. Formed in 2020 with the acquisition of Icynene-Lapolla and its combination with Demilec, the Huntsman Building Solutions business capitalizes on legacy industry technologies, environmental stewardship and the power of the Huntsman brand. Visit www.huntsmanbuilds.com.
About Huntsman:
Huntsman Corporation is a publicly traded global manufacturer and marketer of differentiated and specialty chemicals with 2021 revenues of approximately $8 billion. Our chemical products number in the thousands and are sold worldwide to manufacturers serving a broad and diverse range of consumer and industrial end markets. We operate more than 70 manufacturing, R&D and operations facilities in approximately 30 countries and employ approximately 9,000 associates within our four distinct business divisions. For more information about Huntsman, please visit the company's website at www.huntsman.com.
For use by SprayFoam.com & Spray Foam Magazine

Contact Details
Name: Julie Fornaro
Email: Email Us
Phone No: 562-587-3957
---
Disqus website name not provided.
Huntsman Building Solutions' HEATLOK XT High Yield Spray Foam Enhances Reliability Excellence Center