How to Grow Small Jobs into Big Business
How to Grow Small Jobs into Big Business

Spring 2020 – Spray Foam Magazine – Transitioning the small jobs into the bigger money, or "gold jobs," may just take organization. The following tips will help contractors transform these small jobs into feasible big opportunities with potential leads translating into real profits. We spoke with Rusty Schrader, owner of Allstate Spray Foam Insulation, based in Visalia, California, to discuss how he has used these methods to build a well-respected and highly successful business.
Thinking on the Spot to Develop a Small Job
How often does a contractor get a call to spray someone's garage wall, or fill a pontoon of a boat, or spray a doghouse? Small jobs may be seen as a hindrance to bigger jobs that come along, and they are therefore often overlooked. This results in wasted marketing dollars and time following up on them resulting in lost potential sales. However, there might be hidden gold in these smaller jobs and by following a few tricks the team learned from contractors may just help in finding gold. Sometimes it takes bigger risks to get desired results.
Don't Dismiss the Small Jobs
One of the main reasons people are initially attracted to contracting is the flexibility to choose the job and its size. This positive attribute however can also become a contractor's problem, especially if they hold out for the bigger jobs which could result in the smaller, potential gold jobs being overlooked. This may also result in loss of revenue further down the line. Sustaining a regular workflow is all about effort, planning and building future connections, not dismissing jobs and keeping an open mind to possibilities and growth of smaller jobs.
The decision to hire a contractor is habitually made a couple of weeks before the contractor is required, which does not provide a lot of consistency, so time and planning has to be swift. What if the smaller, short-term scheduled jobs can be transferred into something much bigger? Imagine one house in a neighborhood decides they want spray foam in their basement room; what is the contractor's initial response?
Stick solely to the customer's initial request, resulting in a short-term job with limited potential.
Assess the home for more insulation needs and come up with a proposal
If the home is in a neighborhood, potentially other neighbors may be interested in spray foam insulation. Four to five jobs in a day in the same geographical area makes financial sense, especially when considering the logistics. These costs should be conveyed to the potential customers. For example, it costs money to move around equipment and staff and this could potentially affect the customers quote.
If the initial customer has an incentive, they may willingly contact neighbors using hubs like www.nextdoor.com, if it helps reduce their invoice. For example, five neighbors are also wanting small spray foam jobs. It's amazing how communication can spread the word quickly throughout a community. Imagine a small job with a minimum invoice of $1500 and then achieving four to five of these small jobs in a day. This could potentially result in revenue of $6,000 in a day.
Rusty Schrader emphasizes, "Yesterday we went out on a small $2,000 job and increased it to a $5,000 dollar job by upselling. We rolled it from a two-inch insulating job into a four-and-a-half-inch insulating job. The client originally wanted two inches of closed-cell spray foam in their exterior walls. Not every customer understands that when you're spraying exterior walls from the outside of the home, you can't get away with spraying two inches and leaving that air gap. If you're spraying from the outside in, the cavity has to be full, so there is no thermal bridging. None of that can happen between the insulation and the exterior wall."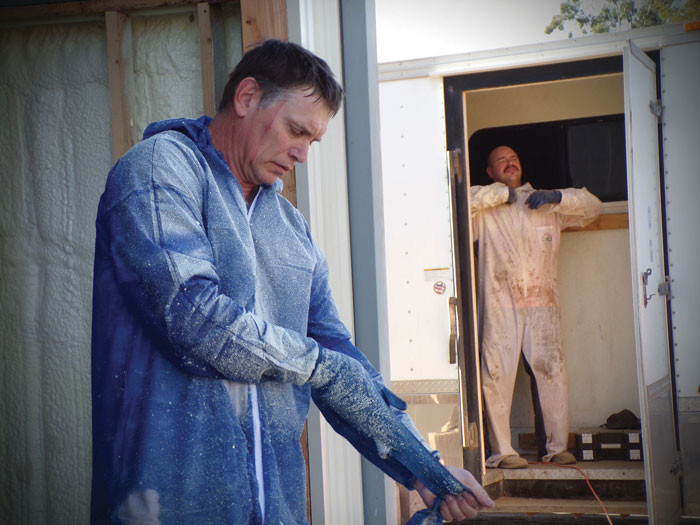 Schrader (seen here in blue with his son and lead sprayer in the background) does what he can to implement the necessary steps to transitioning small jobs into bigger money for his spray foam company.
Setting a Minimum Price
One of the most common techniques we heard of was contractors setting a minimum price to come out and spray. From there, they charge by stroke or cycle count for material, or include it into the minimum price. If contractors charge by stroke count and then additional spraying requests from the customer ensues, they can also increase the invoice and earn more profit.
An example of this technique is to take a call and then find out it is a small job. The contractor then has the option to either tell them there is a minimum price just to get the rig there and if it is within the potential client's budget, they should talk more, if not the contractor cordially moves on.
Rusty continues, "If we have smaller jobs for a minimum callout we will try to line up two or three of those in a day. We have a minimum callout of $1,800 which covers up to 750 square feet and two inches thick of closed-cell foam and then anything above that turns into four foot price."
Gang Small Jobs for One Day / Month
The contractor may elect to store smaller jobs in a similar geographical location into a day, or a few days, depending on what they are and how long they will take. Some jobs, especially smaller jobs where the likelihood of getting another contractor out there is slim, will be willing to wait a little longer, thus giving the contractor time to store the jobs and complete them all in a block timeframe. "We travel the whole state of California, it's not just a 100 or 200 mile radius. Like today, we are driving 12 hours to do a job. We were just getting ready to walk out the door and we got a phone call from a guy in San Francisco that needs to get his house insulated before next week. We plan to fit him in on the way to the next job. If we get three or four jobs along the coast we try and fit them into a day or two," says Rusty.
Turn the Customer Into Your Rep
"When we come into a job, we are always 100 percent professional and when we leave, no matter what it takes we always make sure our customer is completely satisfied. So if anyone asks them about the work, they are more than happy to say "Allstate Spray Foam Insulation." That's how we walk away from every one of our jobs. We want them to become a salesman for us," says Rusty.
Turning the small jobs into big opportunities is an exciting prospect but always remember to be honest and genuine about the amount of work that can be realistically completed in a certain time frame. When initially trying to win work, the contractor should plan their schedule and time realistically. Losing customers and gaining poor reviews can potentially have the opposite effect on a business shrinking its growth rather than excelling it. Therefore, managing workload is essential for the contractors own financial forecasting and reputation. Rusty and his team at Allstate Spray Foam Insulation have not only achieved time management skills and client rep potential but also seeking and developing on the job opportunities and future forecasting; all of which is done with a positive attitude and the need to succeed.

Disqus website name not provided.
How to Grow Small Jobs into Big Business