Gaco Western Launches Next Generation High Solids Silicone Coating
Gaco Western Launches Next Generation High Solids Silicone Coating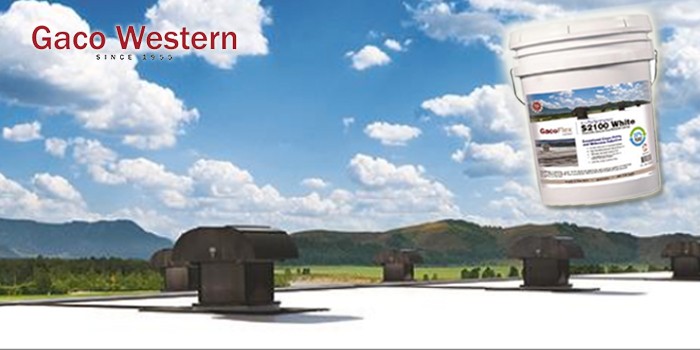 SEATTLE, WA – November 5, 2015 – GacoFlex S2100 White is the only cleanable solvent-free 100% silicone coatingin the industry to resist dirt pick-up even after years of exposure. In tests, S2100 showed 40 percent less dirt accumulation, 2x the whiteness retention, and maintained a higher solar reflectance and thermal emittance than competitive silicone coatings.
This product does not contain crystalline silica and contains 37 percent recycled content - the highest in the industry. In addition, the use of S2100 on a job may contribute to LEED points. Gaco's Five-Year Brightness Warranty guarantees that properly applied S2100 will maintain its brightness and color uniformity for a period of five years – even over asphalt roofs.
"All of our silicone coatings offer long-term durability, but it can be a natural characteristic of conventional silicone roofs to darken and accumulate dirt over time. That is why we developed S2100. It is the first high solids silicone to resist dirt pick up and offer years of exceptional clean-ability and whiteness retention," said Chuck Skalski, Vice President of Sales, GacoFlex Coatings.
About Gaco Western: Founded in 1955, Gaco Western remains today a family-owned business with its roots in technology and product innovation. The Gaco family of brands offers best-of-class solutions for a variety of commercial, industrial, and residential applications including specialty coatings for roof, pedestrian and traffic decking, and spray polyurethane foam insulation. Products are available nationwide. For more information, please visit www.gaco.com
RELATED Graco's New Proportioner Combines Performance, Durability, and Reliability, IFTI's Certified Applicator Program Assists Spray Foam Contractors with Code Compliance , SPI Launches New Website with User Directed Navigation, VersaFlex Schedules New Training Program at Diamond Liners' Headquarters
Contact Details
Name:
Email: Email Us
Phone No: 855-263-6979
Disqus website name not provided.
Gaco Western Launches Next Generation High Solids Silicone Coating