Elite Insulation & Polypro Wins Specialty Application Award at SPFA
Elite Insulation & Polypro Wins Specialty Application Award at SPFA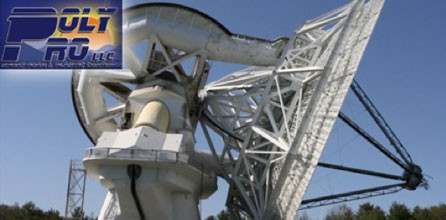 BROADWAY, VA - February 8, 2012 - Elite Insulation & Polypro LLC took home top honors for Specialty Application at the SPFA Contractor Industry Excellence Awards this year. The winning announcements were made during the 2012 SPFA Convention & Expo last week in Dallas, and company owner Ken Wells was on hand to accept the award on behalf of Elite/Polypro.
"It's a big honor for us," said Wells. "This is our second award in two years, and why not go for three in a row? We'll be setting our sights high in the next year of projects."
The Specialty Application is a particularly interesting category, because it highlights offbeat jobs that undoubtedly require extra creative resources on behalf of the contractor. This particular project was no exception: Wells and his team applied spray foam and elastomeric coating on the polar shaft of a 140-foot telescope.
The National Radio Astronomy Observatory (NRAO)'s 43 Meter Radio Telescope, located in Green Bank, West Virginia, is the largest equatorial radio telescope on the planet. Installed in the 1960s, the telescope is currently being used in a collaborative project with the Massachusetts Institute of Technology (MIT) to study pulsars.
However, researchers were experiencing an issue: the metal exterior of the polar shaft was expanding on the sunny side and not on the shaded side due to excessive heat from the sun, explained Wells. The metal expansion caused measurements taken by NRAO scientists to come out inaccurate.
Wells and his team were called in to take a look. "When I saw it, I knew we had to do the job," said Wells.
The application occurred in May 2011. To solve the issue of the expanding metal, Wells and his team applied 1½ inches of 2.8 density, Lapolla closed-cell foam and Lapolla's TF-1000 quick set elastomeric coatings.
The successful application was duly recognized last week as arguably the most interesting entry for the Contractor Industry Excellence Awards this year.
Wells said that being recognized by SPFA with an award is unquestionably good for business.
"Anything you can do to show a customer your merit helps," he said. "It's wonderful for people to know that you've done award-winning work in the recent past."
About Elite Insultation/PolyPro LLC:
Elite Insulation & PolyPro LLC is a full-service insulation company. Elite Insulation & PolyPro LLC has over 30 years in combined experience. The company is located in Broadway, Virginia, and is run by a father-son-son trio. For more information please visit the links listed below.
Contact Details
Name: Ken Wells
Email: Email Us
---
Disqus website name not provided.
Elite Insulation & Polypro Wins Specialty Application Award at SPFA