NCFI's Insulation Donation Helps NC Children's Home Farm Keep Veggies and Fruits Longer for Children and Families
NCFI's Insulation Donation Helps NC Children's Home Farm Keep Veggies and Fruits Longer for Children and Families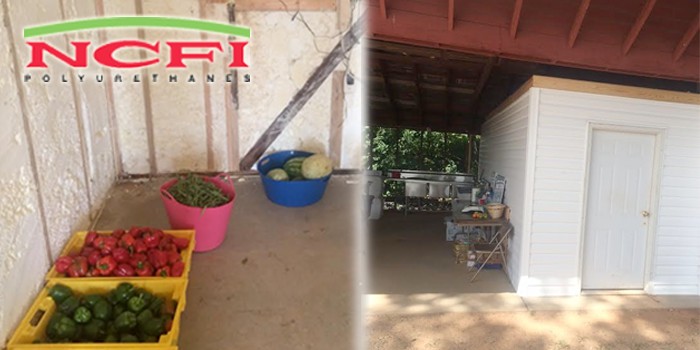 MOUNT AIRY, NC— September 23, 2015 – Like all farms, the 212-acre Farm at the Children's Home of Winston-Salem, NC, grows a bounty of lettuces, beans, potatoes, and big, red, juicy tomatoes in the area's rich high plateau soil. The produce grown is either used to feed the children and families they serve, or sold at the local farmer's market and distributed to local restaurants, so the challenge for the self-sustaining farm was how to make what they grow last as long as possible.
Dan Dockery, chief building official for Winston-Salem and Forsyth County, turned to colleague John Salisbury, whose insulation company, Energy Tamers of the Triad, is located nearby, and who works with spray polyurethane foam (SPF) insulation. Salisbury then called Kevin Watson, a sales associate with NCFI Polyurethanes, headquartered just north of Winston-Salem in Mount Airy, NC. NCFI is one of the country's leading makers of high performance spray polyurethane foam (SPF) insulation. Watson, in turn, convinced NCFI to donate the SPF foam to the Children's Home.
"John's [Salisbury] company does an exceptional job at spraying foam, and he's got a big heart," says Watson. "He didn't get the entire pitch out of his mouth before I asked where the project was located and when could they start spraying our foam."
RELATED Honeywell's Breakthrough Solstice® Liquid Blowing Agent Named Finalist For Innovation Award, Dodge Momentum Index Moves Higher in August, Icynene Spray Foam Insulation Provides Indoor Comfort Throughout the Upcoming Winter, Revolution Machinery Reveals Key Considerations in Getting the Right Spray Foam Proportioner
Energy Tamers used NCFI's new low GWP (global warming potential) next generation blowing agent wall foam on the walls and roof of the 200 sq f produce room. Unlike older, conventional insulation, SPF insulation is spray applied as a viscous liquid, so it fills every crack and crevice, then expands and cures in place to form a seamless, monolithic envelope with R-values that far outpace old insulation types.
Mark Spicer, director of the Farm Program at The Children's Home says, "It's going to be great. Temperatures fluctuate greatly here, so we needed the building to stay consistently cool year-round. We try to keep it at 51 degrees during the summer and 45 degrees in winter, and I have no doubt this NCFI insulation is going to do the job."
Salisbury added, "We were so glad to donate our time to this farm project. I'm really glad Dan [Dockery] gave us the chance and Kevin [Watson] and NCFI gave us the foam. It's one of the many reasons why we use NCFI foam products. Not only are they headquartered here in North Carolina but they make the very best, most consistent products on the market, bar none. This new low GWP wall foam falls into the closed-cell InsulStar brand family and far exceeded our expectations."
The Children's Home of Winston-Salem, NC has been in operation since 1909, and has served over 10,000 children and their families. They also provide residential treatment, foster care and adoption services, substance abuse and counseling services.
About NCFI: Celebrating 50 years of foam. NCFI, headquartered in Mt. Airy, NC since 1964, manufactures polyurethane foam chemical systems for spray foam-in-place insulation (SPF), geotechnical, agricultural, roofing, marine floatation, packaging, specialty molding, and many other uses. The company also offers a complete line of flexible foams for furniture seating, transportation seating, bedding, carpet underlay, and packaging. NCFI also has manufacturing plants in Hickory, N.C., Dalton, GA., and Salt Lake City, UT. NCFI is a Barnhardt Manufacturing Company, Inc. company. To learn more about NCFI please visit www.NCFI.com
Contact Details
Name: Dale McGlothlin
Email: Email Us
Phone No: 855-499-8797
---
Disqus website name not provided.
NCFI's Insulation Donation Helps NC Children's Home Farm Keep Veggies and Fruits Longer for Children and Families