Elevating Levels of Quality
Elevating Levels of Quality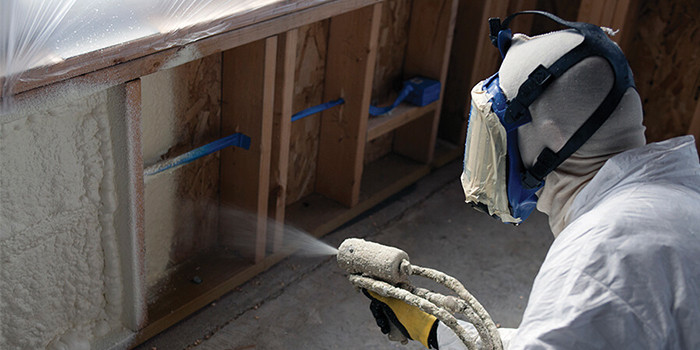 Spray Foam Magazine – Show Issue 2022 – Natural Polymers is an independent spray foam manufacturer dedicated to delivering environmentally friendly products to the market. The Spray Foam Magazine team were eager to talk to three of its key players to find out how this company balances innovation, customer relations and a passion for foam.
Ben Brown (Owner and CEO, Natural Polymers)

What inspired you to start your own business? I grew up loving chemistry and helping my father who was a custom home builder. I pounded a lot of nails, but my love of chemistry took me to college and then to a lab where I learned about SPF. Back then, the lab didn't see the value of SPF in construction, but I did. I bought an old FF 1500 machine and pioneered a very successful spray foam contracting business in the Chicago area. While I was pleased with the foams I sprayed, I knew they could be better. I really liked the challenge. With a few ideas, I bought some equipment and started a lab in my home. My passion for foam had me spraying homes during the day and creating formulations on nights and weekends. The foams Natural Polymers produces today are the result of years of working at this and being passionate about making better products for the consumer and contractor alike. That desire continues to motivate me today as I love combining my passion for chemistry with the need and interest in improving the performance and sustainability of spray foam. This new ultra low VOC product we are commercializing is the culmination of all that hard work and vision.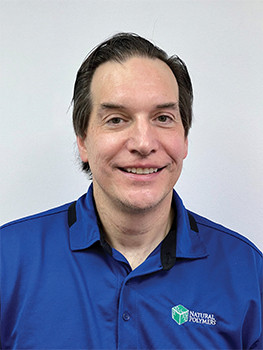 Ben Brown
Is there any one thing you would do differently if you could start your company again? What are the most important lessons learned? With the benefit of hindsight, the one thing I would do differently is to spend more time developing the people I bring in. Experience has taught me the value of highly talented individuals, and importantly what it takes to truly develop the wide range of capabilities they can contribute to business success. Based on this, I have now assembled a highly talented and energetic team that will enable sustainable growth into the future.
How would you describe your brand? Natural Polymers brands are Natural-Therm™ and Ultra-Pure™. For Natural Polymers, the chemistry including the selection of bio-based raw materials is a differentiator. Our spray foam products are better by design. That is not a marketing slogan, it's who we are and what we focus on. Natural Polymers expertise is developing innovative technology and then taking the step to train the installers to ensure all the benefits of the chemistry is realized. We manufacture and supply energy efficient systems, while leading the industry in quality, experience, customer service and customer support. I'm very proud of that and work hard every day to make sure that is who we are from a market perspective.
What are some of the main products Natural Polymers sells? Natural Polymers offers a wide variety of products for multiple applications ranging from spray foam, concrete lifting, marine flotation foam, and pour in place. Spray foam is a significant focus for us and as contractors realized over the years they could rely on and trust our formulations we have seen significant growth. Quality and innovation are really what we stand for. For open-cell spray foam, we offer several different options depending on what is best for a particular job. For closed- cell spray foam there are traditional summer and winter formulas and an outstanding low GWP closed cell offering. All Natural Polymers' products are high performing systems that meet or exceed your insulation requirements and sustainability goals. Our product information is on our website along with helpful resources and tools to help you choose the right insulation for your needs.
What are hiring strategies that have worked for you in the past? The best people we have hired come from industry connections and personal recommendations. Having first hand interactions enables a better assessment of a better fit into our organization.
Are there any upcoming projects you are particularly looking forward to? I have been working on an ultra-low VOC product formulation since 2010. After many years of development, refinement, and field tests, we are now commercializing both open and closed-cell low VOC products. This is a unique product in that it can only be installed by certified installers that have been trained and certified in the total system requirements. This training along with on-site air quality measurements before, during and after installation, ensures that the product is installed correctly and delivers on the low VOC promise.
How do you encourage and support your team? As the founder of my company, I've had to wear many hats and juggle the day- to-day activities while keeping my eye on the vision and longer-term goals. I try to hire people that have similar work ethics, pride in their work, high level of energy and willingness to learn. I am always learning and think that is an important quality to keep up with changing times. Especially in the chemical industry, you need to be focused on new technology that elevates the playing field for the entire industry. I try to set expectations and then trust my team to deliver. They know I am available for guidance as needed but I trust them to deliver the goods.
What is your ultimate mission for Natural Polymers? To become the best, world class supplier of sustainable insulation solutions including high yielding spray foam products that save contractors time and homeowners money through energy-efficient solutions, and state-of-the-art low emission foam offerings that enable new levels of indoor air quality. Overall, leveraging the latest scientific expertise and capabilities while building upon the essential contractor-to-contractor relationships with unparalleled support to deliver a new level of customer focus and loyalty.
Are you a supporter of constant growth, or do you prefer to stick with what works? Growth is in our DNA; the whole Natural Polymers story is about embracing new technologies that enable step change growth. It is engrained in our culture and will sustain us well into the future.
Is there anyone in the industry that you look up to? There is really no one person who stands out, the spray foam industry is blessed with many influential and proactive individuals that have contributed significantly over the years. I appreciate the relationships I have built in this industry and am committed to continued improvement.
Ernest Wysong (VP Technology, Natural Polymers)

How long have you been working in technology? Over 32 years in general, spray foam for 10 years, and here at Natural Polymers for about a year.
What does an average day look like for you? After a brisk early morning three-mile walk with my fiancée, the day starts with addressing overnight emails, conferencing with Ben Brown (CEO) about the strategic technology and business challenges at hand, and then preparing for the typical marathon of meetings, phone calls, and important deadlines to fulfill that are necessary to develop and implement the technical programs for Natural Polymers. The focus areas can range from overseeing multiple lab and case study experimental designs for new SPF product development to creating marketing content for our website and distribution partners with Joyce Wallace. A great deal of time is spent analyzing seemingly endless data and information and synthesizing into an innovative strategy which will drive Natural Polymer's future business success. I am a stickler for data and it's important to me that the data supports all our marketing claims. I think that sets Natural Polymers apart.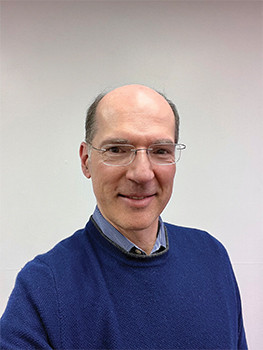 Ernest Wysong
What's your favorite aspect of your job? I am especially keen on interacting with contractors, homeowners, and other stakeholders to learn what is important to them and explain our technology in an easy-to-understand fashion. Also, it is a pleasure to work with a high energy team like Ben, Joyce, and others, to tackle these challenges quickly and efficiently, and feel good about contributing something worthwhile to the SPF industry like our new Ultra-Pure™ program.
Do you have any advice for someone entering technology in the spray foam industry? Probably number one is get out in the field and spend time with the contractors, sprayers, architects, builders, and homeowners. Years of college can prepare you technically in the lab, but only immersive experience in the field can provide the context and insights necessary to be an effective SPF technology professional. One of the things I truly appreciate here at Natural Polymers is the direct connection with the folks pulling the trigger on the spray gun. Ben's deep experience with what matters in the field is essential to create the best products in the industry.
How many people do you manage? Less than a dozen at the moment, but we are growing.
When the pandemic hit, how did your job change/alter? I think like everyone, spending time at home and working remotely opened my eyes as to what can be done in that fashion. As a result, it led to my current state at Natural Polymers where I do spend a fair amount of time working remotely. I find the balance enables greater focus in each venue with more prioritization of time management. It also contributes to a better quality of life, something that the pandemic also brought into focus. Life is precious, to be cherished each day to the fullest with loved ones.
Are there any projects that you are particularly excited about for 2022? Absolutely! We are introducing our new "Ultra-Pure™ Closed Cell and Open Cell SPF products which feature some of the lowest VOC emissions in the market. Building upon this innovative platform, we are requiring these products to be installed by certified, factory trained contractors with onsite monitoring to ensure proper application from beginning to end. I have been deeply involved in the creation and validation of this technology, and I can personally attest to the new levels of low emission performance that can be achieved. We hope this technology will continue to move the spray foam industry forward and build on previous innovations that ensure quality and safety.
What, in your opinion, are the key characteristics someone must have to become a VP of Technology? I would start with a broad, diverse technical experience supported with significant depth in key core areas like analytical chemistry, catalysis, polymer science, etc. Next, extensive, well-rounded experience in working with production, technical service, marketing, regulatory, intellectual property, and sales is essential, especially related to full product commercialization. With that foundation you then need exceptional focus, people skills and plenty of patience to manage the chaos and articulate / drive a clear vision of where the programs and business must go for success as we do at Natural Polymers.
Are there any myths/misconceptions about working in technology? Yes, I would say that sometimes technology people are stove piped into a specific role and not leveraged for skills outside of that perception. The most successful businesses are the ones that fully utilize all the skills their team members possess, regardless of labels or perceived roles. Many of us can wear multiple hats with ease, and that is something we successfully leverage at Natural Polymers, maximizing the value our people bring to the business.
Are you optimistic for the future in general and for the industry? Very much so! The impacts of the virus are working through the system, and the economy is running strong, driving investments in construction and infrastructure. Spray Foam benefits directly from this trend and is poised to grow significantly as new energy efficiency and sustainability initiatives take hold.
Joyce Wallace (Marketing, Natural Polymers)

How long have you been in the spray foam industry? I've been in the spray foam industry for over five years. Initially with Chemours for 35+ years in various businesses and now with Natural Polymers since June 2021.
What marketing support are you putting behind Natural Polymers? We are focused on delivering high quality innovative products and making the route to market efficient. We have experienced significant growth over the last several years and remain committed to improving the overall image of the spray foam industry. Good product development and support is an important first step to smart marketing. We are committed to having a dynamic website, being a reliable resource for information and providing useful tools for contractors.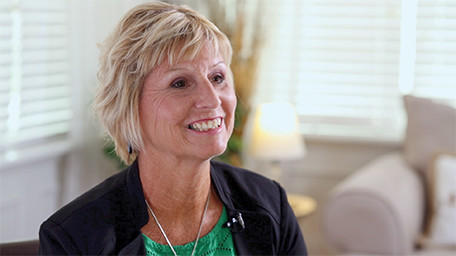 Joyce Wallace
What's the most successful marketing strategy you've implemented so far? The current marketing program to support the commercialization of new low VOC spray foam products is very important and exciting! It is too soon to say if it is the most successful marketing strategy yet, but we are extremely encouraged from the early contractor response. This is more than a marketing program. I look at it as a business strategy that integrates the marketing elements. This spray foam is unique in that it can only be installed by authorized system installers. What does that mean? NP along with IDI, will provide in-person training that certifies the installers with the right tools to ensure that they follow specific requirements including on-site air monitoring and utilizing a portal to enter the data. Once the data is submitted and verified, the homeowner will receive documentation that their home was sprayed with low VOC Ultra-Pure™. This total system approach of installing spray foam with on-site air quality readings raises the bar for the entire industry. Natural Polymers has partnered with IDI, a large nationwide distributor, to market and sell the Natural-Therm™ product line including Ultra-Pure™ products. Together, IDI and Natural Polymers will certify installers to ensure that the Ultra-Pure™ product is installed with all the proper requirements to deliver the ultra-low VOC promise.
What is your favorite aspect of your job? I have known Ben Brown for years first as a customer, then as a friend and now being part of his team at Natural Polymers helping him deliver excellent innovative products to his customers. I've also had the pleasure of working with Ernie Wysong at Chemours for over 5 years. Ernie is a fine chemist at heart, but he wears many hats. It is rare to work with someone that is so good in the lab, can see the big picture and is great with customers. I am very blessed to be part of such a great team that has endless energy, commitment to innovation and superb chemistry!
In your experience, what is the key to developing a good team? A good team starts with leadership and direction. Knowing where you are going and setting both short- and long-term goals helps keep things on track. Ben is always thinking and working on the next best technology. A good team is built on trust.
What is the most challenging aspect of your job? That is a tough question for me because I really like what I'm doing, and I love working with Natural Polymers. Every day is exciting, challenging and keeps me motivated. I like to work on things that matter, are high profile and make a difference. I get all of that and more at Natural Polymers.
What's the first thing you do when you enter the office? My office is in my home. So, for me, staying out of my office is more of a challenge. Sometimes it's hard to turn it off but that's because I am passionate about what I do. As far as my routine goes, it is very flexible, and I like that. We know what needs to be done and we do it. 
What are your long-term marketing objectives? Natural Polymers long-term marketing objective is to continue to increase market presence and acceptance of new, innovative products and tools. We are focused on the customer and want to be a spray foam manufacturer that contractors know they can rely on, get the best products and latest technology. Ben's commitment to quality control is above and beyond any I've seen. It sets Natural Polymers apart and his customers appreciate his commitment, knowledge, and intensity to deliver consistent spray foam day in and day out.
When you are not working, how do you spend your free time? I live in a beautiful area on Hilton Head Island, SC. I enjoy the active lifestyle here and love to golf, play tennis and even a little pickle ball. Beach, biking and exercise all complete my list of favorite things to do. I like to stay busy! I have one granddaughter and now two grandsons on the way so it's an exciting time for our family!
Have you any advice for someone starting a marketing career? My advice to anyone that is starting their marketing career is to think big and be able to work outside your marketing role. Over the years, wearing multiple hats has helped me better understand the market, my customers, and the business challenges. Also, it's important to have ambitious goals and develop a road map for achieving them focusing first on your strengths.
My specialty and passion is focusing on the customer. Market driven data is insightful and important but too many folks ignore it or don't try to understand or use it to their advantage. Customer service is one thing that is severely lacking. Marketing should be focused on delighting the customer with the right product, highest quality, delivering excellent customer service, a commitment to innovation and offering sustainable solutions. That's what Natural Polymers does. It is not easy but it is fun and rewarding.

Disqus website name not provided.
Elevating Levels of Quality