Easy Sell, Easy Profit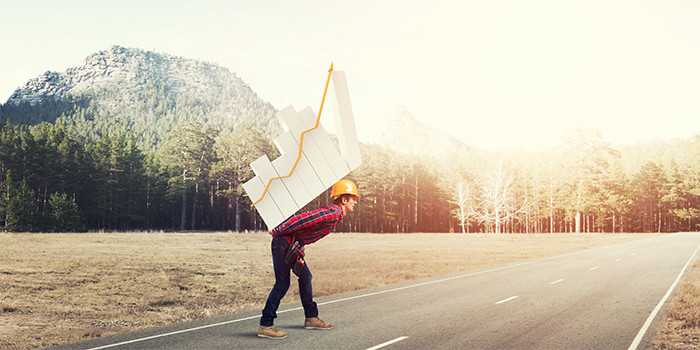 Spray Foam Magazine - Winter 2021 – In an environment of supply line shortages, rising costs, and an uncertain economic future, entrepreneurs are looking for alternative revenue streams and higher profit margins. As a result many spray foam specialists are now offering polyurethane concrete raising/leveling services. The reasons are 1) They already have most of the equipment; 2) It is easy to sell; 3) It generates high profit margins.
What do you need to get started?
Your spray foam rig already includes the majority of equipment required to offer the service. All you will need is specially formulated polyurethane foam components, a drill, some knowhow, and ideally, a different gun capable of managing the anticipated back pressure created when injecting polyurethane under the concrete. With a modest investment you are in business. Suppliers like HMI offer conversion packages of everything you need including training.
Who needs the service & How Easy is it to sell?
Take a moment to look down. There are literally billions of square feet of sunken concrete in the U.S. When concrete settles it creates problems such as trip hazards in public walkways and sidewalks, bad drainage contributing to even worse structural problems, equipment damage on machine pads and in warehouses, and an unsightly/unsafe environment for homeowners. The property owner has three options: 1) Do nothing – and take the risk of more damage or lawsuits, 2) Replace – an expensive proposition requiring a concrete installer to remove old concrete and make three trips to the location, 3) Lift and level it with a concrete raising/leveling service. This service normally costs much less than replacement and takes minutes instead of days.
The market is huge as well. The service is accepted and preferred by government, commercial establishments, and homeowners since it is lower cost, clean, ready to use immediately, lightweight (which mitigates further pressure on the sub environment) and environmentally friendly since it prevents straining landfills with millions of square yards of old concrete.
Concrete raising and leveling is considered a great defense against the liability concerns created by the American Disabilities Act. The Americans with Disabilities Act (ADA) of 1990 defines a 'trip hazard' as any vertical change of over 1/4 inch or more at any joint or crack. Since the ADA demands strict compliance, trip hazards represent a legal liability to your potential prospects. Cities, school districts, hospitals, churches, shopping malls, universities, apartment complexes, homeowners associations, large buildings as well as private residences should all be sensitive and concerned with this liability. It is easy to sell fear!
Show me the money?
Generally concrete raising and leveling contractors charge around one half the cost of replacement. This makes the pricing extremely fluid depending on the geography, the price/demand of concrete, and the availability of concrete contractors in the market. It is important to note here that most concrete replacement contractors have a large minimum charge since their process involves labor to remove old concrete, hauling and dump fees of discarding old concrete, preparing forms for the job, delivery and pouring new concrete and often a third trip to the job site to remove the form. This fact makes replacement of small sections extremely expensive compared to a concrete lifting specialist. A concrete lifter merely drills a few holes into the existing concrete, injects polyurethane under the slab to lift and fill the void and then patches a few 3/8 inch holes in a matter of minutes.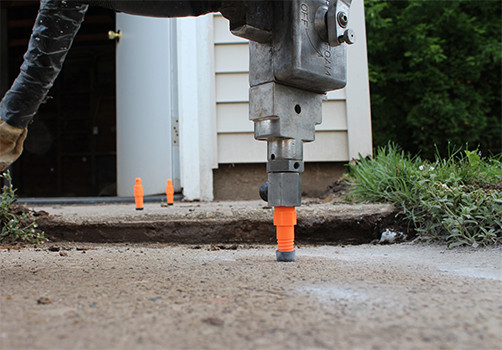 Adding concrete lifting and leveling to your existing insulation company is a no brainer due to the low cost of entry, high demand of service, and exceptional profit margins.
Try to envision a world where you are getting paid for the problem you solve vs. the amount of foam you pump. The average residential job, which may include a section of driveway, a few pieces of walkway and a section of pool deck will use approximately one cubic yard of expanded foam. That job will take less than one hour.
When starting the business, a simple survey of competitive options in the local market will identify where to start your pricing model. It is suggested that on the residential side you approach pricing on a square foot basis since that is how traditional concrete contractors will charge and makes the comparison easy for the buyer.
The profit margins associated with concrete lifting and leveling are huge due to the efficiency of the process. That is—it is fast and uses relatively low volumes of polyurethane material.
The Takeaway
Concrete raising and leveling is an ideal "additional arrow in the quiver" for spray foam contractors:
The cost of entry into the business is low
The market and demand is huge
The profit margins are exceptional
You already have most of the equipment, so why not?
About the Author: Paul DelFino is a principal of the consulting firm Opportunity Inc. For nearly three decades he has assisted entrepreneurs in growing their businesses, responding to economic downturns and merger and acquisition activity. His publications include "Avoiding Skewed Entrepreneurial Strategies'' available from all online booksellers.
Direct any questions you have about statements made in this article to HMI: 800-626-2464 // hmicompany.com
*Spray Foam Magazine does not take editorial positions on particular issues; individual contributions to the magazine express the opinions of discrete authors unless explicitly labeled or otherwise stated. The inclusion of a particular piece in the magazine does not mean that individual staff members or editors concur with the editorial positions represented therein.

---
Disqus website name not provided.