Hydraulic Mudpumps, Inc. (HMI)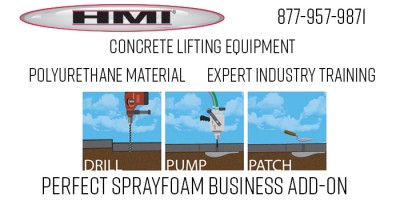 Equipment -Material -Training- Support
Looking to make more money? Just add HMI!
Concrete raising is a very viable, profitable business offering that can be easily added to almost any business. With HMI's Discovery & Training Seminar and HMI's concrete raising equipment, you can offer additional concrete leveling services that allow you to reach and secure an entirely new market you may not have been able to work with previously.
An easy business add-on
While expanding your business to include concrete raising as an additional business offering can work well for almost any type of business, some businesses can easily add concrete raising to their service repertoire. Increasing your service offerings and profitability has never been easier!
Businesses that can use concrete raising as a turnkey service:
If you own, operate, or work for a company like those listed below, you probably already have the basic tools to start concrete raising, but need the major equipment. At HMI, we specialize in creating customized concrete raising equipment solutions that allow you to extend your customer base, making you more profitable.
-Spray foam

-Flat work

-Asphalt

-Concrete polishing

-Concrete engraving

-Concrete staining

-Landscaping
Did you know? HMI is the first company to offer cross-service conversions with our industry-leading Spray Foam to Slabjacking Conversion Kit! If you provide spray foam insulation services, you already are positioned to easily extend your business offerings by using our conversion kit to provide concrete lifting services to your customers.
Unparalleled Customer Service
Fact: Not only does the HMI team have OVER 250 years combined concrete raising industry experience, but we also own our own contracting company that raises concrete EVERY DAY with our equipment and material.
» Learn more about HMI's spray foam-to-slabjacking conversion kit HERE
Company Tags & Service Areas
United States
Wisconsin
Manitowoc
54220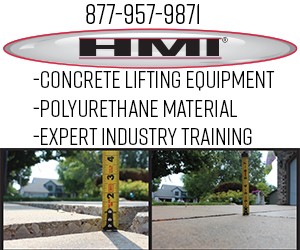 Address:

4466 Custer St.




Manitowoc

,

Wisconsin

54220




United States

Phone:

877-957-9871
Hydraulic Mudpumps, Inc. (HMI)