Caliber Announces First Net Zero Energy Sustainable Townhome Development in Tempe, Arizona
Caliber Announces First Net Zero Energy Sustainable Townhome Development in Tempe, Arizona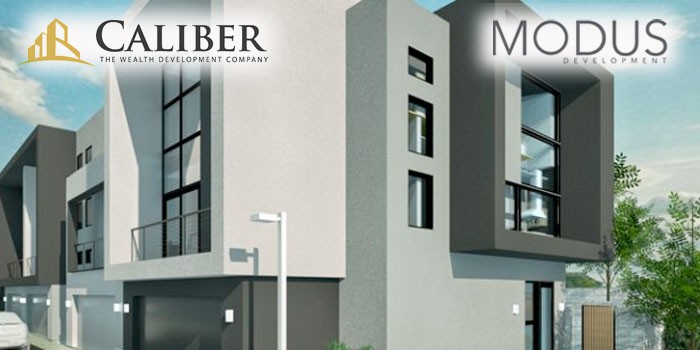 SCOTTSDALE, AZ – September 9, 2016 – Caliber - The Wealth Development Company officially broke ground on a 32-unit Net Zero Energy townhome community in Tempe, Arizona. The new community, The Roosevelt, is the City of Tempe's first green solar townhome development designed to achieve Net Zero Energy by leveraging the latest in building materials and sustainable technology. This creates a home that enhances the homeowner's lifestyle and reduces environmental footprint with little to no utility-supplied energy. Expected completion date for Phase I (14 units) is Spring 2017. Phase II (18 units) expected completion date is Winter 2017.
"The City of Tempe is excited to have Caliber in our community," said Tempe Mayor Mark Mitchell. "We've long been a community dedicated to sustainability, and this development will give residents who want to live in a Net Zero, sustainable environment a real option. This new development is also just off our downtown and will give residents access to our urban core, public transportation, and of course, to amazing shopping and restaurants."
The Roosevelt is Caliber's first development project in Tempe. Located on a two-acre property within a short walk to the Farmer Arts District and on one of the last remaining sites in the highly desirable and coveted location near Mill Avenue (2nd Street and Roosevelt), The Roosevelt will be a leader in urban sustainability for the region. Caliber is partnering with MODUS Development, an award-winning Phoenix-based real estate developer known for pioneering Net Zero Energy and sustainable projects in Arizona and California.

RELATED Dow Innovations are Key to Enabling Rio 2016 Olympic Games, Covestro Materials Utilized in Award-Winning Building Applications, Icynene Innovates with Foam Blowing Agent from Chemours, Si Robertson of 'Duck Dynasty' Endorses SWD Urethane
With an integrated design process developed by MODUS that prioritizes sustainability, each home is designed to exceed Leadership in Energy and Environmental Design (LEED®), and meet Energy Star® certification. The 2 bedroom, 2-1/2 bath townhome models (with variations) will be offered for approx. $450,000 - $500,000 and feature a modern design with over 1,800 feet of living space, large recessed windows, deck and a two-car garage. While adding value to the residences, Net Zero Energy status is achieved using sustainable technology that is setting the new standard for energy efficient living in America. All units will be equipped with innovative sustainability features including solar panels, LED lighting, hybrid water heaters, Icynene spray foam in all exterior walls and ceilings for insulation and soundproofing, PEX plumbing, High SEER heat pumps, Energy Star Appliances, cool roof technology and more.
Chris Loeffler, CEO and Co-Founder of Caliber, said, "The Roosevelt is a one-of-a-kind development project that marries important aspects of investor value creation while being on the forefront of innovation." He added, "This project allows us to move forward and become an environmental steward at a time when the entire nation is seeking a more sustainable future. It will be inspiring to see this Net Zero Energy project become a reality and create a community where residents share a commitment to do their part to reduce their environmental footprint. We see this as the first of many opportunities to partner with MODUS and drive additional sustainable projects."
The Roosevelt project was purchased in partnership with the Caliber Distressed Real Estate Income Fund (CDIF, LLC). Leading the project is Caliber's Executive Vice President of Development, Roy Bade, whose 31 years of development experience will ensure a successful project. MODUS Development, led by Ed Gorman, is a co-developer and Zero Energy design partner. With a waiting list already started, The Roosevelt townhome purchase inquiries should be directed to Michael Williamson or Beth Spivey at Caliber Realty, 480-295-7600.
About MODUS Development: Headquartered in Phoenix, Arizona and founded by industry pioneer Ed Gorman, MODUS Development is a nationally recognized real estate investment and development firm known for award-winning and energy efficient projects. MODUS develops innovative buildings with modern, sustainable, architecturally unique designs that are located in urban core areas. Each project is designed to meet stringent Leadership in Energy and Environmental Design (LEED®) and Energy Star® certification requirements to promote a whole-building approach to sustainability by recognizing performance in five key areas of human and environmental health: sustainable site development, water savings, energy efficiency, materials selection and indoor environmental quality. For more information, visit www.MODUSdev.com.
About Caliber - The Wealth Development Company: Caliber assists investors in building their wealth through both equity and debt real estate based investments, either through individual assets, or through private funds. Caliber is focused upon opportunistically acquiring various types of commercial assets, with in place cash flow, and maintaining low leverage on them. Through its proven renovation and management expertise, Caliber is able to increase revenue and maximize tax benefits, all the while protecting investor capital. Caliber currently invests in Hotels, Self-Storage, Apartment Communities, Single Family Residential Properties, and Office Buildings. Caliber is a fully, vertically integrated, full service real estate investment firm controlling all aspects of the investment cycle. Services include acquisitions, construction, development, and property and asset management. www.CaliberCo.com
*Main photo courtesy of Caliber, The Wealth Development Company
Contact Details
Name: Ruth Seigel
Email: Email Us
Phone No: 602-320-4182
Disqus website name not provided.
Caliber Announces First Net Zero Energy Sustainable Townhome Development in Tempe, Arizona