BASF Low-GWP Systems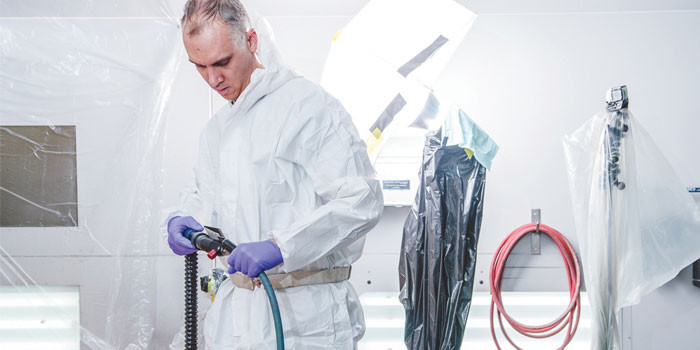 SPRAY FOAM MAGAZINE – Show Issue 2021 – BASF knows spray foam. Their dedicated team of chemists, spray foam field professionals, building science and technical experts are committed to innovating spray foam products based upon the feedback and needs of the market. Experienced spray foam contractors installing BASF know what sprayers look for when applying SPF and offer consistent advice for improvements and innovation of their products.
BASF's newest closed-cell low-GWP products have hit the market. SPRAYTITE® Comfort Series and WALLTITE® LWP are HFO-based spray foams which offer a lower environmental impact and improved performance.
Take COMFORT in the BASF Low-GWP Systems
North Carolina customer Aaron L. says, "The SPRAYTITE Comfort from BASF is the best HFO system I've used for building envelope insulation. We get great coverage in 2" applications on concrete surfaces, even in cold, damp winter conditions."
SKYTITE® C3 is BASF's low-GWP, low-slope, spray foam roofing system. This system has superior surface texture, great coverage, and ease of application.
Raising Performance with SKYTITE C3
Jeff L. of Washington states, "Our experience with SKYTITE C3 on our wine tank project exceeded our expectations. Sprayability was very good, overspray wasn't bad and yield was right where we expected it to be. SKYTITE C3 was very forgiving and performed extremely well, even in temps above 100 degrees F. The product finished very well and physical properties were excellent. I will be using SKYTITE C3 again next year and would recommend this product to anyone in the foam roofing business."
ENERTITE® G is BASF's market-leading, no-mix open cell SPF insulation. Contractors love the ease of use, wide processing window and consistent coverage rates. ENERTITE G also has some of the most comprehensive offerings of approvals for use across all construction applications.
Why do customers love ENERTITE G?
Jody J. of Texas says, "We regularly get 20-21,000 board feet of coverage with ENERTITE G. Our crews love the fact that it's a no-mix formula which saves on prep time and makes them more productive. Another big plus is that it sticks to itself and does not drip when spraying under the roof deck. Our guys don't get covered in foam and clean-up on the floor is minimal, so they're off the jobsite faster."
BASF Supports Your Success
Customer Landon R. in Virginia says it best. "We have thoroughly enjoyed our relationship with BASF over the past 15 years. We have formed a great team approach with our local BASF representative and have had great support from the BASF Technical Department on complicated projects. I highly recommend BASF and their team!"
And if all of that isn't enough, JUST SPRAY IT, and see what everyone's talking about for yourself.

Contact Details
Name: BASF
Email: Email Us
Phone No: 1-888-900-FOAM
Disqus website name not provided.