A Note from Spray Foam Magazine - Show Issue 2019
A Note from Spray Foam Magazine - Show Issue 2019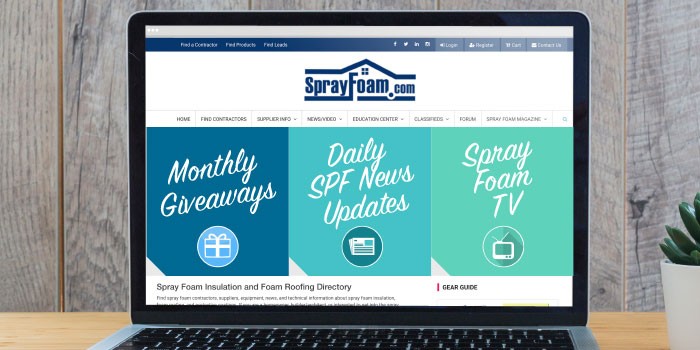 JUPITER, FL – February 1, 2019 – Spray Foam Magazine is honored to be the world's leading publication when reviewing the spray foam industry. The magazine has been the recipient of multiple national and regional awards, including one of the highest-ranking honors—a Charlie Award from the Florida Magazine Association (FMA). A source for contractors, suppliers and architects, the magazine covers inspirational stories, and is a valuable resource for spray foam companies in both the U.S. and Canada.
There is however always room for improvement and we, the team at Spray Foam Magazine, continuously strive to deliver the very best to our readers. To accomplish this, we have revamped the magazine with a fresh new look, easy to navigate layout, and innovative technical writers.
Each issue will be separated into departments—with various disciplines highlighted in each issue. A few examples of this include: Architect's Corner, The Canadian Spray Foam Industry, and Equipment & Technology. We always have our hands on the spray foam trigger, always on the hunt for breaking news and prominent issues, which may interest or benefit you, the readers. We love to listen to your stories, while finding the voice and tone defined by those in the field. These stories are the main inspiration for many of the engaging articles.
One of the core differences to the issues moving forward in 2019 will be the introduction of distinguished themes—kick-started with this book as the SPFA Show Issue, centering around new technology. The Spring Issue will include an Architect's Guide to Working with Foam, warmly followed by the heat of Summer Issue, introducing the topic of weather and its affect on spray foam. Falling into Autumn, we will be jumping the waves with companies specializing in foam at sea. Ending the year with the Winter Issue, we will be reaching for our woolly hat and mittens, as we join the Canadian companies that brave the snow while using foam in colder temperatures.
Our talented team of writers at Spray Foam Magazine will cover stories from residential case studies and commercial projects, to safety and roofing. In every issue, there will be a Spotlight section, reviewing a team or individual with a remarkable story in the field. Always approachable, we rely on feedback and readers' stories to expand the magazine throughout the field. Combining technical facts with an interesting narrative, we hope to provide you with crucial industry information, while keeping you entertained.
Experiencing a dramatic escalation in print and digital subscribers during 2018, we are very ambitious for progression in 2019. With a digital and print subscriber base continuing to grow daily and the recent addition of an extensive architect list for our digital version, plus the continued development of a social media presence, we are extremely thrilled at the prospect of an extended reach for our readers. From the Canadian Rockies to the deserts of Arizona, spray foam is expanding and filling all the nooks and industry crannies. If 2018 was enthusing, then 2019 will be sensational because there is a lot of positivity and innovation within the industry and Spray Foam Magazine readers are part of that movement. •
Special Thanks To SprayFoam.com Sponsors for 2019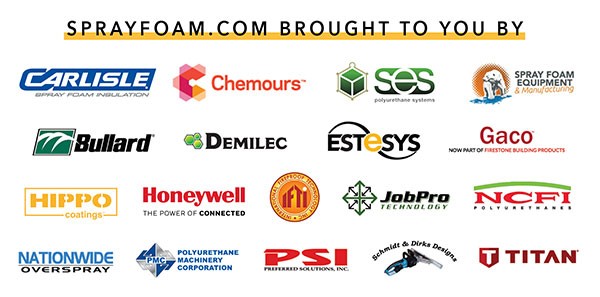 Contact Details
Name: Spray Foam Magazine
Email: Email Us
Phone No: 561-768-9793
---
Disqus website name not provided.
A Note from Spray Foam Magazine - Show Issue 2019