Dow's Chrisafides to Keynote on Next Generation of Polyurethanes at UTECH North America Conference
Dow's Chrisafides to Keynote on Next Generation of Polyurethanes at UTECH North America Conference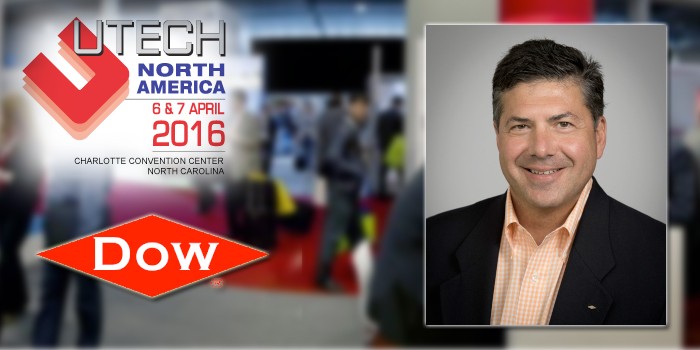 CHARLOTTE, NC – March 25, 2016 – Chris Chrisafides, Commercial Vice President, Dow Polyurethanes at The Dow Chemical Company will deliver the keynote on The Next Generation of Polyurethanes at the upcoming UTECH North America conference and trade show, taking place April 6th and 7th 2016 at Charlotte Convention Center, North Carolina, USA.
Global polyurethane consumption shows no sign of slowing down, yet in an uncertain world the challenge remains to find new opportunities for growth. Setting the tone for the 2016 UTECH North America conference, Chris Chrisafides will ask where to look and how to work in order to harness all the possibilities available from the next generation of polyurethanes.
RELATED Dow Polyurethane Technologies Enable Code-Compliant Insulation Solutions in North America , Quik-Shield 108: Too Many Benefits for One Video, Icynene ProSeal Closed-Cell Spray Foam Insulation Awarded UL Greenguard Gold Certification
Featuring nearly 40 detailed technical papers delivered in a total of eight sessions, the conference will cover the latest developments in the world of polyurethanes and reveal unique insights into the North American polyurethanes market. Following Chrisafides in the conference's plenary session, Robert Outram of IAL Consultants will present North American Polyurethane: Global Snapshot and Strategic Outlook. Paul Bertram, Director Environment and Sustainability/Government Affairs at Kingspan Insulated Panels rounds off the session with a paper entitled How the 2°C Paris COP21 Agreement Drives Low Carbon Building Energy Efficiency, heralding the first of the conference's two sessions focusing on sustainability issues.
Other dedicated sessions from two parallel conference streams include those looking at polyurethanes technology in automotive applications, flexible foams, rigid foams, CASE products (coatings, adhesives, sealants and elastomers) and the latest advances in processing equipment. The final session looks at blowing agent innovations and two science papers.
Conference delegate rates are highly competitive compared to other events in the industry and offer outstanding value to all those with a professional interest in polyurethanes.
Major international companies among more than 120 exhibiting at the accompanying free-to-attend UTECH North America 2016 trade show are Dow Chemical, Wanhua of China, Cannon, Hennecke Inc, DuPont & Tate & Lyle, Repi LLC, Honeywell, Chromaflo Technologies and Tosoh. The event is supported by the Polyurethane Manufacturers Association (PMA), the industry organization dedicated to advancing cast polyurethane technology.
For more information, to book a place as a conference delegate or to register for free attendance at the trade show visit: www.utech-north-america.com
Contact Details
Name: Ed Rich
Email: Email Us
Phone No: 1 330 869 0375
Disqus website name not provided.
Dow's Chrisafides to Keynote on Next Generation of Polyurethanes at UTECH North America Conference