Rising Star Award Winners Named
Rising Star Award Winners Named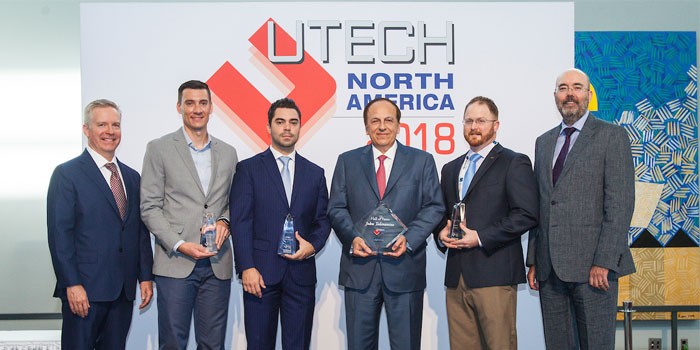 CHARLOTTE, NC—Sept. 18, 2018—In its first-ever awards program, organizers of UTECH North America recognized both longstanding and emerging leaders during its 2018 Conference and Convention, held Sept. 11-12, 2018, at the Charlotte Convention Center.
During the ceremony, industry leader John Televantos, Ph.D., was named as the newest inductee to the UTECH Hall of Fame. Televantos spent much of his early career in research and development, going on to hold various executive-level positions within the chemical and polyurethane manufacturing industries before joining Arsenal Capital Partners in 2006 as Executive Vice President. He currently serves as Senior Partner at Arsenal and Co-Head of the Specialty Industrial Group, where he focuses on portfolio management and specialty industrials.

Three 2018 Rising Star Awards recipients were recognized for their contributions and impact in today's marketplace. They were Fernando del Valle Fernandez, CEO of Grupo Valfer; Matthew Getty, VP of Business and Product Development of Romeo RIM; and James Young, Associate TS&D Scientist at The Dow Chemical Company.

The award ceremonies kicked off a two-day conference, networking and entertainment on the show floor. While Hurricane Florence forced organizers to close the show a day early, exhibitors and attendees at the show capitalized on the opportunity for substantial leads and meaningful conversations.

"UTECH North America exceeded our expectations," said Greg Cole, Technical Representative at StateMix. "We were able to have better conversations with both prospects and clients, which allows us to better identify their needs and find the right solution for them."

Several new features to the UTECH North America program, including the "Ask the Experts" stand and a new mobile app, enhanced networking and educational opportunities. These additions improved the value of the show for polyurethane suppliers and professionals in attendance.

"Because UTECH NA is the only show that is 100 percent polyurethanes, we wanted to develop a plenary program that touched all facets of the industry," said Debbie Hershfield, Trade Show Director, Crain Communications. "We received outstanding feedback regarding these new additions and look forward to finding more ways to enable our exhibitors and attendees to further connect in Chicago."

At the "Ask the Expert" stand, exhibitors provided 15-minute educational sessions, enabling them to connect with attendees on a one-on-one basis. This additional learning opportunity complemented an already impressive line-up of sessions presented during the educational conference.

"Coming from Central America, we found that the educational sessions highlighting the current state of the polyurethanes industry help us forecast for the future by providing pricing information and challenges that may impact our business," said Michelle Caceros, Partner at Panacom, Guatemala. "We're able to take this information and share it with our customers, which improves our relationships and our business."

Thomas Robitaille, Consultant at Lonza, said he was able to accomplish everything he'd hoped to achieve at the show—and more. "I was able to have meaningful conversations with industry experts," he said. "I'm extremely pleased with the value of this show."

UTECH North America will return in the spring of 2020 to Chicago. UTECH Las Americas returns to Centro CitiBanamex, Mexico City on April 10-12, 2019. For a full listing of future UTECH events, please visit https://utech-polyurethane.com/events/. For more information about UTECH North America 2020, visit: www.utech-north-america.com.

ABOUT UTECH North America: UTECH North America is the largest gathering of polyurethanes professionals in North America. It is the region's only trade show and conference that is 100 percent polyurethanes, covering all end markets and uniting manufacturers and buyers across the entire supply chain. The trade show has attracted top-level exhibitors from a broad cross-section of the industry with exhibitors including industry leaders such as: REPI, Chromaflo, ESCO (Edge Sweets), Hennecke, The Bradbury Group and many more.
US-owned Crain Communications, the organizer of UTECH North America, has a proven track record of successful polyurethane events, including UTECH Europe, UTECH Asia, PU China and UTECH Las Americas.

Contact Details
Name: Crain Communications
Email: Email Us
Phone No: 330-608-0231
Disqus website name not provided.
Rising Star Award Winners Named