Unveiling the Luxurious Secret
Unveiling the Luxurious Secret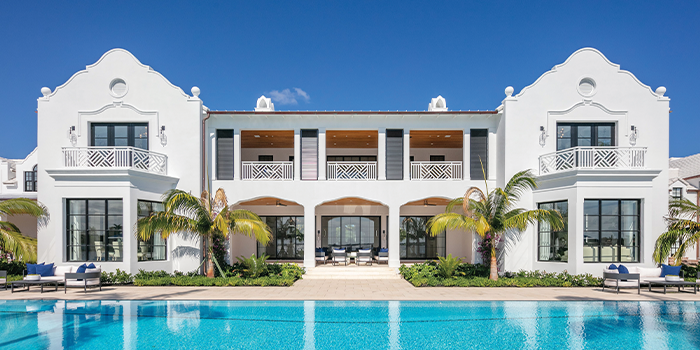 Spray Foam Magazine – Imagine owning a private island with panoramic views of the water and a private escape from the hecticness of everyday life. Make no mistake, this 2.27-acre domain is not a scene from the movie Castaway but instead a luxury estate situated on the only private island in Palm Beach, South Florida. As it so happens, spray foam was the insulation of choice to improve the building envelope of this impressive 28,618 sq.ft. property, which is only accessible via a narrow bridge.
Currently listed at a mere $218,000,000, the foundations of 10 Tarpon Isle go back to the 1930s when the first island was created by dredging crews. Tarpon Island was first known as Clement Island when the Phipps family's Palm Beach Company bulkheaded the property in 1938. In 1939, the Palm Beach Company sold the island to E. Stuart Davis who the following year commissioned architect Howard Major to design a British West Indies house.
Fast forward five decades and the owners of the island, William and Eileen Toll, who had purchased the 2.5-acre property in 1998 for $7.6 million, sold the private island to Florida developer Todd Michael Glaser and his partners for $85 million. Glaser revealed plans to renovate the original 12,321-sq.ft. house and develop it by adding an additional 18,000-sq ft property next to it. After the development, the property has nearly doubled in size.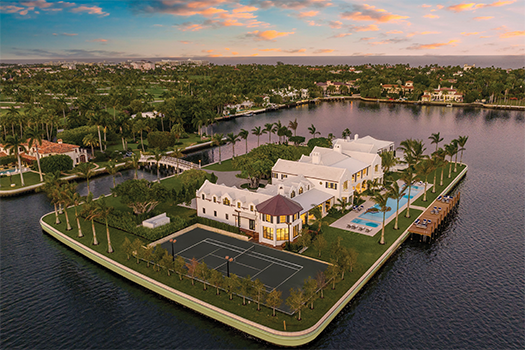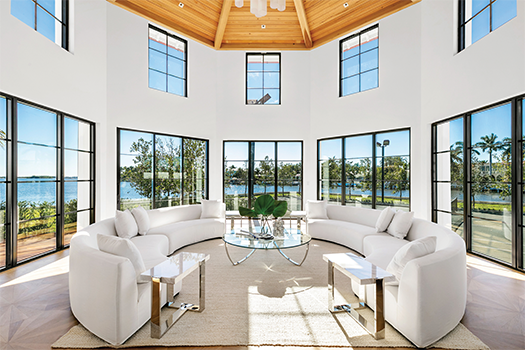 The property now has 11 bedrooms, 15 full bathrooms, and seven half-baths, in addition to the original renovated building. There is a library inside the main house, along with an entertainment room, an indoor spa, which includes a massage room, a hair salon, a steam room, and a sauna. There is also a wine room, an elevator and a gym, a cardio room, and a wet bar. The exterior boasts a 98-foot south-facing swimming pool, cold plunge, an outdoor kitchen, bar and two private docks, five-car garage and an updated, illuminated tennis court.

An impressive estate needs a superior insulation applied by an established insulation company. Being in the spray foam insulation business can be tough, however, through hard work, fortitude, and connections, that hard work can really pay off. Therma Seal Insulation Systems Inc. is one such successful company. Based in West Palm Beach, Therma Seal is family owned and operated by Jim Finck and his two sons William and Tim who shared the company history and the spray foam work they carried out on 10 Tarpon Isle.
In 2006, Jim Finck was considering placing solar panels on his home in North Palm Beach. However, solar panel technology was still in its infancy and the pricing was therefore astronomical. The gentlemen proposing the solar panels suggested an insulation called Icynene, and the fact that it would help reduce Jim's energy consumption and utility costs by 30%. His mind whirled with possibility and why this application wasn't prevalent at every home. Noting the area was very underserviced he queried then attended training with Icynene of Canada (today Huntsman Building Solutions produces the Icynene product line) and became a certified installer and dealer. The business has since grown from one spray foam rig to six.
The application of Icynene foam has also led Therma Seal into other synergistic trade work. Therma Seal has a division providing commercial fireproofing and intumescent coatings to large commercial projects in the South Florida market. "Our reputation for being fulfillment ready and capable with quality installation is the key to develop business relationships," says William. He attributes the Therma Seal commitment to excellence as the introduction to renowned Miami property developer Todd Glaser. Glaser started work as a designer for a fire sprinkler company which enabled him to learn about building structures from the inside out. Glaser went on to draft the plans for many of the recognizable buildings in Miami. This experience taught him everything he needed to know about construction from the start to finish of a building project.
Realizing his skills, Glaser started to purchase small homes, renovate them, and quickly sell them. He soon started developing million-dollar homes that sold in record time and brought new modern design to Miami Beach which was at the time dominated by Mediterranean designs. Todd renovated masterpieces like the Carl Fisher Estate and Cher's Estate on La Gorce Island as well as sold or developed homes for Michael Bay, Wayne Boich, Chris Bosh, Ugo Colombo, Hulk Hogan, Billy Joel, Richard Leeds, Zydrunas Llgauskas, Shariff Malnik, Sean Posner, Alex Rodriguez(A-Rod), Jason Rubell, Rony Seikaly and Lil Wayne. Todd's development speed, organizational skills, and determination has led to his great success. Glaser has since branched out into Palm Beach County with his preferred SPF company being Therma Seal.
Glaser had his crew gutted the original property at 10 Tarpon Isle down to the porous brick. Originally, there was fiberglass insulation specified for the exterior walls but when the Therma Seal team came to view the property they emphasized that a project of this stature deserves the best. William Finck of Therma Seal emphasized, "The client soon realized this was the case and we got them to convert from fiberglass to foam. There are so many advantages to foam. It will also be a great benefit to the original portion of the house, helping pull together those exterior walls tighter within the envelope to create a stronger structural integrity."
The team at Therma Seal also stressed the fact that with a building being surrounded by water, coupled with the South Florida humidity the Icynene Classic Ultra Open-Cell was the proper choice for a continuous insulated envelope. Therma Seal has from the beginning always applied what William Finck describes as "A superior product, that contains no HFC or formaldehydes." William goes on to say, "South Florida has a humid environment, and this foam is designated vapor permeable and hydrophobic."
Open-cell foams will tend to leak closer to the point of water entry making leaks easier to identify and locate. Note that not all open-cell spray foam insulations have the exact same physical properties as some are able to absorb a significant amount of water which could aggravate moisture conditions. However, the Classic Ultra product is recognized as being a cutting-edge formula that insulates and seals all cracks and gaps with a single application and hold its shape and density over time with a low VOC and very low water absorption vs conventional open-cell, perfect for this island estate. The client also liked the idea of open-cell foam due to its sound dampening qualities.
Equipment used on this project consist of the typical Graco E-30 Proportioner off a John Deere 30kw screw compressor generator. The Therma Seal spray foam application crews are all seasoned veterans. With the crews consisting of two sprayers and a helper. For this particular job, the crew used a truck and trailer as opposed to a box truck, due to the temporary bridge to the island having a strict vehicle weight limit.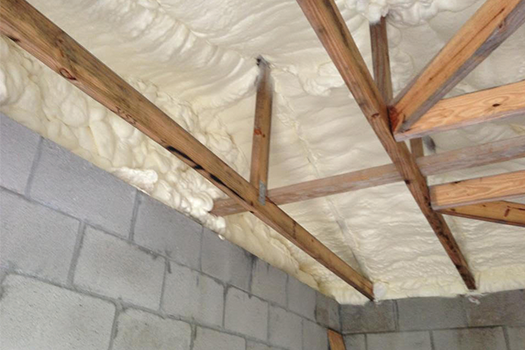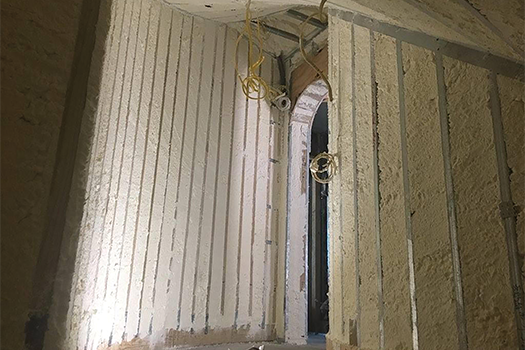 Icynene Classic Ultra open-cell spray foam was used on this island estate. It can help strengthen the structural integrity and protect against the water vapor and Florida humidity.
Other heavier equipment needed for this project had to be taken over on a barge. They sprayed roughly 40,000 sq. ft. with 5.5" of foam applied to the underside of the roof and 3.5" to the exterior walls as a full air barrier envelope. Total project lasted for 20 workday sessions in multiple mobilizations and used close to 20 sets of Icynene product.
A project with this kind of grandeur required Glaser to work with the talent of celebrated West Palm Beach designers, Roger Janssen of Dailey-Janssen Architects. They have respired new life into an old building, by revitalizing the interior to reflect modern tastes and requirements. Natural light floods through the windows, with rooms bathed in white and pale greys that offer a serene modern feel without losing the exterior traditional Palm Beach charm in all its glorious tropical symmetry. Having different disciplines, from an experienced property developer and talented architects to the skills of Therma Seal's SPF application, not only is this multi-million estate impressive, but it is also well insulated, meets building code requirements while delivering the year-round benefits that spray foam insulation offer.
For use by SprayFoamMagazine.com & Spray Foam Magazine

Disqus website name not provided.
You May Also Like
Unveiling the Luxurious Secret