Bridging the Gap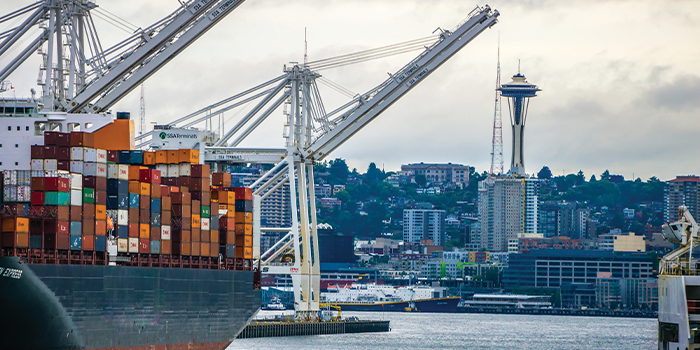 Spray Foam Magazine – The Port of Seattle requires constant maintenance to ensure trade flows and infrastructure are not interrupted. The Spray Foam Magazine Team (SFMT) was eager to find out how and why a geotechnical foam helped with one of the renovations at the port. Heading to Seattle, we spoke with Jerald Sargent of Slabjack Geotechnical LLC to find out.
The Port of Seattle was created in September 1911, and what was once a small frontier settlement, soon developed into a busy trade center. This was helped by the transcontinental rail lines and Northwest shipping routes along its central waterfront. The rail companies once owned most of the docks and warehouses, and therefore controlled a lot of Seattle's trade. The competing companies, each with their own agenda, making any harbor improvements difficult to accomplish.
For more than 20 years, campaigners sought to end the railroad control, and modernize and adjust Seattle's harbor, by establishing publicly owned and operated port facilities. Once this was achieved, the port had many expansions over the last 111 years,
some of which included: the addition of Seattle–Tacoma International Airport, also referred to as Sea–Tac, three cruise-ship berths, expansion of light-industrial space at Fishermen's Terminal to accommodate businesses supporting the North Pacific fishing fleet, and in 2018 the Port acquired the Salmon Bay Marina adjacent to Fishermen's Terminal, increasing the Port's marina capacity and allowing for further growth of Fishermen's Terminal.
One of the busiest cargo terminals in the Port of Seattle is Terminal 18. It was suffering from an erosion problem due to stormwater infiltrating the ground around concrete culverts which caused severe settlement in the conveyance systems adjoining its seawalls. Without repair, the seawall, the asphalt above, equipment and containers atop the asphalt could be compromised. Something had to be done to solve this, and fast, but was there a cost-effective option that would be minimally invasive for the port?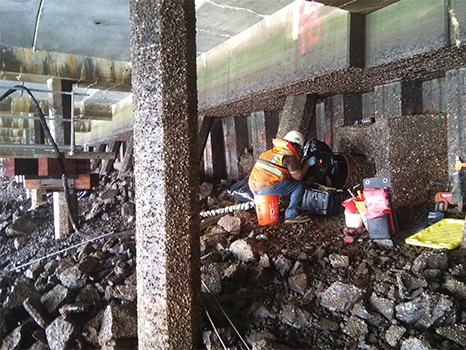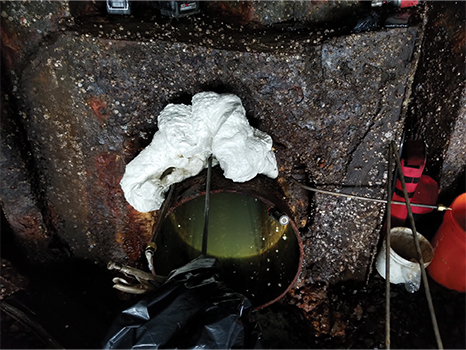 NCFI TerraThanewas used aroundthe pipes to fill voidscaused by the inflowand intrusion of thestormwater, then toseal the joints in theconcrete.
Slabjack Geotechnical is a family owned and operated concrete repair company with locations in Spokane, Tri-cities, Wenatchee, and Puget Sound in Washington State. It was Founded in 2011 by Jerald and Ann Sargent, after they personally experienced settled concrete at their home and couldn't find anyone to

come to their small town to fix it. They have since developed into a full-service concrete service that provides slabjacking (concrete raising), pressure grouting, concrete crack and joint sealing repair.
They also seal leaking culverts, large diameter pipes, and concrete ditches.
Jerald has a wealth of experience with geotechnical projects large and small in both the U.S. and Canada, and Ann is the business operations and appointment center manager. She is responsible for scheduling, customer relations and contract management and therefore a crucial part of the company's operations. Slabjack Geotechnical has completed thousands of jobs and is widely recognized as a leader in the application and installation of plural and single component geotechnical polyurethanes. According to Jerald, they obtained this job through the MRSC (Municipal Research and Services Center) and Government Spend, both online bidding opportunity companies.
The Slabjack crew worked on four outfall culverts that were experiencing inflow and infiltration causing the roadbed to settle. They grouted all the culvert joints by drilling through the concrete culvert and driving 3/8-inch pipe adjacent to the pipe as far as 30 ft to target areas they couldn't reach within the pipe. Without this repair, the culvert would have eventually failed, and the roadbed would have continued to settle, which would have resulted in the closure of part of the terminal for reconstruction. Jerald points out that his firm uses a simpler, less intrusive method involving geotechnical polyurethane foam for tricky repair work like this.
The concrete pipes involved were up to 42 inches in diameter and from 22-65 feet long, and the concrete pipe system and outfalls that release stormwater into local waterways were at depths between -10 to -15 feet. The crew used a geotechnical polyurethane foam called TerraThane from NCFI because of its quality, high-performance standards, and the fact that it's NSF/ANSI 61 certified safe for use in and around drinking water. Jerald emphasizes, "When we started out in this business NCFI was about the only manufacturer of geotechnical foams, other companies have now entered the industry, but NCFI still dominate the industry as they pass the NYSDOT hydrophobic test, have ANSI 61 products and a wide range of densities and reactivity." He goes on to say, "We used NCFI TerraThane to fill voids caused by the inflow and intrusion of the stormwater, then to seal the joints in the concrete. To do this, we had to pump TerraThane through injection rods deep into predrilled holes, using around 12,250 lbs total."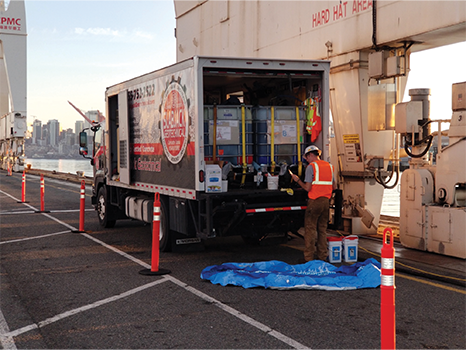 The water had to recede in order for the five outfall culverts to be accessible. At the time of the project, low tide in the bay was happening during overnight hours, so the team needed to prep at sunset to be ready to get to work.
Jerald explained how they were forced to work around the tide. "We needed low tide to access the five outfall culverts, which at that time was happening overnight, so that's when we worked. We used three-person crews and only closed off a small section at a time, so the port could keep working with ships and cargo. The port loved that they didn't have to close it all down during the three weeks it took to fully repair the outfall culverts, manholes, and stabilize the soil and were pleased with the final result." The crew worked in a confined space, and they required a four-gas metering system as well as all the standard requirements, hard hat, positive ventilation, lights etc. Additionally, they used life vests when they worked over the water, and they had to be aware of traffic with the activity of a major west coast port.
"This kind of stormwater erosion is part of the life of a port. Using geotechnical polyurethane foam makes it so much simpler and less expensive for ports like Seattle to keep the cargo coming in and going out." Jerald goes on to say, "Our foreman's receive extensive training in residential and commercial slab lifting. Jobs like the one we are talking about today are all unique, so you take all you have learned and apply what you can and when possible, speak to others with more experience and then move forward armed with the best information you have. Using a company like NCFI who has that track record and experience consulting on projects like this is invaluable."
The Port of Seattle continues to carry out the undertaking its initial creators of the state's first public port intended. By using public resources entrusted to the Port to promote trade and commerce, it will keep on generating economic growth, and help create jobs. With the help of experts like Slabjack Geotechnical, this endeavor will continue. If there are specialists in the required area of maintenance, there will always be a haven for those leaving and entering the USA via the Port of Seattle.
For use by SprayFoamMagazine.com & Spray Foam Magazine

Disqus website name not provided.
You May Also Like