The Rig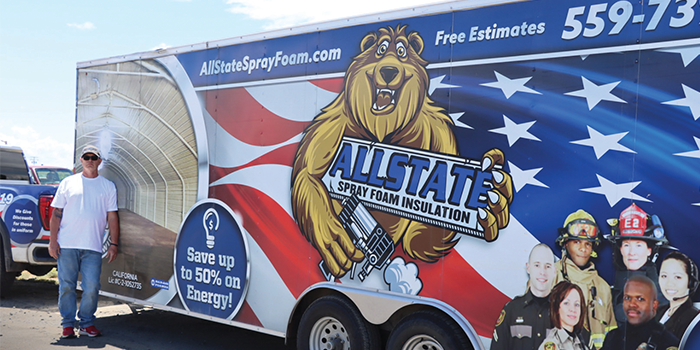 Spray Foam Magazine – One of the many great things about the spray foam industry is some of the great people it attracts. Not only do these standout characters bring light and entertainment to what can be a tough business, they bring creativity too. The Spray Foam Magazine team (SFMT) wanted to see how this ingenuity was incorporated into the rigs. Therefore, we decided to hold a competition to feature one contractor's winning rig design on Spray Foam Magazine's Summer Issue 2023 cover.
The SFMT were inundated with an impressive array of rigs. However, there was one that stood out in both design and distinctiveness, and that rig belongs to Rusty Schrader, owner of Allstate Spray Foam Insulation based in Visalia, California. For those who have been in the industry for even a hot minute, the name Rusty Schrader will be familiar. This is a person who not only takes his job seriously, but with his valuable experience and advice, helps others along the way.
Rusty started his business in 2017 but has been in the business since 1997. He has a few employees, two of which are his sons, Derek Chester, and Dennis Chester. Both sons are trained by Rusty and are now experienced sprayers. Additionally, there are two other employees, Juan Aldaco and Nick Collins (Rusty & Teffenie's nephew) who have also been with Allstate from the beginning. With Rusty's wife Teffenie, managing the money side of Allstate Spray Foam Insulation, Rusty and his crew really concentrate on their workmanship, quality, and customer satisfaction. They know that communication and planning are also keys to their success.
Rusty has two rigs with the main one being what he refers to as the 'Cozy'. He purchased this trailer on a Friday, fixed it up over a weekend and had it working by Monday. He points out that although he has never served in the military, he is very patriotic and even gives a 10% discount to all currently serving for our country as well as veterans. This unfaltering patriotism is the inspiration to his main rig design, with the Star-Spangled Banner wrapping around the 24ft trailer. A friend of Rusty's came up with the mascot 'Cozy,' which is based on California's state animal the grizzly bear.
Rusty's Cozy rig has an H-25 reactor, a Graco hose, Fusion gun and Shore Power with a generator he tows with it. Rusty and his crew sometimes travel up to seven hours, so he must load one rig down with all the material needed for the job. Rusty's additional rig is his Chevy, which has a Gusmer G-H2 proportioner with a Boss double gun manifold setup.
Rusty loves the camaraderie within the industry, pointing out that this has really developed within the last ten years, "It's great how people are helping each other for the end goal, 'everybody gains.'" Rusty is also an SPFA sitting contractor board member and does as much as he can to help, saying, "Not many people realize how the SPFA works so hard behind the scenes. For any kind of law or bill that's coming in that may be trying to put a bad mark on spray foam, they are there immediately meeting with the legislators. They are fighting for us. They really are the unsung heroes."
Along with his crew, Rusty's reliable rigs have assisted him in building a great business, so much so, he is adding to his skills by recently obtaining his C-39 roofing license. Proving once again that hard work and dedication mixed with a quality rig setup can take you further than you ever imagined!
For use by SprayFoamMagazine.com & Spray Foam Magazine

---
Disqus website name not provided.